« previous post | next post »
Kevin Dutton, "Psychopathy's Double Edge", Chronicle of Higher Education 10/22/2012:
[I]n a survey that has so far tested 14,000 volunteers, Sara Konrath and her team at the University of Michigan's Institute for Social Research has found that college students' self-reported empathy levels (as measured by the Interpersonal Reactivity Index, a standardized questionnaire containing such items as "I often have tender, concerned feelings for people less fortunate than me" and "I try to look at everybody's side of a disagreement before I make a decision") have been in steady decline over the past three decades—since the inauguration of the scale, in fact, back in 1979. A particularly pronounced slump has been observed over the past 10 years. "College kids today are about 40 percent lower in empathy than their counterparts of 20 or 30 years ago," Konrath reports.
As is all too often true for stories about results in social psychology — and especially stories about the Problems with Kids Today — this one is misleading in almost every particular.
The work described is Sara H. Konrath, Edward H. O'Brien and Courtney Hsing, "Changes in Dispositional Empathy in American College Students Over Time: A Meta-Analysis", Personality and Social Psychology Review 8/5/2010. Below I list four of the issues with Dutton's presentation of this research.
1. The trend is based on 72 data points, not 14,000.
As the title indicates, this is a meta-analysis, combining the results of 72 prior studies by many authors, which collectively involve 13,737 college students. As usual in meta-analyses, the studies are combined at the level of averaged results (means and standard deviations), not the responses of individual students.
For some of the problems with this, see Kali Trzesniewski and M. Brent Donellan, "Rethinking 'Generation Me': A Study of Cohort Effects From 1976-2006", Perspectives on Psychological Science 5(1) 2010:
The results of these meta-analytic studies are provocative; however, the cross-temporal meta-analytic technique for identifying cohort-related changes in psychological characteristics is limited […]  the generalizability of these findings is simply uncertain because the samples typically included in the meta-analyses are not designed to make population inferences. […] For instance, it is common for researchers in social and personality psychology to use convenience samples in research, such as undergraduates in introductory courses who participate in research in exchange for course credit. These samples provide data quickly and in large numbers, but the individuals in the sample are not selected at random and they are not representative with respect to a defined population of interest. […]  Increased sample sizes cannot compensate for the limits on inference posed by nonprobability sampling techniques.
2. Declines were observed in only two of four measured dimensions of self-reported empathy, and the decline in these measures was about 10%, not 40%.
Here is how Konrath et al. describe the four "subscales":
[I]n the current study we operationalized empathy as defined by the Davis Interpersonal Reactivity Index (IRI; Davis, 1980, 1983a, 1983c), the only personality scale that follows a multidimensional theory of empathy. The IRI is a 28-item scale that consists of four different 7-item subscales, representing different components of interpersonal sensitivity. Empathic Concern (EC) measures people's other-oriented feelings of sympathy for the misfortunes of others and, as such, is a more emotional component of empathy (e.g., "I often have tender, concerned feelings for people less fortunate than me"). Perspective Taking (PT) is a more cognitive or intellectual component, measuring people's tendencies to imagine other people's points of view (e.g., "I sometimes try to understand my friends better by imagining how things look from their perspective"). The Fantasy (FS) subscale measures people's tendencies to identify imaginatively with fictional characters in books or movies (e.g., "I really get involved with the feelings of the characters in a novel"). Personal Distress (PD) may be less adaptive in that it measures more self-oriented feelings of distress during others' misfortunes (e.g., "When I see someone who badly needs help in an emergency, I go to pieces").  […]
Here's how they characterize the overall results:
Overall, American college students scored lower on EC and PT between the 1979 and 2009 (see Figures 1 and 2). There is a significant negative correlation between year of data collection and EC (b = –.38, p = .002, k = 66) and PT (b = –.27, p = .03, k = 64) when weighted by sample size. There were no significant changes in either the FS subscale (b = –.19, p = .26, k = 37) or PD (b = .09, p = .55, k = 46).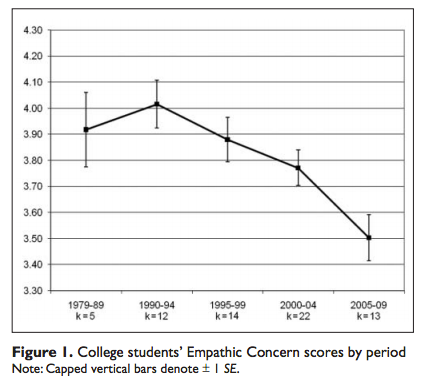 In crude observational terms, the "Empathic Concern" data as plotted spans a range of a bit more than 20 years (the midpoint of the first bin is 1985 and the midpoint of the last bin is 2007), and declines by  about 100*(3.9-3.5)/3.9 = 10.3%. Konrath et al. take a more sophisticated route to the same result:
For the EC subscale, the regression equation (EC mean = –0.0140 × year + 31.771) yields a score of 4.06 for 1979 and 3.64 for 2009.
These numbers from their regression equation yield a decline of 100*(4.06-3.64)/4.06 = 10.3%, which they attribute to the whole span of 30 years from 1979 to 2009.
Here's their graph for the "Perspective Taking" subscale: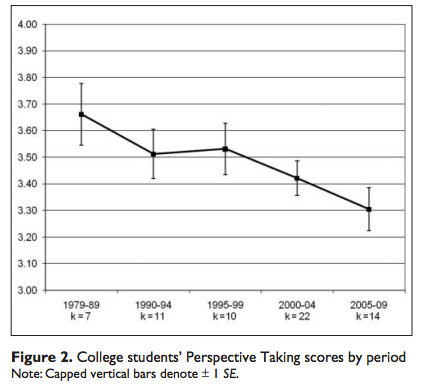 In this case, the crudely-observed decline is 100*(3.65-3.3)/3.65 = 9.6%. The result from their more sophisticated analysis is a bit less than that:
For the PT subscale, the regression equation (PT mean = –0.0099 × year + 23.349) yields a score of 3.66 for 1979 and 3.36 for 2009.
100*(3.66-3.36)/3.66 = 8.2%.
So how do we get from four estimated subscale declines of 10.3%, 8.2%, Not Significant, and Not Significant, to ""College kids today are about 40 percent lower in empathy than their counterparts of 20 or 30 years ago"? I invite you to read the paper to figure this out — my point here is just that the actual self-report measurements decline by 10% or less, not by 40%.
3. Self-reported empathy may be more about self-presentation than about either genuine internal response or genuine behavior in context.
Konrath et al. note that
On average, females tend to score higher than males on each of the subscales (Davis, 1983c).
But as I observed a few years ago, there's reason to worry that rather than measuring how empathetic people actually are, techniques that rely on self-report may measure how empathetic they want others to think think they are. Thus according to the literature review in Nancy Eisenberg and Randy Lennon, "Sex Differences in Empathy and Related Capacities", Psychological Bulletin 94(1): 100-131, 1983:
In general, sex differences in empathy were a function of the methods used to assess empathy. There was a large sex difference favoring women when the measure of empathy was self-report scales; moderate differences (favoring females) were found for reflexive crying and self-report measures in laboratory situations; and no sex differences were evident when the measure of empathy was either physiological or unobtrusive observations of nonverbal reactions to another's emotional state.
Another survey (Richard A. Fabes and Nancy Eisenberg, "Meta-Analyses of Age and Sex Differences in Children's and Adlescents' Prosocial Behavior", 1998) came to a similar conclusion:
Sex differences were greatest when demand characteristics were high (i.e., it was clear what was being assessed) and individuals had conscious control over their responses (i.e., self-report indices were used); gender differences were virtually nonexistent when demand characteristics were subtle and study participants were unlikely to exercise much conscious control over their responding (i.e., physiological indices). Thus, when gender-related stereotypes are activated and people can easily control their responses, they may try to project a socially desirable image to others or to themselves.
And a recent dissertation by Jessica Calvi ("The relationship between self-report and behavioral measures of empathy", Oklahoma State University 2011) concluded that
Results showed that empathy self-report scales were not consistently correlated with the behavioral measure of empathy, and moderation analyses revealed significant differences between males and females on self-reported versus behavioral measures of empathy. Additional analyses indicated that empathy may also be understood in the context of other dispositional traits such as temperament. As a multidimensional construct, the study of empathy may be better understood with measures of empathy that are behaviorally based in order to correct for potential issues with self-report measures.
So when we evaluate the (rather modest) changes in self-reported empathy among college students over time, we should be concerned that what we're measuring is not changes in what they really feel, but rather changes in what they think that they should want us to think that they feel.
4. Konrath's research explicitly contradicts Dutton's proposed explanation for the alleged trend.
Dutton thinks that society is becoming "more psychopathic", and he has a theory about the cause — it's all because of an alleged decline in reading fiction:
Precisely why this downturn in social values has come about is not entirely clear. A complex concatenation of environment, role models, and education is, as usual, under suspicion. But the beginnings of an even more fundamental answer may lie in a study conducted by Jeffrey Zacks and his team at the Dynamic Cognition Laboratory, at Washington University in St. Louis. With the aid of fMRI, Zacks and his co-authors peered deep inside the brains of volunteers as they read stories. What they found provided an intriguing insight into the way our brain constructs our sense of self. Changes in characters' locations (e.g., "went out of the house into the street") were associated with increased activity in regions of the temporal lobes involved in spatial orientation and perception, while changes in the objects that a character interacted with (e.g., "picked up a pencil") produced a similar increase in a region of the frontal lobes known to be important for controlling grasping motions. Most important, however, changes in a character's goal elicited increased activation in areas of the prefrontal cortex, damage to which results in impaired knowledge of the order and structure of planned, intentional action.
Imagining, it would seem, really does make it so. Whenever we read a story, our level of engagement is such that we "mentally simulate each new situation encountered in a narrative," according to one of the researchers, Nicole Speer. Our brains then interweave these newly encountered situations with knowledge and experience gleaned from our own lives to create an organic mosaic of dynamic mental syntheses.
Reading a book carves brand-new neural pathways into the ancient cortical bedrock of our brains. It transforms the way we see the world—makes us, as Nicholas Carr puts it in his recent essay, "The Dreams of Readers," "more alert to the inner lives of others." We become vampires without being bitten—in other words, more empathic. Books make us see in a way that casual immersion in the Internet, and the quicksilver virtual world it offers, doesn't.
Which is worrisome, to say the least, given the current slump in reading habits.
But Konrath et al. found no significant trend in the Fantasy (FS) subscale, which "measures people's tendencies to identify imaginatively with fictional characters in books or movies (e.g., 'I really get involved with the feelings of the characters in a novel')". And surely the overall level of young people's consumption of narratives, via movies and television as well as books, has not declined significantly over the past 30 years.
---
I should note that Dutton expresses even greater alarm about the allegedly rampant narcissism of Kids Today:
More worrisome still, according to Jean Twenge, a professor of psychology at San Diego State University, is that, during this same period, students' self-reported narcissism levels have shot through the roof. "Many people see the current group of college students, sometimes called 'Generation Me,' " Konrath continues, "as one of the most self-centered, narcissistic, competitive, confident, and individualistic in recent history."
But my breakfast time is over, so rather than evaluate this aspect of his piece in detail, I'll just point you to the related discussion in "What does this graph mean?", 7/15/2012.
---