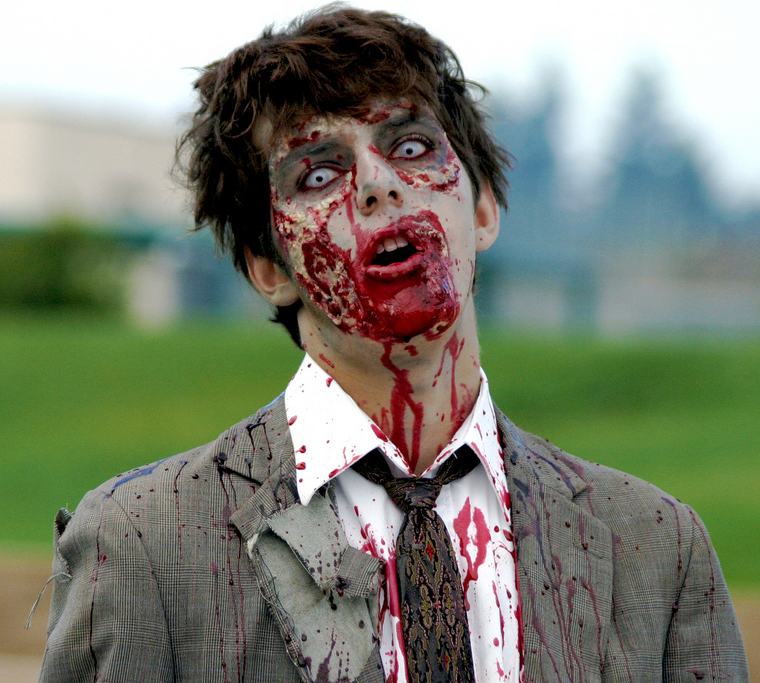 Where do zombies come from? As Wikipedia tells us, it all started with evil Haitian sorcerers using necromancy to create undead slaves. But then, Hollywood invented contagious zombification, originally attributed to radioactive contamination from Venus, but more recently understood to be due to human zombism virus (HZV).
As for zombie rules, all that we really know, in most cases, is where they don't come from. They're not based on observations of language use, even of formal writing by elite authors. Nor are they based on usage advice from knowledgeable authorities. Rather, these mutations in the meme pool seem to pop up spontaneously from time to time, in ordinary literate people who are heavily invested in the idea that some aspects of common usage are ignorant mistakes. Like sexual selection in genetics, prestige-based cultural selection can favor arbitrary and even maladaptive traits, and therefore zombie ideas like "no initial conjunctions", "no final prepositions", and "no split verbs" can spread through an intimidated population for no apparent reason at all.
But still, it's natural to want an explanation, even for weird pseudo-elitist fashion epidemics. So at the risk of post-hoc rationalization, I'll offer a theory about the origins of one zombie rule which came to my attention recently, the "titled not entitled" prescription.