Below is a guest post by Kieran Snyder.
---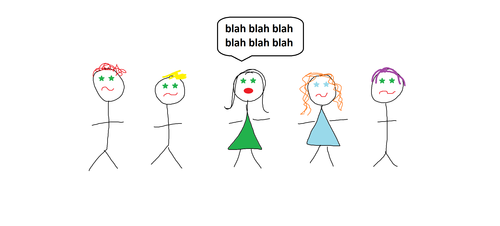 This week's earlier posting on interruptions, in which I presented data to suggest that men interrupt more than women in the tech workplace, and that women are interrupted all the time by everyone, has easily been the most viewed, discussed, tweeted, and shared jenga post so far. This is due in no small part to the cross-posting picked up by Language Log, so many thanks to Mark Liberman for sharing it and to my linguist friends who suggested it. You can take the girl out of linguistics, but it's hard to take linguistics out of the girl.
In case you missed the first post, a quick recap. In this totally observational and directional study, separate from any other factors, men interrupt women about three times as often as they interrupt other men. In a climate where interruptions happen on average once every two minutes and fifty-one seconds, there is less than one instance per hour of a woman interrupting a man for any reason. You get the idea: big tech is not an equitable environment as far as interruptions are concerned. This makes sense, since it is not a particularly equitable environment in terms of hiring and promotions either.