« previous post | next post »
Mark Swofford sent in this photograph of the entrance to the Batefulai Canting in Maolin, Taiwan, near the trail to the purple butterfly valley.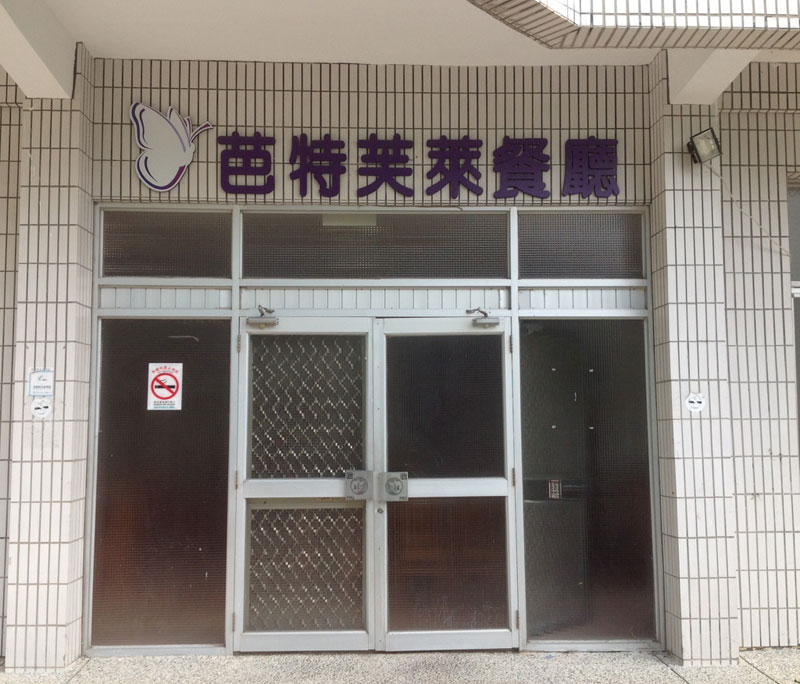 The sign says:
Bātèfúlái cāntīng 芭特芙萊餐廳
("Butterfly Restaurant / Canteen / Dining Hall")
Some notes about the script and the wording:
1. Do not be misled by the resemblance between "Canting" and "Canteen": they are completely unrelated faux amis ("meal-hall" vs. French cantine, from Italian cantina ["wine cellar"]).
2. Since this is in Taiwan, naturally traditional characters are used. If the sign were written in simplified characters, it would look like this: 芭特芙莱餐厅 (only the fourth and sixth characters are different).
3. Note how, even though they are written quite large, the last two characters, especially the final one, are so dense as to be virtually black blobs, yet the amount of strokes constituting them (16 strokes, 25 strokes) is not nearly in the upper range for total number of strokes in a character.
4. If they may be said to signify anything in isolation, the individual characters of bātèfúlái 芭特芙萊 "mean": banana — special — lotus / hibiscus — pigweed / goosefoot / lamb's quarters / wasteland. When reading foreign words transcribed in Chinese characters, one must strive to block out their semantic content.
5. Since the butterfly is an animal, it seems strange that three of the four characters used to transcribe the English word have "grass" radicals / semantophores at the top. That was the first thing that struck me very powerfully when I looked at this sign. It just seemed so incongruous to have all those vegetal semantic indicators staring me in the face right next to that cute depiction of a butterfly. I suppose, though, if you let your imagination wander far enough afield that the pretty butterfly might be thought of as flitting about merrily among flowers and other plants.
Cf. "'Spelling' English in Cantonese".
---