« previous post | next post »
Following up on yesterday's "No word for rape" post, several readers have pointed me to another recent addition for the "No word for X" archive, namely Isagani R. Cruz, "Lingual misunderstanding to blame for refusal to apologize?", China Daily 11/12/2013:
The refusal so far of Philippine President Benigno Aquino III to issue a formal apology for the hostage-taking incident in Manila in August, 2010, in which eight Hong Kong tourists were killed, may be blamed partly on a lingual misunderstanding.
Aquino's mother tongue is Tagalog, once the national language of the Philippines, now replaced by Filipino, which is based on it. […]
There is something peculiar about the Tagalog and even the Filipino language. There is no word for "sorry" or "apology." When Filipinos are at fault, they say in Tagalog or Filipino, "Pasensiya na." That literally translates into, "Please forget your anger" or "Please let it go". It's important to note that the personal pronoun used is in second person, not the first. […]
Needless to say, there may be political or lingual reasons for Aquino's reticence when it comes to apologizing to Hong Kong. But it is important for the people in Hong Kong to understand that it is lingually impossible for a Filipino to apologize in the British or American sense, because the words for admitting fault do not exist in Tagalog or Filipino.
It's true that the conventional English phrase "I'm sorry" is often used in unapologies whose content amounts to saying "I'm sorry that you've chosen to take offense at something that was not my fault and anyhow was not wrong and maybe didn't even happen at all". And it may be true that Filipino conventional unapologies are more transparently not actually apologies at all — perhaps some readers who know Filipino can comment on this.
But surely Tagalog would allow the president to say things like "I made a mistake", or "I failed to prepare adequately for this situation", or  "I ask you to pardon me for what I did (or for what I failed to so)", if he wanted to do so.
In this general line of language, Google Translate offers this as Filipino options for English "apology":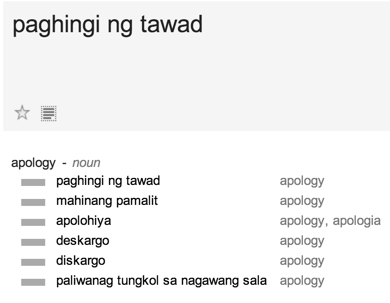 And this for "apologize":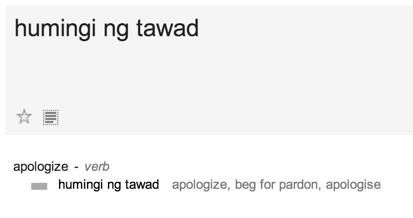 China Daily tells us that
The author has a PhD in English from the University of Maryland. He is president of the Manila Times College and a former under-secretary (deputy minister) of education in the Philippines.
---