« previous post | next post »
Several people have sent me this entry for the "No word for X" files — "When is it rape?", The Economist 11/15/2013:
In Urdu there is no word for rape. The closest direct translation is "looting my honour".
One of the correspondents adds:
Don't have any Urdu resources around, but one online dictionary turns up
زنا بالجب
Plug this into Google Translate and the relevant bits come back as as "repression" and "adultery", so I wonder if the standard Urdu for "rape" translates as something like "repressed into adultery". But your readers would surely know more.
I know less, so I'll turn this over to knowledgable readers for discussion. Is this one of the rare cases where "No word for X" makes a valid point about cultural differences?
I'll just note that running Google translate in the opposite direction gives some different alternatives: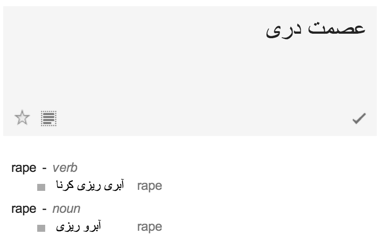 In the recent Delhi gang-rape case, the convicted men were apparently speakers of Hindi, which is essentially the same language as Urdu. In last month's Mumbai gang-rape case, the men arrested for the crime may be speakers of Urdu. In neither case did I see any discussion of missing lexical items — is this something that the media overlooked?
Update — an anonymous Urdu specialist, quoted in a comment below by Victor Mair:
This thing about Urdu having no word for rape is utter nonsense and the one little entry shown from Arabic script is incomplete.
The commonest term used is to do "behurmati" to someone. That literally means to dishonor someone, but it's a little asinine when people get hung up on the etymology of terms. Then they need to look carefully about what the word "rape" implies about anglophone people's attitudes too.
There are many other words, most of which are euphemistic and all of which refer to a crime against an individual (not against family honor or some other stereotypical b.s.). The legal term is "zina bi'l-jabr" (aggravated fornication), and everyone who speaks Urdu knows what it means.
---