« previous post | next post »
Probably only Northeastern Chinese could understand.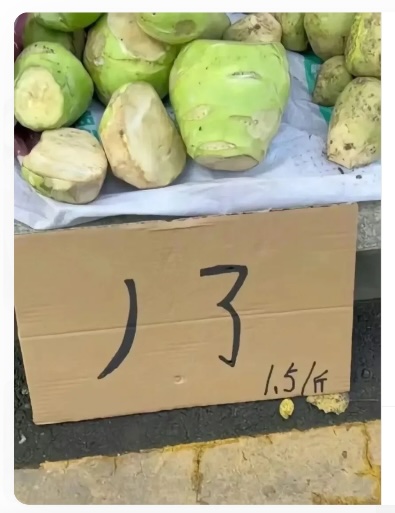 (source)
"丿" is a stroke in the Chinese writing system, named "piě 撇" (defined as "a stroke that falls downwards towards the left").  "了" (le) is a suffix that represents perfect tense in MSM. So together, the sound of "piě-le 丿了" is slurredly homophonous to that of 苤蓝 (MSM: piělán) in Northeastern Chinese topolect. Piělán 苤蓝 is 
kohlrabi
, a vegetable of the brassica family that is native to north China. It is precisely what this stand sells.
As Diana Shuheng Zhang, a Northeasterner who sent in this photograph and its description, says, "What an ingenious simplification of the complicated hanzi writing for the vegetable! Two most interesting aspects: 1. it does not use pinyin or the Roman alphabet as a solution; 2. it is based on topolect".
Selected readings
"For you, broccoli rabbi, but NO BIKES" (2/16/08)
"Napa cabbage" (1/16/21)
Cf. the numerous LL posts on Chinese restaurant shorthand.
---