« previous post | next post »
From Charles Belov:
While scouting out restaurants on Yelp, I noticed that Harborview Restaurant Yelp page had an item on the menu listed in English as Congee with Bone-in Chicken. However, the menu image, taken in 2022, reads "Congree with stir-fried frog" in Chinese.
This appears to have been corrected on the Harborview Restaurant website. The Dim Sum menu reads Congee with Bone-in Chicken in English and 黃毛鷄粥 (jook with the Chinese version of free-range chicken) in Chinese.
I wonder how the frog got in there. Of course, I've eaten frog at Cantonese restaurants but it doesn't seem to be on Harborview's menu.
Screen print from Yelp: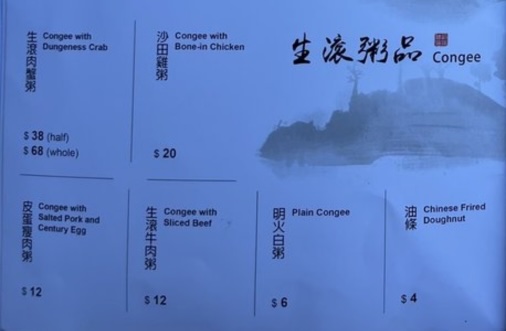 Simple solution:
Frogs are called "chicken of the field" due to the similarity in taste, per Compendium of Materia Medica first attested in the 1578 CE:
The Southerners had them as food, found their meat to be similar to chicken, and therefore called them "field chicken".
Compare Vietnamese gà đồng (literally "field chicken").
Long before I knew anything about Chinese, my brothers and I would go out to creeks and ponds near our home and catch frogs to cook various ways, and we invariably would say, "This tastes like chicken".
Selected readings
---