« previous post | next post »
Bill Benzon shares the response he got from ChatGPT to the prompt, "Tell me a story."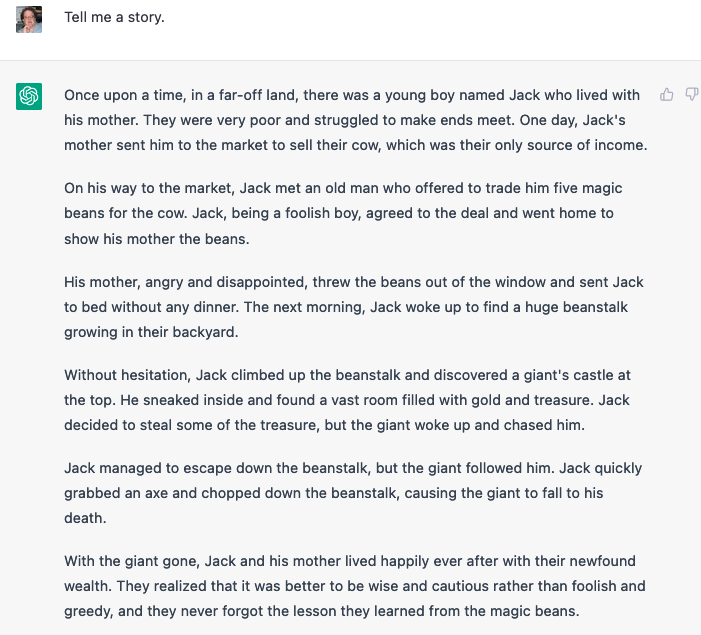 Here's the response:
Once upon a time, in a far-off land, there was a young boy named Jack who lived with his mother. They were very poor and struggled to make ends meet. One day, Jack's mother sent him to the market to sell their cow, which was their only source of income.
On his way to the market, Jack met an old man who offered to trade him five magic beans for the cow. Jack, being a foolish boy, agreed to the deal and went home to show his mother the beans.
His mother, angry and disappointed, threw the beans out of the window and sent Jack to bed without any dinner. The next morning, Jack woke up to find a huge beanstalk growing in their backyard.
Without hesitation, Jack climbed up the beanstalk and discovered a giant's castle at the top. He sneaked inside and found a vast room filled with gold and treasure. Jack decided to steal some of the treasure, but the giant woke up and chased him.
Jack managed to escape down the beanstalk, but the giant followed him. Jack quickly grabbed an axe and chopped down the beanstalk, causing the giant to fall to his death.
With the giant gone, Jack and his mother lived happily ever after with their newfound wealth. They realized that it was better to be wise and cautious rather than foolish and greedy, and they never forgot the lesson they learned from the magic beans.
VHM:
Hah!
Interesting and consistent, and it tells us something significant about ChatGPT.
BB:
Yes, it does, Victor. Just what I'm not sure. I'm in the process of looking for a statistician to help me find out.
VHM:
1. Did you ask the question just that way each time?
BB:
Yes. Always. I've asked exactly that question I don't know how many times, and in different sessions. I suppose I could count them (I'm keeping Word files of all my interactions with ChatGPT). Let's say it's more that 30 but less than 100.
VHM:
2. Did the stories differ much in detail, wording, and length?
BB:
I haven't read them all in detail. But wording is different, and incidents too. But always a beanstalk and always a giant, and yes, our protagonist is always named Jack. They length has increased, certainly with the Feb 13 version, which is the one currently up. But perhaps before. The earlier ones are a bit shorter than the one I sent you.
I should add that I often get stories involving dragons, which are a prominent motif in Western tales. I'd guess they'd be more prominent in Chinese tales, but I certainly don't know.
Selected readings
---