« previous post | next post »
[This is a guest post by Chris Button]
Below are my reconstructed Old Chinese onsets lined up with the 22 "tiangan dizhi"* calendrical signs ("ganzhi"). To be absolutely clear, the reconstructions are based on evidence unrelated to the ganzhi. It's just a very interesting coincidence that they happen to line up so well. Pulleyblank was clearly onto something! I'm not including the Middle Chinese reflexes here, but I have worked them out in detail and can send that over if there is interest. Two things not noted in the list are that an s- prefix caused aspiration (e.g., st- > tʰ–) and that the voiced stops alternated with prenasalized forms (e.g. b ~ ᵐb).
[*VHM:  "ten heavenly stems and twelve earthly branches"]
甲     k
乙     ʔ
丙     p
丁     t
戊     b
己     x
庚     kʟ
辛     s
壬     n
癸     q
子     c
丑     hr
寅     l
卯     r
辰     d
巳     ɣ ~ ɟ
午     ŋ
未     m
申     ɬ
酉     ʁ ~ ɢ
戌     χ
亥     g
Separately, I'm a little reluctant to share any of my highly speculative correspondences between the ganzhi and the 22 symbols of the Phoenician alphabet because I don't want the correspondences to be used as grounds for criticizing my reconstructed onsets, which should stand or fall based on how well they account for the phonology of Old Chinese and its Middle Chinese reflexes. Having said that, I can't help but see correspondences in sound and form, so figure I may as well share what I have and hope that readers take the proposal in the spirit it's intended.
Representation in the International Phonetic Alphabet (IPA)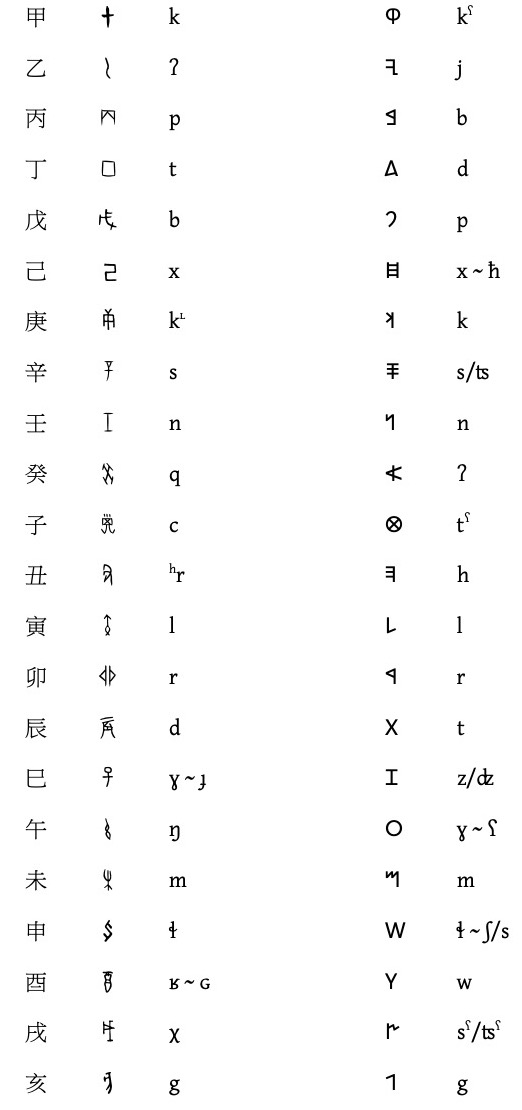 Selected readings
"The Alphabet and the Zodiac" (12/6/22)
"On the Origins of the Alphabet: The Cycle of Emmer Wheat and Seed/Word Selection within the Proto-Sinaitic/Phoenician/Hebrew Alphazodiac and the Chinese Lunar Zodiac," by Brian R. Pellar.  (free pdf)
"'The world's oldest in-use writing system'?" (5/12/12) — Ugaritic is mentioned in a couple of important comments by Gene Buckley
"Sally Rooney bucket hat; Hittite, Ugaritic, and the alphabet" (1/17/22) — "…an old project of mine that I [VHM] began around four decades ago, in which I compared the sounds and shapes of the Ugaritic / Phoenician alphabet and the Chinese tiāngān dìzhī 天干地支 ('heavenly stems' and 'earthly branches') that are used for calendrical, ordering, and other purposes.  A regular Language Log reader, Chris Button, and I have often discussed the uncanny similarities between the two sets of symbols.  At one time, Chris's PhD adviser, Edwin Pulleyblank, entertained similar ideas, calling the stems and branches 'phonograms', and Chris himself has recently come up with a good comparison of the two sets.  I even published a brief article focusing on one pair of symbols, (Ugaratic >) Phoenician b / and Chinese bǐng 丙 of the heavenly stems and have an unpublished three hundred page book manuscript on the subject that I've kept in a strong box for the last three decades and more."  Needless to say, since I have not been able to publish my own correspondences all these decades, I'm pleased that Chris has made this post and brought this important subject out into the light in a way that will contribute to further constructive debate.
---