« previous post | next post »
Dick Margulis saw this in a hospital waiting room in the University of Hong Kong Shenzhen Hospital: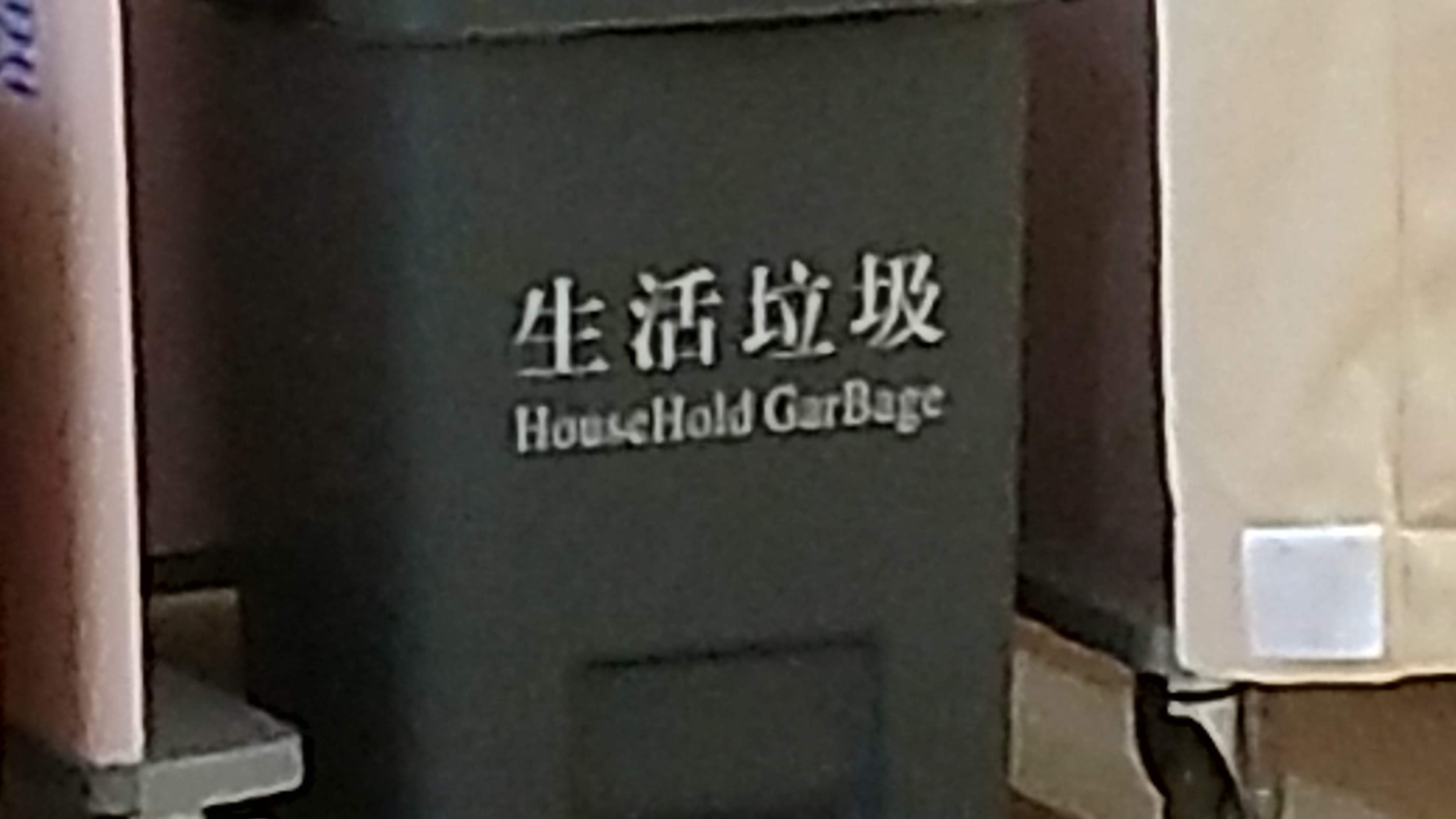 shēnghuó lèsè (Taiwan) / lājī (PRC)
生活垃圾
"domestic garbage" — in distinction to "medical waste", this being a hospital
What's going on here?
Basically, this intercapitalization is a result of the emphasis on the syllable at the expense of word in the common Chinese perception of language.  It also manifests itself in other forms:
house hold gar bage
house-hold gar-bage
etc.
The same practices pertain to non-standard Hanyu Pinyin orthography (see the "Selected readings" below).
Since the Chinese writing system is fundamentally morphosyllabic, and traditionally there was never any attempt to separate words with spaces, that naturally led to insistence on the primacy of the syllable in Chinese writing and language analysis in premodern times.  Indeed, there was no concept of "word" in Chinese until the first half of the 20th century, when a word that formerly signified a type of lyric, cí 詞 (also meant "diction", "utterance", "phrase", etc.), was chosen by modern linguists to stand for "word" in distinction to zì 字 ("character").
Since the very idea of "word" is a recent concept for a written tradition that is more than three thousand years old, it is not surprising that Chinese still focus primarily on syllables.  When I have taught and lectured in China, Taiwan, and Hong Kong, one of the hardest things to get across to audiences is the difference between zì 字 ("character") and cí 詞 ("word").  Here I may quote from an earlier post dealing with this subject:
In 2002-2003, when I was teaching at the University of Hong Kong, I had a Chinese linguistics class consisting of 72 students (the same number as Confucius' disciples!).  They were among the brightest humanities students in Hong Kong, but it was all I could do in the course of a semester to get them to comprehend the difference between a word and a character.  No matter which angle I addressed the matter from, their eyeballs would go rolling back into their head, and they looked as though they were suffering from a migraine.  Even now, a decade and a half later, when my classes are full of very smart students from across the Sinosphere, a curtain falls down over their gaze when I try to explain what the difference between a character and a word is.
All of this can be very confusing to young Chinese students.  Case in point.  I just gave the final exam for the first semester of Introduction to Classical Chinese.  All of the members of the class except one are M.A. students from the PRC.  One section of the exam had the heading "Shīcí xuǎn 詩詞選" ("A selection of poems and lyrics").  The first paper that I read had the following translation for that heading:  "A selection of poems and words"!
Selected readings
---