« previous post | next post »
Here I am standing in front of a hair salon near the south gate of Kansai University in Osaka, Japan two days ago: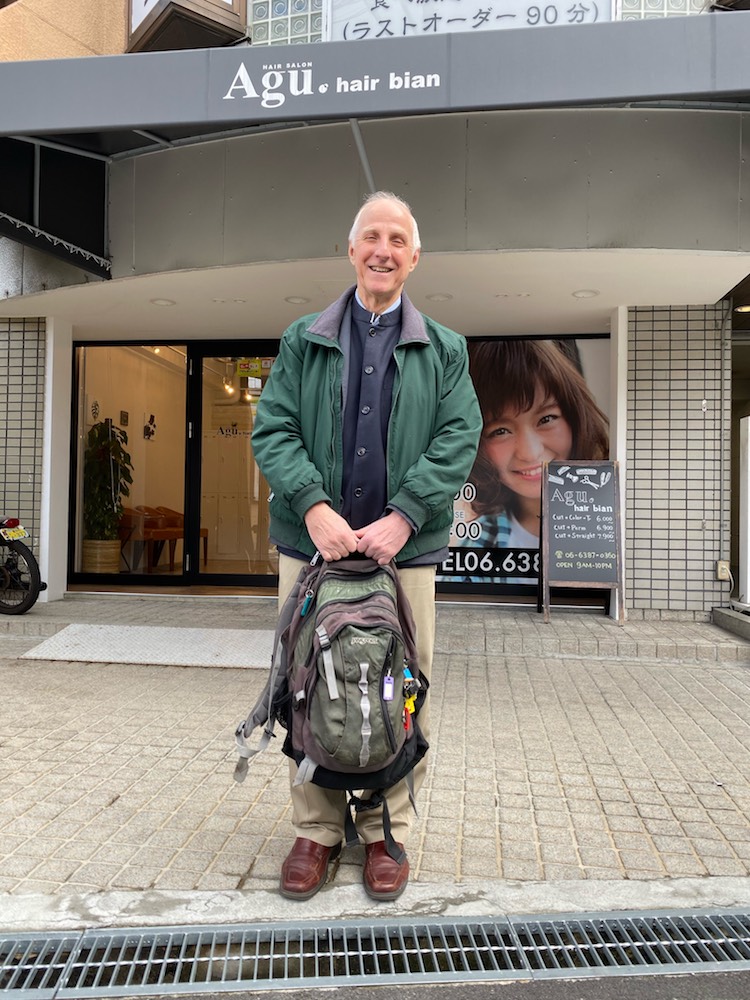 I had just gotten off the train from the center of Osaka and was walking to the Kansai University south gate with half a dozen Japanese and Chinese colleagues when we came upon this hair salon.  As soon as I saw the sign on the awning, my feet were rooted to that spot.
What in the world does that "bian" mean?  None of my colleagues had a clue.
It looked like Hanyu Pinyin "bian", which might mean "convenient", "braid", "transform", etc., but what would Hanyu Pinyin be doing in an English name of a Japanese hair salon?
Being the inquisitive soul that I am, I went into the shop and asked the people who worked there what "bian" meant, and they didn't have any idea either!
Then the group went up the gentle slope to have lunch in a cafe on campus.  Several other colleagues joined our party, which by then included a total of around ten people.  The last to arrive was Takata Tokio, professor emeritus of Kyoto University.  The subject of the name of the hair salon came up again, and everyone professed ignorance, except Prof. Takata, who right away said that he thought it was being used as a stand-in for French "bien" ("well; good").  His reasoning was as follows:
1. The Japanese katakana transliteration of French "bien" is "ビアン".
2. If we transliterate katakana "ビアン" into Japanese Rōmaji, we get "bian".
3. This Rōmaji "bian" only superficially resembles Pinyin "bian", but they are pronounced rather differently, viz., [bʲaɴ] vs. [piɛn].
Such are the vagaries that happen when a word passes from one language to another and yet another….
[Thanks to Yukiko Gen]
---