« previous post | next post »
Klaus Nuber writes: "Sometime ago I saw the sign of this 'Asia Palast' with the logo consisting of the two chairs and the round dingus between. Is this logo just cute or has it a hanzi background?"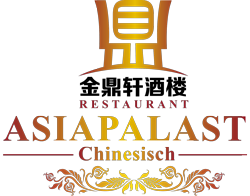 The design is indeed based on a Sinograph, and it is actually the second one in the row of five characters below it, namely, dǐng 鼎, which means "tripod".
The whole line reads:
Jīndǐngxuān jiǔlóu 金鼎轩酒楼
("Gold Tripod Pavilion Restaurant")
Here is the website of this restaurant in Mindelheim, Germany, and here is its imprint with the names of the owners.
The dǐng 鼎 ("tripod") is a suitable symbol for a restaurant, since, in its earliest phases (ceramic, then bronze), it was used as a food vessel, but later acquired ritual status as emblematic of power and authority.
---