« previous post | next post »
Subtitle:  Phoneticization on an order from a Macanese restaurant in Vancouver.
Bruce Rusk sent in this prime example of extreme Sinographic shorthand, adding, "The geographic origin of the cuisine is a big hint to the document's meaning…".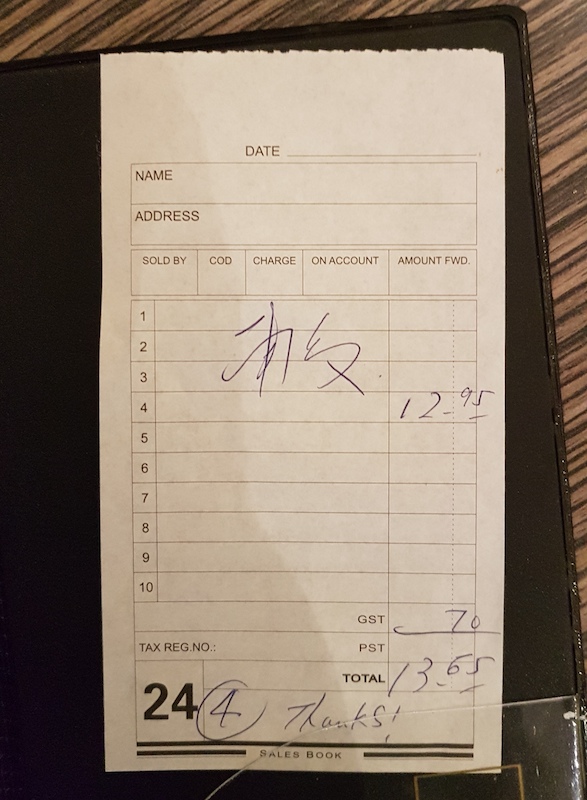 Although the cursiveness of the first character makes it somewhat difficult to decipher, it reads:
nánfǎn (MSM) / naam4fan2 (Cant.)
南反
"south anti- / counter- / turn over / rebel / revolt"
Disregarding the tones, the waiter has simply written down the sounds of the two characters used to write the name of this dish:
nǎnfàn (MSM) / naam5faan6 (Cant.)
腩飯
"brisket rice"
It's interesting that, in this case, the phonophores of the two characters for the name of the dish serve as the phonetic annotation and shorthand for its sounds.  As the women who invented nǚshū 女書 ("women's script") and various other phonetically astute individuals throughout Chinese history have realized, the Sinographic system has within it the potential to develop into a syllabary.
Readings
 
"Chinese restaurant shorthand" (9/22/16
"Chinese restaurant shorthand, part 2 " (11/30/16)
"Chinese restaurant shorthand, part 3 " (2/25/17)
"Chinese restaurant shorthand, part 4" (4/21/17)
"Hong Kong-specific characters and shorthand" (3/15/15), with links to relevant websites for restaurant shorthand characters
"General Tso's chikin" (6/11/13), especially in the comments
[Thanks to Yixue Yang and Hilário de Sousa]
---