« previous post | next post »
The company Oatly claims to have created a new Chinese word for plant-based milk by placing the grass radical above the character for milk: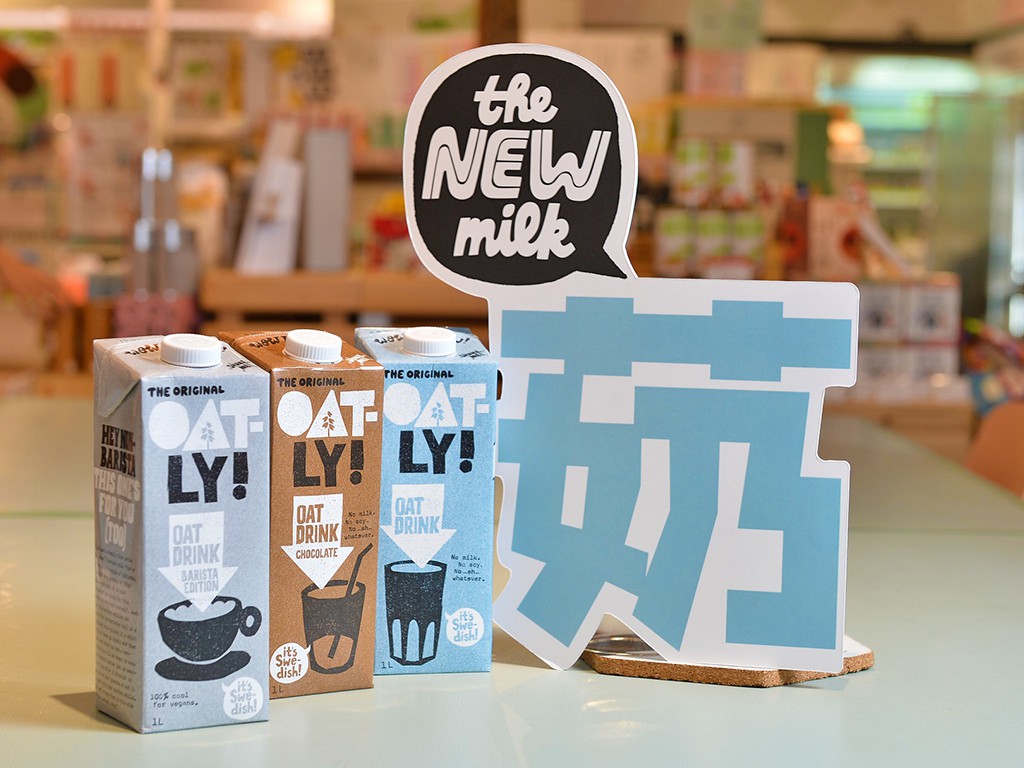 Caitlin Schultz, who called this development to my attention, remarks:
Is creating a new character like this legitimate, especially in a corporate context? This feels to me like linguistic colonization or cultural appropriation. Calling plant milks "milk" in English has been contested, as well. If they really feel they need a new word to describe this category of product, isn't a variant of dòujiāng 豆浆 ("soy 'milk'"), such as yànmài jiāng 燕麦浆 ("oat 'milk'"), more appropriate? What does it take to create a new character, and how does it get into character inputting systems? I'm sure this raises other linguistic questions, but those were just a few I had!
All the questions raised by Caitlin are legitimate.  In addition, one wonders how one ought to pronounce this new character.  The same as the original character for "milk", nǎi 奶?  But then, when you speak it, you wouldn't be able to distinguish between the new character and original one.
The photo above comes from this article:  "Plant Milk Brand Oatly Creates Chinese Word Meaning 'New Milk' To Drive Health Awareness", by Jenny Star Lor, Green Queen(4/15/19).  In this article, it is asserted that the new character means "new milk", but such an interpretation is not justified on the basis of its composition and derivation.  The article also confuses the difference between "word" and "character", but that is a problem endemic to nearly all writing about Chinese language and script, alas.
When we contemplate this new character, all sorts of other issues assail us.  As I write this, I'm sitting in the food court of a Giant supermarket.  I walk back to the dairy department and I see a whole wall of products called "milk" that are not from the mammary glands of mammals — oat milk, coconut milk, almond milk, walnut milk, not to mention soy milk, which has been around a lot longer (most of the ones I'm seeing now have just popped up in grocery stores within the last few months or years).  Then I walk over to the tea section of the store and I see lots of things labelled "tea" that are not made from Camellia sinensis.  I suppose the same situation would obtain if I strolled over to many other sections of the store as well.
Meanwhile, I just fortified myself with a blueberry coriander lassi and a mango rose water lassi so that I could finish this post. Yum!
—
P.S.:  If we take the Oatly creation strictly as an advertising gimmick, then I have to admit that it's pretty clever and catchy, but we should not consider it seriously as a new character that we have to add to the already burgeoning Chinese writing system.
Readings
---