« previous post | next post »
Science card given out to first grade students in Shenzhen, China: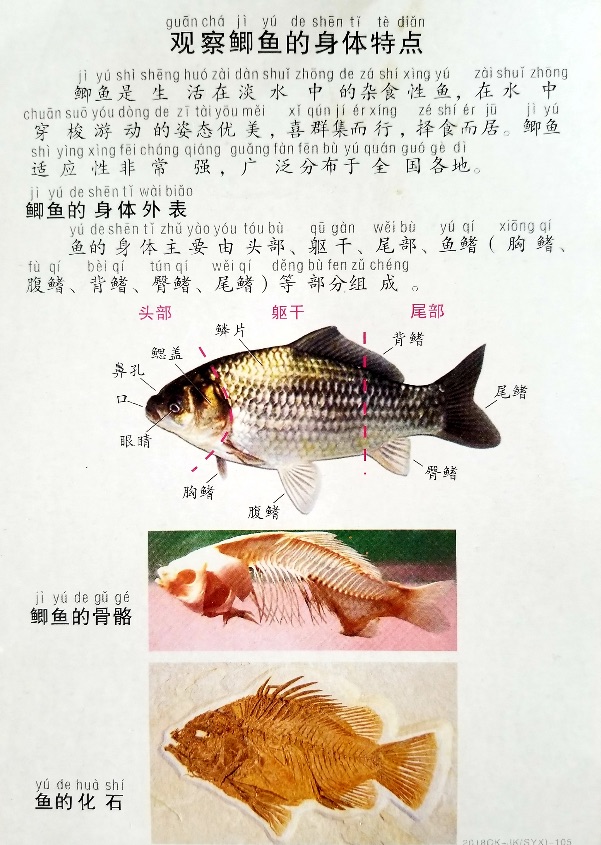 The title reads:
Guānchá jìyú de shēntǐ tèdiǎn
观察鲫鱼的身体特点
("Observation of the physical characteristics of the crucian carp")
The vocabulary and mode of expression are obviously far beyond the first grade level.  Some of the characters on the card won't be learned until high school, if then, yet the makers of this card have gone to the trouble of providing Pinyin phonetic annotations for all of the terms.
If the people who added the Pinyin really wanted to be helpful, they should have joined the syllables of words together, e.g., the last term on the card:  huàshí 化石 ("fossil").  The way it is written now, with the syllables separated, might lead a student to think of it as "transformed stone".
This leads to a very sad chapter in the recent history of Chinese language pedagogy.  When I started going to China in the early 1980s, the syllables of Pinyin terms were joined together and there were spaces between words.  This was called "fēncí liánxiě 分词连写".  It was a matter of pride among progressive language educators to provide schoolchildren with this extra information about the vocabulary they were learning.
Not only that, in many parts of the country there was a remarkable program called "Zhùyīn shìzì tíqián dúxiě 注音识字提前读写" ("Phonetically Annotated Character Recognition Speeds Up Reading and Writing"), or "Z.T." for short, which actively encouraged children to use Pinyin Romanization for characters they were unable to write. See "How to learn to read Chinese" (5/25/08).
In those days, schoolchildren began to learn to read and write with Pinyin-only texts, and they were properly segmented into words.  That was when language reform was taken seriously in the PRC and the "Wénzì gǎigé wěiyuánhuì 文字改革委员会" ("Script Reform Committee") was directly under the powerful Guówùyuàn 国务院 (State Council).

This was also the time when the official rules for Hànyǔ pīnyīn zhèngcífǎ 汉语拼音正词法 ("Hanyu Pinyin Orthography") were formulated (drafted in 1982 and promulgated in October of 1984).  Here's the latest version (2012) of the orthographic rules.  An English translation (by John Rohsenow) of the previous edition (1996) of the orthographic rules is printed at the back of all ABC Chinese-English dictionaries from the University of Hawai'i Press.
Later, the power of the Script Reform Committee was greatly weakened when its name was changed to the State Language Commission (Guójiā yǔyán wénzì gōngzuò wěiyuánhuì 国家语言文字工作委员会) and it was placed under the Ministry of Education (Jiàoyù bù 教育部). It is no accident that, after that happened, educational materials no longer adhered to the orthographical rules, but phonetically annotated the characters one syllable at a time. This vexed Wang Jun, one of the leading language planners and reformers of China, so greatly that he died shortly thereafter (he himself told me not long before his death that he was "so angry he could die" [qì sǐle 气死了]).
After that, everything went downward and backward, with increasing emphasis on Sinographs (Hànzì 汉字) right from the beginning of primary education.  It is also significant that currently reigning language authorities are dead set against joining of syllables and separation of words in the limited circumstances when Pinyin is unavoidable.  Why are they so afraid of teaching and using word-based Pinyin?  You tell me.
Readings
[h.t. Alex Wang]
---