« previous post | next post »
I recently became aware of a viral new meme in China, but didn't know what it meant or even how to pronounce it.  The characters are 盘他, which superficially, literally would seem to mean "plate him / her / it".  Of course, that doesn't make sense, so 盘他 flummoxed me for quite a while.
Since the expression seemed so alien and odd, I thought that maybe the second character had a special topolectal pronunciation and would have pronounced the whole expression as pán tuō, but that was just a wild guess, and it wasn't long before I learned that the term should be pronounced "pán tā", the usual way for those two characters.
I still didn't know what "pán tā 盘他" meant.
So I mentioned the term to one of my classes, and immediately all the students from mainland China started giggling and chuckling.  That made me all the more intrigued.
The students explained to me that the "pán tā 盘他" meme comes from a recent xiàngsheng 相声 ("crosstalk; comic dialog" [double act / comedy duo like Laurel and Hardy, Abbott and Costello, etc.]) show named "Wén wán 文玩" ("Antiques for enjoyment / amusement; making fun of / with antiques").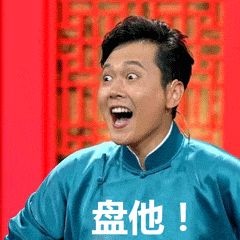 The episode that spawned the "pán tā 盘他" meme was called "Wén wán hétáo 文玩核桃" ("Antiquarian amusement with walnuts").  These are not your quotidian walnuts, the kind you buy at the grocery store to crack open and consume the nutmeat inside.  These are special walnuts that have been lovingly fondled for years or even centuries.  Doing this is a peculiarly Chinese preoccupation.  The object that one caresses and rubs may vary, e.g., jade carvings, beads, bracelets, etc., but walnuts are especially favored for their special tactile qualities and resultant gleam.
This activity is by no means new, going back at least to the Han and Tang dynasties.  There's even a technical term for it:  pánwán 盘玩 ("play [with a curio] by rolling [it around in one's hand till its surface becomes burnished and smooth]").  For as long as I've been associated with Chinese people (more than half a century), I've seen them doing this.  It's relaxing, calming, and even said to be physically therapeutic.  It also has an esthetic aspect, since the doodad one rolls around in one's hand eventually takes on a smooth sheen from the prolonged rubbing and the natural oils from one's palm.  In the crosstalk performance about walnut cuddling, there was a great deal of emphasis on bodily oils being imparted to the shell of the pet walnuts.
So pánwán 盘玩 ("playing [with a curio] by rolling [it around in one's hand]") is not at all an innovation.  What's new is the application of this action to all sorts of other things, some of which we demonstrate below.
The original crosstalk sentence that was the source of the explosive meme is "gāngān bābā de, mámá làilài de, yīdiǎn dōu bù yuánrùn, pán tā! 干干巴巴的,麻麻赖赖的,一点都不圆润,盘他!" ("dry and dusty, pocky and gnarly, not at all round and smooth; rondle* it!").
[*Here I've resurrected an old English noun that sounds like "fondle" and means the same thing as pán 盘 to act as a transitive verb on the following object.]
Here's a picture of someone rondling a bracelet: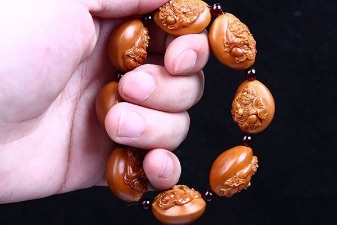 That's the basic significance of pán 盘 ("rondle") as a neurotactile verb. Once that meaning was firmly established in the current lexicon, it quickly came to be applied to all manner of things and took on extended meanings:
nòng 弄 ("fool / play around with"), zhémó 折磨 ("torture; torment; harass"), gǎo 搞 ("provoke; deal / clown around with") — from both positive and negative perspectives).
Here are a couple of illustrations of advanced rondling: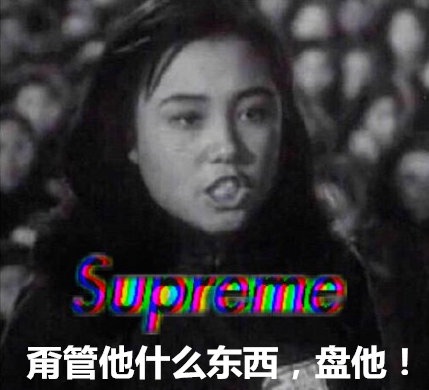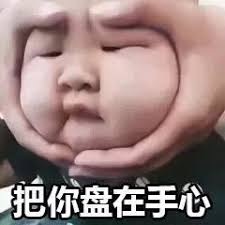 Returning to the sine qua non of rondling / 盘ing, the walnut, here are some exuberant observations from a PRC graduate student:
Pán 盘 means to smooth the creased and pocked shell of a walnut so that it would become radiant and reddish! The more smoothly the shell turns out, the more highly prized the walnut is, as well as the more expensive. A good walnut is something similar to a snuff bottle, very precious and emanating a sense of connoisseurship. But if the walnut's shell is uneven, rough, harsh, and not mellow, then it is málài 麻赖, not worthy at all.
To visualize málài 麻赖, here are two images to describe what it is and what it is not: the before and after of the rondling / 盘ing of a walnut.
This is a walnut before being rondled / 盘ed, which is very málài 麻赖: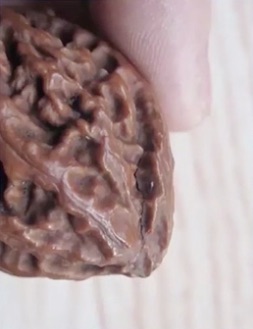 And here are two perfectly rondled / 盘ed walnuts, not málài 麻赖.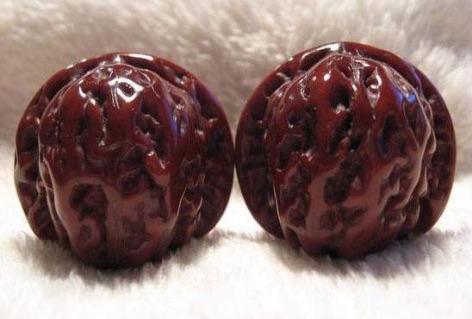 And there you have it.  That is why rondling / 盘ing (of walnuts and all sorts of other things) has become a matter of such great importance today.
Addendum
"Walnut shell" is a technical term in English referring to the crushed product that can be used for abrasive / blast media and that has a wide variety of applications, including the removal of graffiti!
[Thanks to Zeyao Wu and Qing Liao]
---