« previous post | next post »
We haven't written about tattoo fiascos for awhile.  Here's a humdinger on Ariana Grande's left palm, in Japanese: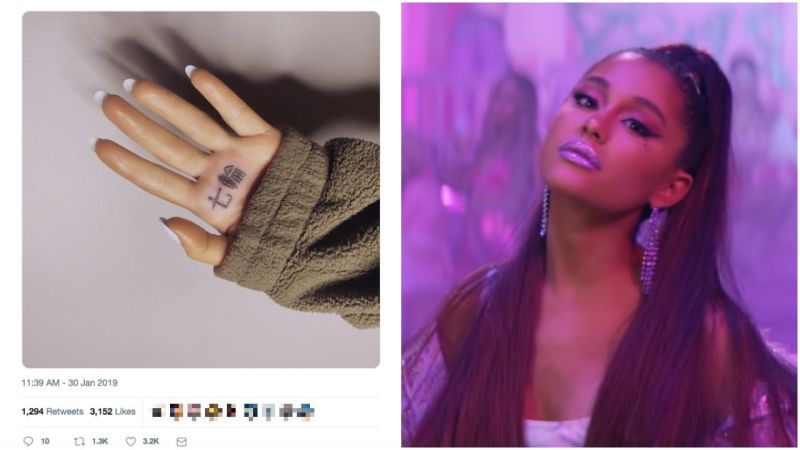 The two characters are shichirin 七輪.  This is to celebrate her new single, "7 Rings", and the characters do indeed mean "seven" and "hoop; circle; ring; wheel".  Unfortunately, when you combine them into one word pronounced shichirin, they mean "small charcoal grill; hibachi").
If Ariana Grande wanted to have a tattoo meaning "seven rings", she should have gotten one that read nanantsu no yubiwa 七つの指輪.
After all the hullabaloo over the initial mistake, she tried to have it "fixed" by adding the character for "finger" (yubi 指) and a heart: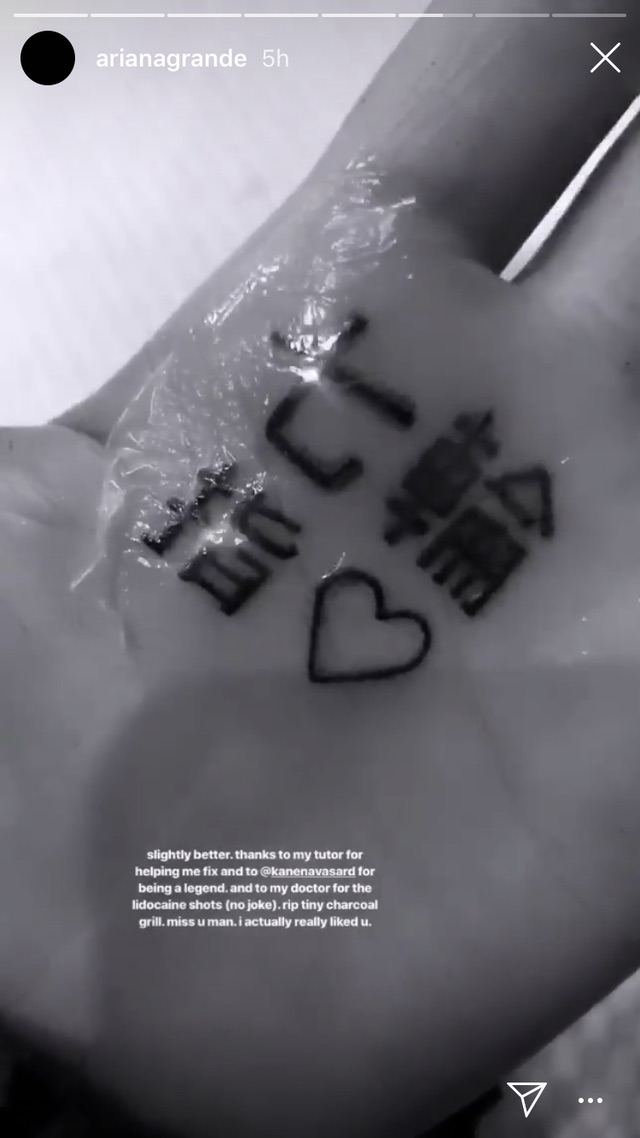 So now her amended tattoo reads "small charcoal grill finger ♡".
Selected readings
"Ariana Grande's New Kanji Tattoo Is An Unfortunate Mistake," by Brian Ashcraft, Kotaku (1/30/19) — source of the first photograph above
"Ariana Grande Tries And Fails To Fix Botched Japanese Tattoo:  The best laid tattoo plans of pop stars often go awry," by Cole Delbyck, HuffPost, Entertainment (1/31/19) — source of the second photograph above
"What does your tattoo mean? " (11/5/17)
"Tattoos as a means of communication " (9/1/12)
"Censored belly, Tibetan tattoo " (8/28/17)
"The value of a tattoo in English " (8/28/13)
"Chinese tattoos " (8/3/13)
"Queen of the World " (3/10/12)
"Oops (and apologies) " (7/11/18)
"Oops: a listening guide " (6/28/10)
[H.t. Nathan Hopson, Ross Bender, Mark Metcalf, Julia Wang, and many other friends]
---