« previous post | next post »
Sign at the high-end Chinese hotpot chain Haidilao: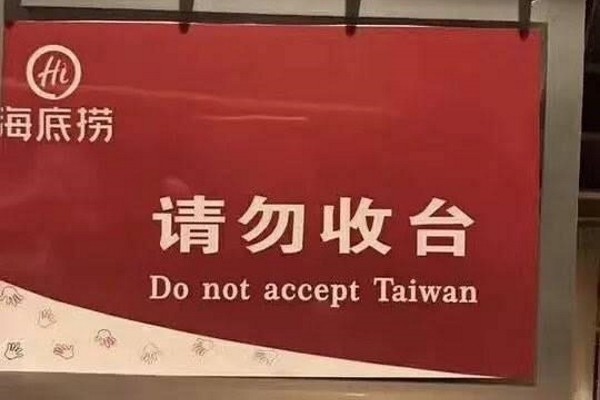 Source:  "Photo of the Day: 'Do not accept Taiwan': Botched Baidu English translation of sign at popular Chinese hotpot restaurant makes odd political statement about Taiwan", by Keoni Everington, Taiwan News, Staff Writer (1/29/19).
The sign soon became a viral sensation on the Chinese internet, with many netizens making mordant criticisms of Baidu Fanyi's blunder.  Needless to say, Chinese censors quickly went into action and scrubbed the internet clean of all images of the sign and ordered Baidu Fanyi to change their translation to this, which is how it now reads:
qǐng wù shōu tái 请勿收台 ("Please don't clean up the table")
It's interesting that, if you enter traditional characters into Baidu Fanyi, as of the time this post was made, it still reads thus:
請勿收台 ("Please do not accept Taiwan")
Other online translation services were also thrown off track:
Google Translate:  "Do not accept the station".
Microsoft Translator:  "Do not accept the table".
This all comes from the desire to wax literary on the part of the person(s) responsible for the wording on the sign.  As I've stated numerous times in earlier Language Log posts, machine translators of Chinese are not designed to handle Literary Sinitic / Classical Chinese.
If you write it in straightforward vernacular, the chances that all three online translation services render it correctly are greatly increased:
Qǐng bùyào shōushí zhuōzi 请不要收拾桌子
Qǐng bùyào qīnglǐ zhuōzi 请不要清理桌子
Qǐng bùyào bǎ zhuōzi shōushí gānjìng 請不要把桌子收拾乾淨
etc.
— all of which mean roughly the same thing:  "Please don't clean up the table".
Moral of the story:  you are less likely to confuse humans and machines if you write in vernacular.
[H.t. Eric Fahlgren]
---