« previous post | next post »
On being ugly and poor, with an added note on consumerism.
Every so often, for one reason or another, somebody creates a completely new Chinese character.  Here's the latest: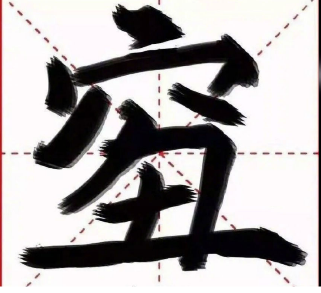 "'I'm So Qiou' — The New Chinese 'Character of the Year' is 'Dirt-Poor & Ugly' 
If there is one single word for being 'dirt-poor' and 'ugly' it would be 'qiou' — a character many self-mocking young Chinese say they identify with."
By Crystal Fan, Manya Koetse, and Miranda Barnes, What's on Weibo (12/5/18)
This new bit of Internet slang is a hybrid character combination of qióng 穷 and chǒu 丑, "poor" and "ugly".  It's interesting that the Romanization that seems to have been adopted for the character is "qiou" (no indication of tone).
David Moser asks:
My puzzlement is: How is this Pinyin blend "qiou" pronounced any differently than "qiu"?  The few Chinese I've mentioned this to have never seen the character online, but in any case, when I ask them if "qiu" vs. "qiou" triggers any subtle pronunciation distinction, they sound the two out a few times, shrug, and say they're both just "qiu".  Which makes me think whoever came up with this Romanization was going for what is primarily a visual blend, tacking the "ou" of "chou" onto the the "qi" of "qiong".  Not a matter of phonetic rendering, but just optics.
I'm going to dig a little bit deeper into this and see if something else is happening.
First of all, according to the phonology of Modern Standard Mandarin (MSM), there are certain phonological constraints that are operative.  Here are the only permissible syllables beginning with "q":

So "qiou" is an illegal syllable.  It doesn't exist in the phonological system of MSM.  Yet netizens are using "qiou" to represent the sound of this newly invented character.
"Qiou" is obviously a kind of fǎnqiè 反切 ("cut-and-splice; countertomy") spelling where one takes the first part (the initial) of one character and the second part (the final) of another character to represent the pronunciation of a third character.  In this case, we have the "qi-" of qióng 穷 ("poor") and the "-ou" of chǒu 丑 ("ugly"), which yields "qiou".
The problem is that "qiou" is an illegal syllable within the phonology of MSM.  So how should it be pronounced?
I asked several of my graduate students from mainland China, and got a variety of answers.
1. I guess qiu and qiou are basically the same in pronunciation. But I might still need a few seconds to comprehend qiou in a conversation, for it seems so contextual.
2. The pronunciation of "qiou" is different from "qiu", since in "qiou"  you have to pronounce the "-ou" part, which is different from just "-u". Thus, I would say "qiou" is much like "qi+ou", and you have to emphasize the ou, otherwise, it is gonna be just like "qiu". I think this irregular pronunciation "qiou" is distinctive enough that it could be understood in a certain context.
3. Qiou and qiu are the same, and qiou in fact should be standardly written as qiu. My high school Chinese teacher told me that iou is shortened as iu.
We'd be in even more of a phonological quagmire if the inventor of the character had arranged the two parts as chǒu 丑 ("ugly") and qióng 穷 ("poor"), which would yield "chiong", an even less likely configuration than "qiou".  In this case, however, we'd run up against an orthographic prohibition, since the ⽳ component (radical; semantophore; [semantic] classifier; key; etc.) can only occur at the top of a character, not in any other position.  However, if we really want to be playfully perverse, we could just jolly well put 丑 on top and ⽳ on the bottom, which would give "chiong", however that might be pronounced, and signify "ugly and poor", as opposed to "poor and ugly" for "qiou".  But I doubt that even the most scriptally sacrilegious netizen would be that iconoclastic and irreverent toward the Chinese writing system.
Addendum
Pondering the viral popularity of this new character for "poor and ugly", one of my graduate students from China who is neither poor, ugly, nor vain, was prompted to make the following observations on the changing state of the mindset of young Chinese today:
I have discovered that Chinese youth are more daring to unabashedly recognize their predicament and inability, which would be so humiliating for the older generation to admit. Young people today are in fact earning much more than their parents used to, but their lavish habits of consumption push them to the abyss of poverty. I recently have been experimenting with stopping shopping for clothes and I successfully prevented myself from buying any outfit for more than three months! The most striking fact is that I have no shortage of outfits even though I didn't buy any over the past three months.
We young people should really reflect upon our consuming habits and learn from our parents of their economy and getting rid of vanity!
Readings
[Thanks to Zeyao Wu and Qing Liao]
---