« previous post | next post »
For the last few weeks, the New York Times has been running a hyped-up, gushing series of lengthy articles under the rubric "China rules". On a special section in the paper edition for Sunday, November 25, they printed this gigantic headline in Chinese characters — and made a colossal mistake: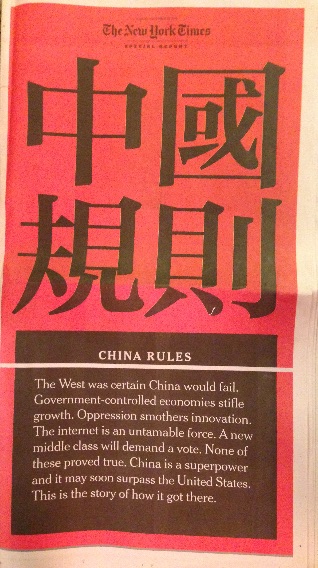 The error also appeared on the front page of the paper: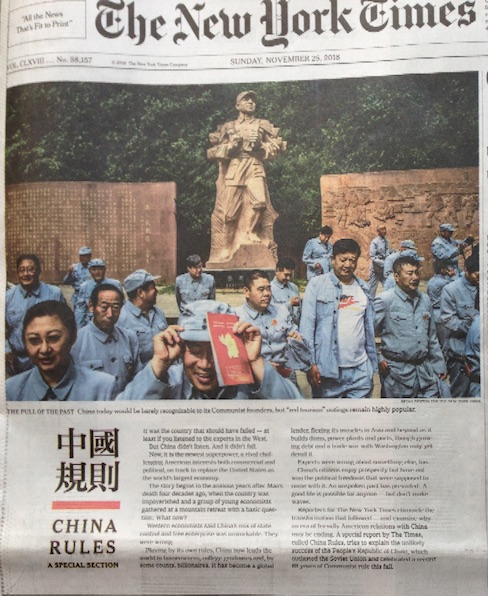 The four huge characters (must be in the largest font size available) read:
Zhōngguó guīzé 中國規則 [note that they use traditional characters; henceforth in this post I will use simplified characters]
So the folks at NYT think that means "China rules".  If we give them the benefit of the doubt and grant that they might have been trying to make a feeble pun with "rules" being intended both as a verb and as a noun, that might work in English, though with "rules" as a noun, the phrase is rather broken.  Judging from the tenor of the series, however, which keeps pumping up China as hot on the heels of the United States and likely to overcome it in the not too distant future (I won't comment on their judgement in that matter), I think they mean "rules" in the verbal sense.  They are trying to tell us that China is on the verge of ruling (verb), but they don't tell us the system of rules (noun) China is following in its efforts to do so.
So I think that the NYT flat out made a big, bad error.  In this instance, it's not a case of Chinglish, because they were translating from English to Chinese, so it's Zhonglish.
Why do I say that the NYT made a gross error with their Chinese rendering of "China rules"?  For the simple reason that guīzé 规则 cannot be a verb, only a noun, and occasionally it can act as a modifier.
Now, when we take this Zhōngguó guīzé 中国规则, which is defective as a Chinese translation of "China rules" and translate it back into English, we get "Chinese rules", which even Google Translate and Baidu Fanyi know, though Microsoft Translator renders in fractured English (for the intended meaning) as "China rules".  In the construction Zhōngguó guīzé 中国规则, Zhōngguó 中国 ("Chinese") has to be the modifier and guīzé 规则 ("rules") has to be the modified, hence "Chinese rules".
I dare say that the idiomatic expression "X rules" in English, where "rules" is a verb, is most likely difficult to render effectively into many other languages.
So how should we translate "China rules (v.)" into Chinese?  The simplest, crudest way is perhaps to say something like "Zhōngguó tǒngzhì 中国统治" ("China controls"), but that doesn't sound natural to me, even if we add the continuative particle "zhe 着" after the verb tǒngzhì 统治 ("rule").  Normally I would expect tǒngzhì 统治 by itself to act like a transitive verb and take an object.
If we want to express "China rules (v.)" in Chinese, not worrying about a pun that may not have been intended in the first place, then "Zhōngguó shuōle suàn 中国说了算" ("what China says counts; China has the final say; China is in charge") captures the nuance of the idiomatic "China rules (v.)" in English fairly well.
If we grant that the headline writers at the NYT were trying to make a pun with "rules" (n. and v.), then it's possible that Zhōngguó guīdìng 中国规定 might work in both senses, since — unlike guīzé 规则 ("rule"), which can only be a noun — guīdìng 规定 ("regulate; stipulate; prescribe") can be both noun and verb.  However, Zhōngguó guīdìng 中国规定 ("China regulates / Chinese regulations") sounds rather aggressive, as though China were laying down the law for the rest of the world.
Bottom line:  as a translation for "China rules", Zhōngguó guīzé 中国规则 grates.
[h.t. Lillian Li; thanks to Zeyao Wu, Qing Liao, and Xiuyuan Mi]
---