« previous post | next post »
From Charles Belov:
Charles comments:
Above are photos of checks from two different visits to a local Cantonese restaurant, where on each occasion I ordered salmon and brown rice. The checks were prepared by two different waiters (as I believe the 3-stroke vs. 4-stroke 文, as well as other handwriting differences, plus use or non-use of punctuation confirm). Yet, both checks show the same backwards 9 in the total $19.00. What's up with that?
I've been noticing the backward 9 of Chinese writers for as long as I can remember.  Although it struck me as unusual, there are so many other distinctive features about Chinese alphabetical and numerical writing that I never paid much attention to it.  But this time, because Charles wondered about it, I asked some of my Chinese students why they do it that way.
I.
The 9 in the photos indeed looks like a balloon/lollipop. I'm not sure if all Chinese write like that. My 9 actually resembles the alphabetic letter "q".
II.
I guess most people write in this way. I don't think it's backward, but it looks like it's backward since there is no turning point. Writing in this way saves time, and it is smoother than the standard version!
III.
Yes, we do write nine in the way exhibited on those checks. And it is really efficient to write that way. The picture below illustrates how efficiency is generated from the special way of writing nine backward.
First, to explain in words:
Part one:
You have to use two strokes to finish a "9".
Part two: it's like drawing a "0" and then covering the right half of the "0" with a prolonged or extended "1".
You have to cover one part of an already finished "0" with "1", which is a waste of time. However, compared to the first, "normal" way of writing "9", you can finish the backward "9" in one stroke. More efficient?
Part three:
No part covered twice, nothing wasted, only in one stroke!
Second, shown in a drawing: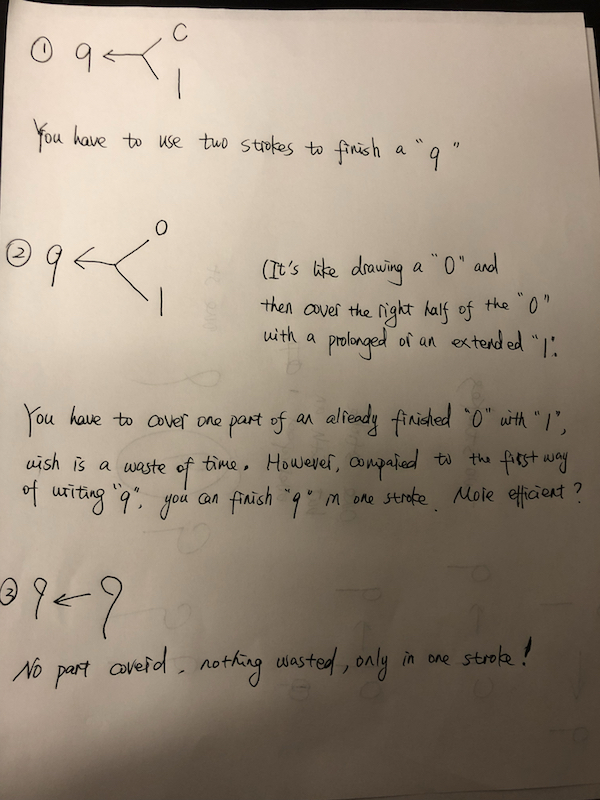 VHM:  QED.
Readings
[Thanks to Yixue Yang, Zeyao Wu, Qing Liao]
---