« previous post | next post »
While passing through Hartsfield Atlanta airport a few weeks back, Neil Dolinger passed a piano located in a place where passersby could freely play it.  A sign nearby (see photograph below) encourages this in 12 different languages: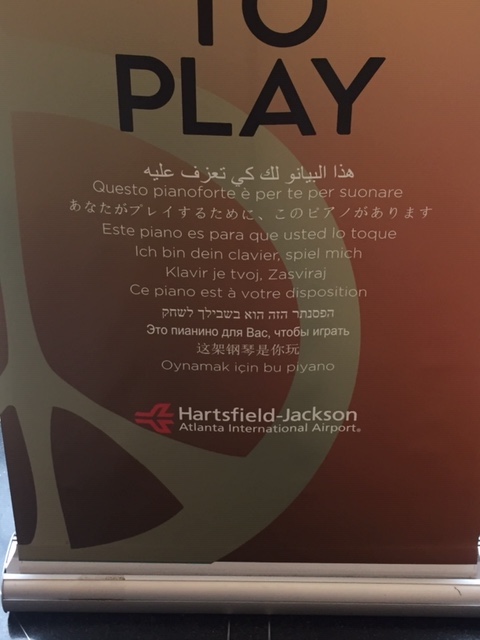 The Chinese version is way off:
Zhè jià gāngqín shì nǐ wán
這架鋼琴是你玩
"This piano is you play"
Amazingly, Google Translate, Microsoft Translator, and Baidu Fanyi all render this defective Chinese sentence into felicitous English:
"This piano is for you to play."
It's hard for me to imagine how these three major online machine translation software programs could not only take incorrect Chinese and turn it into correct English, but the exact same English at that!
If we reverse the direction of translation and go from English "This piano is for you to play" to Chinese, two of the three machine translators, Bing Translator and Baidu Fanyi, yield the identical, decent result:
Zhè jià gāngqín shì gěi nǐ yǎnzòu de
这架钢琴是给你演奏的
Google Translate's version is not so good (wrong measure word, wrong verb):
Zhè ge gāngqín shì gōng nǐ wán de
这个钢琴是供你玩的
Yixue Yang's suggestion is superior:
Zhè jià gāngqín gōng nín tánzòu
这架钢琴供您弹奏
For the verb, wán 玩 is not right because it signifies playing with a toy, playing in a sandbox, etc.  Yǎnzòu 演奏 is better, but it sounds too formal and pompous, as though one were performing in a concert hall.  A verb with tán 弹 ("pluck / play [a stringed instrument]") is to be preferred.
Qing Liao puts it more simply this way:
I would go with "kě gōng shǐyòng 可供使用" ("available for use"). However in China, most pianos are not allowed to be used by anyone other than the owner, and one in a public place would normally have a sign reading "jìnzhǐ chùpèng 禁止触碰" ("don't touch"). So there is usually nothing attached when the piano is accessible.
Now, as for the translations into the other 11 languages, I leave it for Language Log readers to assess their accuracy.  If you're dealing with a non-Roman letter script, please provide Romanization for all words and phrases that you discuss.
[Thanks to Zeyao Wu]
---