« previous post | next post »
Recently, Tong Wang's husband told her that he would not be home for dinner because he was going out with friends to this place: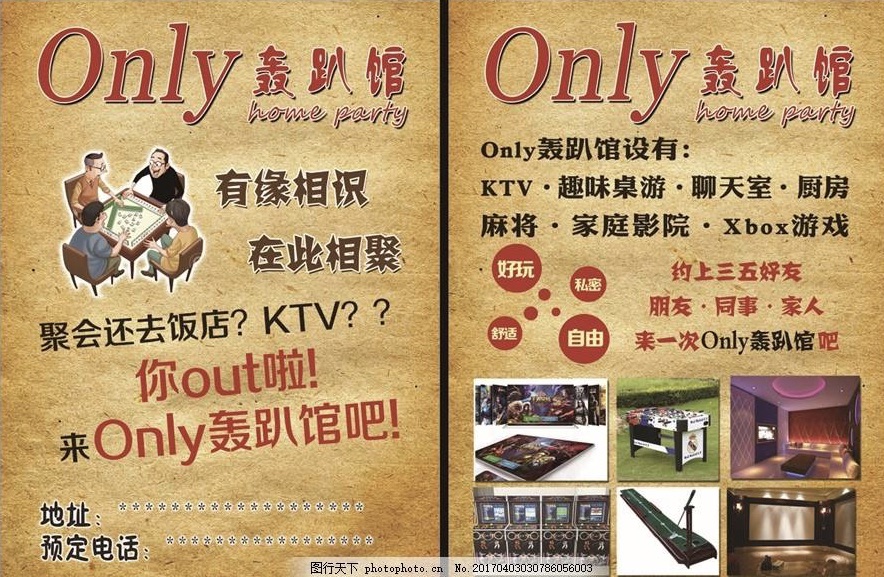 I won't translate the entire flyer because there's so much English (e.g., KTV, Xbox) mixed in with the Chinese that it's pretty clear what goes on there.  I'll just mention a few items.  Most important is that the establishment is called "Only hōngpā guǎn Only 轰趴管" ("Only home party hall"), where "hōngpā 轰趴" not only stands as a partial transcription of "home par(ty)", but also conveys the notion of loudness (hōng 轰 means "bang; boom; blast; bombard; rumble") and perhaps also a bit of rowdiness (pā 趴 means "bend / lean / topple over; lie [prone]; grovel").  The usual transcription of English "party" is "pàiduì 派对" (lit., "send / dispatch correct / facing").
Although the literature on the internet tries to give "hōngpā 轰趴" a respectable pedigree in the West and among early aficionados of things Western in China during the late Qing and Republican periods, it seems to be a recent coinage.  As Qing Liao (one of my students from the PRC who tried hard to document the existence of "hōngpā 轰趴" before the last few years) puts it,
When someone in his twenties invites me to a "hōngpā 轰趴" ("home party"), I would not relate it to any forms of home party. Rather, it has a lot of elements that a home party would exclude, such as not being held at one's own home, but someplace like a  fancy house in the suburbs.
….
I would say if there is no evidence of "hōngpā 轰趴" ("home party") in earlier texts, then it is a recent invention to advertise "hōngpā guǎn 轰趴馆" ("home party halls") and was thus given an elegant origin from the West to promote a Western way of living, such as that of a young man going out to "hōngpā 轰趴"  ("home party") with friends in a large house.
[excerpts from a long message on the subject]
Here and here are a couple of links about "hōngpā 轰趴" ("home party") in Chinese.
One of the most interesting occurrences of an English term on the flyer is "nǐ out la! 你out啦!", where the English preposition "out" becomes a full-fledged Chinese verb.  I leave it Language Log readers to offer their own translations, bearing in mind the context on this advertisement.
I was thinking of titling this post "Rampant bilingualism / biscriptalism", but that should be obvious enough by itself.
---