« previous post | next post »
Read here now: the fine profile of my friend and research collaborator Julie Washington in the April issue of the Atlantic magazine. It's been out for a while but you might not have seen it if, as in Madison WI where I live, it's still February (we had the biggest snowstorm of the season this week). Julie is a professor at Georgia State University and the head of their program in Communication Sciences and Disorders. She's an expert on the structure, acquisition, and use of African American English (AAE), and her research focuses on how use of the dialect affects reading achievement and educational progress, the assessment of children's language and reading, and the identification of developmental language and reading disorders. The article describes her view that children who speak AAE in the home and community will make better progress in learning to read, and in school, if they can code switch between AAE and the mainstream dialect, often termed (though not by her) "standard" American English.
The article, by William Brennan, was initially going to focus on whether the "achievement gap" in reading might be addressed by reviving dialect readers, a brief educational experiment from the 1970s. Children would initially read books written in Black English (as it was known) and then transition to ones written in the "standard" dialect. Were dialect readers a successful method that had been prematurely abandoned?  That's not my reading [sic] of the literature, and I wrote a post about it.
The Atlantic article morphed into a profile of Washington, who forcefully argues that African American children's success in reading and in school depends on mastery of the school dialect—the "standard" dialect used in the books and other materials that children are learning to read, and in higher education, business, government, and other institutions.  (Researchers now prefer terms such "mainstream" American English for reasons I'll get to.) Children whose home and school dialects differ greatly, she says, need to become bidialectal: fluent in both dialects and able to alternate between them as contexts demand. For the learner, the demands are similar in many respects to becoming bilingual. Children who speak Spanish in the home and community are likely to progress more slowly in reading and speaking English than monolingual speakers of mainstream English. The reason is obvious: the children are still learning English. With adequate education and sufficient time, they can catch up and become bilingual, with the numerous benefits that confers. Children who speak AAE may fall behind for a similar reason—they are still learning mainstream English—but the situation is usually interpreted differently:  they are behind because their English is deficient. They too might catch up with adequate instruction and sufficient time, gaining the benefits of being bidialectal, but those enabling conditions are rarely met.
Brennan shadowed Julie during the most recent convening of the venerable NWAV (New Ways of Analyzing Variation) conference, number 46, which was held in Madison.  The conference was amazing, not least because talks were given by William Labov, Walt Wolfram, and John Rickford, participants in NWAVs I and/or II.  Julie gave the closing keynote, Exploring the Growth of Language and Literacy of African American Children: The Influence of Gender and Dialectal Variation, presenting some results from a large longitudinal study of almost 900 African American children in grades 1-5 (Washington et al., 2018; PDF, paywall).
Among the findings:  use of AAE is negatively related to reading acquisition, but the impact is not uniform. One modulating factor is dialect density. Dialect density refers to the extent to which speakers use AAE-specific features, which varies greatly. In this study, higher dialect density placed children at higher risk for poor reading achievement.  Children with higher dialect density progressed more slowly; conversely, children who were strong readers were more likely to decrease the use of AAE over time.  These findings are consistent with other studies showing that use of the mainstream dialect is strongly related to reading acquisition. Becoming proficient with MAE (Mainstream American English) does not require extinguishing AAE, but the proportion of individuals who become fluent in both dialects and how this variable relates to reading isn't yet certain.
Gender also matters.  Gender differences related to language or reading were not observed until grades 4 and 5, which is late in learning-to-read years. Girls in those grades pulled ahead of boys in both reading and in the use of MAE.  Why this occurred isn't clear, though there are plenty of potential explanations.  (Girls also outperformed boys in every country/region that participated in the 2012 and 2015 OECD PISA assessments of 15 year olds' reading.)
The Atlantic article notes that the idea that African American children should become bidialectal is controversial. It is.  One opposing view is that there's no reason to encourage the use of the home dialect because the goal is for children to be proficient in the "standard" one. Code switching just increases the cognitive and linguistic loads on children who are already behind in reading and language.  Another view is that having to learn a second dialect is another version of having to be twice as good to succeed.  Which dialect functions as the "standard" is determined by social, historical, and economic factors, not linguistic ones. The disadvantages associated with using AAE are due to social and cultural conventions that are unjust.  Some educators, viewing themselves as agents of social justice and cultural change, believe the goal should be to create alternatives to a biased system rather than perpetuate it.
There's a lot more to these issues, obviously, which are also sensitive given the long history of mischaracterizations of the language of Black people in America.  Which brings me to my final point.  "Dialect" has to be one of the linguistic concepts that is least well understood by the general public, including many minority dialect speakers themselves, teachers, educators who develop curricula and instructional practices, and the measurement people who construct standardized assessments, among others. Language variation is a well-studied, well-understood phenomenon, but what is known hasn't been absorbed into the culture the way that, say, the importance of reading to children has been.  This is a major obstacle to addressing the issues Julie raises.
I think that those of us who study language need to step forward on these issues. When asked about dialect, many of us fall back on Weinreich's aphorism that "a language is a dialect with an army and navy."  That statement is relevant to the fact that (a) the boundary between language and dialect is graded rather than absolute, and (b) what a code is conventionally called is affected by nonlinguistic factors.  Hindi and Urdu, the textbook case, are treated as distinct languages but they are more like dialectal variations of a common language.  Their identification as two languages is abetted by their use by different racial/ethnic/religious groups, concentrated in different regions, and being written with different writing systems.  Serbo-Croatian is in the process of transforming into Serbian and Croatian for similar ethnic, religious, geographical, and orthographic reasons and, pace Weinreich, the speakers of the dialects literally did acquire their own armies following the break-up of Yugoslavia. The opposite case is familiar from Victor Mair's many posts here: treating the various Sinitic languages (Mandarin, Cantonese, Hakka, etc.) as one fictitious language, "Chinese". The Chinese government has validated this non sequitur by describing the various languages as "dialects" of Mandarin, which it designated as the national language.
OK, the conventional labels aren't linguistically reliable; can we move on?  Languages have identifiable dialects. English has a lot of them: these folks studied 46 (including pidgins and creoles), characterizing how much they overlap with respect to key morphosyntactic features.  All of the dialects are linguistically valid in the sense of exhibiting systematic variation resulting from general principles governing language change. Labov and others' critical contribution was to show that AAE is linguistically unremarkable, an example of dialectal variation as it occurs in many languages and cultures.
The linguistic integrity of AAE isn't at issue, but its sociolinguistic status is.  It is a low prestige, oral dialect spoken by a minority population with a lower income distribution in a country with a history of racial bias. There's substantial evidence that use of this lower status dialect can impede progress in school, not because of characteristics of the dialect or dialect speakers, but simply because the home and school dialects differ. Hence Julie's recommendation to promote code-switching.
The problem is that most people conflate linguistic integrity and sociolinguistic status. Calling one dialect "Standard American English" encourages this.  The dialect is "standard" in the sense of being the higher prestige one used in important contexts, not its linguistic superiority. That's why researchers are gravitating to terms such as "Mainstream American English."
Few people make these distinctions and so the recommendation that AAE speaking children learn to speak the mainstream dialect is easily taken as conveying the unwanted message that AAE is defective, which many speakers will rightly resist. Teachers are in a particularly bad bind.  They are poorly-informed about dialect and the rest of language because Linguistics 001 is not part of their basic training.  Many teachers, including some African Americans, still believe that AAE is bad English, NWAVs 1-46 notwithstanding.  Their goal is to promot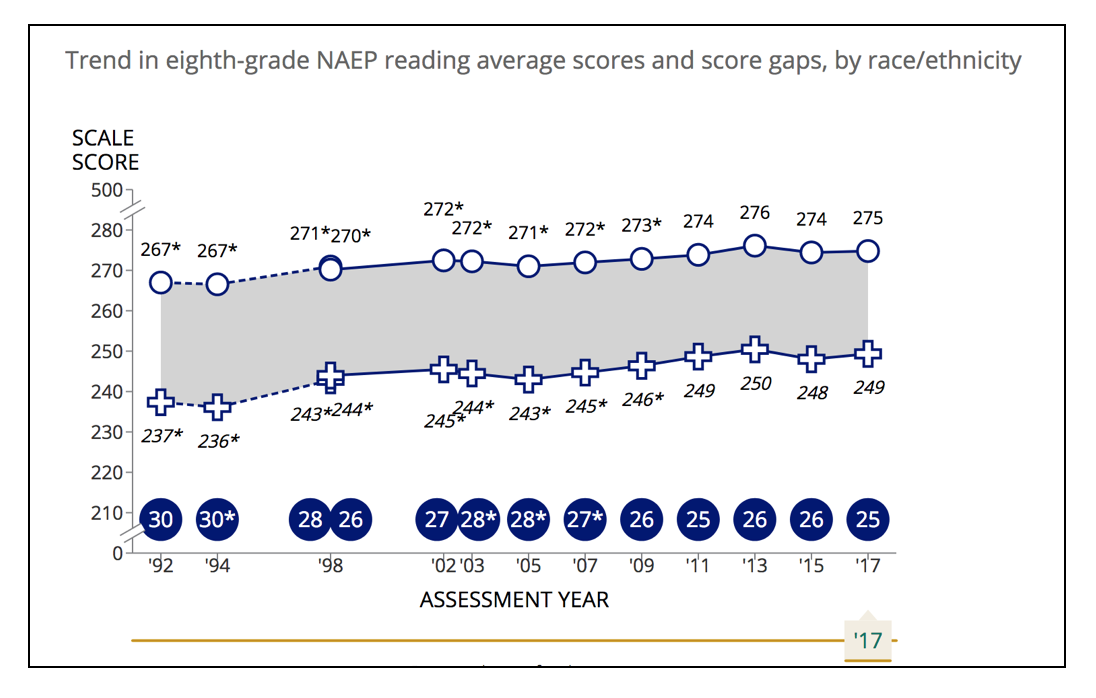 e using proper English, not code-switching. Correcting the child's speech may be less effective—and more disaffecting—than using it to bootstrap the second dialect.  Teachers who aren't African American may feel that it isn't their role to impose the mainstream dialect on another group. Meanwhile, achievement gaps continue (see figure, from here), due in part to dialect differences that our educational system does not accommodate.
The Atlantic article is a good place to start learning more about these issues.  I've included some additional resources for people who are interested.
Gatlin, B., & Wanzek, J. (2015). Relations among children's use of dialect and literacy skills: A meta-analysis. Journal of Speech, Language, and Hearing Research, 58, 1306-1318. [PDF]
Pearson, B.Z., Conner, T., & Jackson, J.E. (2013). Removing obstacles for African American English-speaking children through greater understanding of language difference. Developmental Psychology, 49, 31-44.  [PDF]
Seidenberg, M. S. (2013). The science of reading and its educational implications. Language Learning and Development, 9, 331-360.  [PDF]
Seidenberg, M.S. (2017). Language at the Speed of Sight: How We Read, Why So Many Can't, and What Can Be Done About It. Basic Books (pp. 235-245). [Amazon]
Seidenberg, M.S. & MacDonald, M.C. (2018). The impact of language experience on language and reading: A statistical learning approach. Topics in Language Disorders, 38, 66-83. [PDF]
Terry, N. P., Connor, C. M., Petscher, Y., & Conlin, C. R. (2012). Dialect variation and reading: Is change in nonmainstream American English use related to reading achievement in first and second grades? Journal of Speech, Language, and Hearing Research, 55, 55-69. [PDF]
Washington, J.A., Branum-Martin, L., Sun, C., & Lee-Jones, R. (2018). The impact of dialect density on the growth of language and reading in African American children.  Language, Speech, and Hearing Services in Schools, 232-247. [PDF, paywall]
---