« previous post | next post »
David Langeneckert thought that I "might find this mashup of languages interesting", and indeed I do!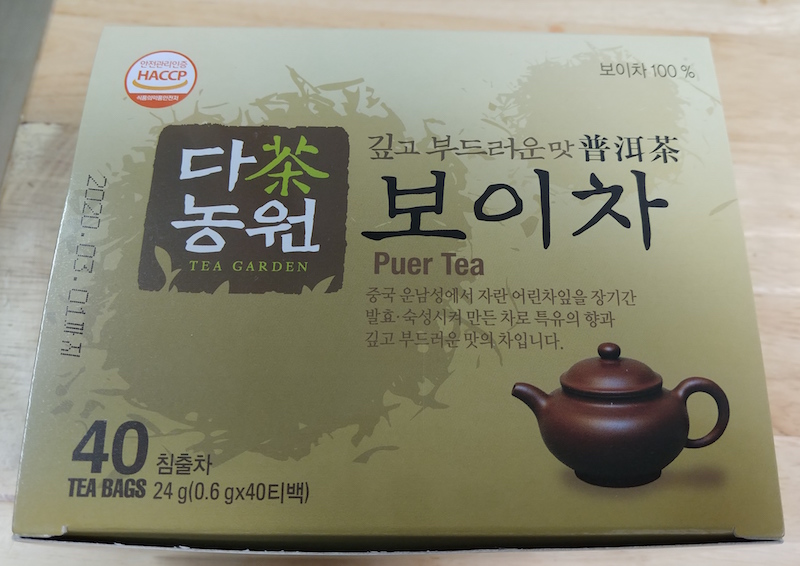 The writing on the front of the package is a mixture of Korean, English, and a little bit of Chinese:
다농원 Danongwon (brand name: 茶農園 Tea Garden)
보이차 Boicha / Pǔ'ěr chá 普洱茶 ("Pu'er / Pu-erh tea")

깊고 부드러운 맛 gipgo budeureoun mat ("deep and smooth taste")
중국 운남성에서 자란 어린 차잎을 장기간 숙성시켜 만든 차로
특유의 향과 깊고 부드러운 맛의 차입니다.  
Jungguk unnamseongeseo jaran eorin chaipeul janggigan sukseongsikyeo mandeun charo
teugyuui hyanggwa gipgo budeureoun masui chaimnida.
Lit.:  China Yunnan Province-place grown young tea leaves-object long-term fermented tea-as
unique aroma-and deep-and smooth taste-of tea-is (formal-polite)

(This is) a fermented tea made from fresh tea leaves grown in Yunnan province, China, with a unique aroma and a deep and smooth taste.
Comment by Haewon Cho:  I would not say this is a well-written sentence because the sentence structure, "as (this is) a tea (long modifying clause), (this is) a tea with…." looks a little awkward to me.
About HACCP inside the red circle at the top left:
HACCP (Hazard Analysis and Critical Control Points) is a "systematic preventive approach to food safety from biological, chemical, and physical hazards in production processes that can cause the finished product to be unsafe, and designs measurements to reduce these risks to a safe level." (Wikipedia)
References:
"Mandarin Pu'er / Cantonese Bolei 普洱" (8/5/11)
"Kung-fu (Gongfu) Tea" (7/20/11)
"Trump tea" (1/13/17)
"Caucasian words for tea" (1/26/17)
Victor H. Mair and Erling Hoh, The True History of Tea (London:  Thames and Hudson, 2009), especially Appendix C on the linguistics of "tea").
---