« previous post | next post »
From Josh Penney: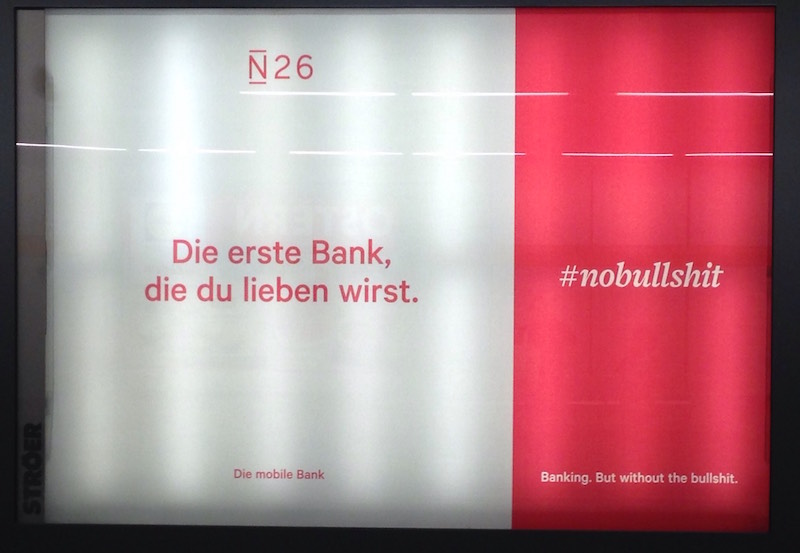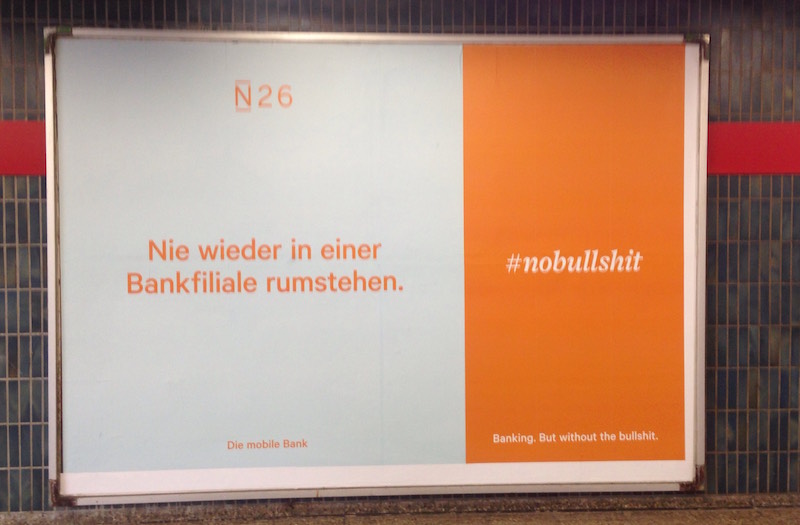 Josh remarks (translations from German to English are by VHM):
I thought you might be interested in these photos from an advertising campaign for a mobile based bank, N26, which have been appearing around Germany recently, as I know you have discussed similar things on Language Log in the past (the big fuckin' sale post from a few years back comes to mind). These were all taken on train stations in Munich, Germany (there are also a couple more variants I've seen but not been quick enough to snap; you can probably find them online I guess) and all have the catchprase #nobullshit. And here is a screen shot of the bank's website, written in English and also with the no bullshit tag.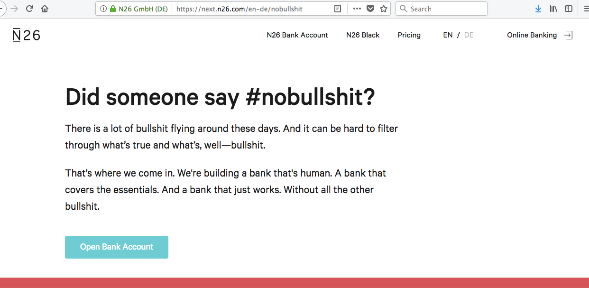 I'm not sure how much tolerance there would be in the US for such a campaign, but I doubt very much that this would be allowed in Australia (I presume this would also be the case in other English speaking countries such as the UK or New Zealand). I suppose that in Germany it may not be as controversial due to the fact that English is an L2 for most people and hence they lack the sensitivity that L1 speakers would feel for such taboo words. Or perhaps Germans are more comfortable with this due to the fact that Scheiße, the direct translation of shit in German, does not have such a strong sense of taboo attached to it these days as shit does in English. For example, the catchphrase of the German children's show Wissen macht Ah! ("Knowledge makes Ah!") is Klugscheißen mit Shary und Ralph ("Smart shit with Shary and Ralph"). From my outsider perspective, Scheiße seems to be on par with words likes bloody and arse/ass in English; they are somewhat taboo but not to the extent that words like shit and fuck are.
The sentences on the two posters say:
Die erste Bank, die du lieben wirst. ("The first bank you will love.")
Nie wieder in einer Bankfiliale rumstehen. ("Never stand around in a bank branch again.")
Judging from the #1 New York Times bestseller in 2005, On Bullshit, by Harry G. Frankfurt, we have become so desensitized to this word that it can be treated as a philosophical concept.  (How that happened is beyond me; I personally think it is a degradation of standards and taste.)  On the other hand, I have to say that Klugscheißen mit Shary und Ralph ("Smart shit with Shary and Ralph") is a bit much for the slogan of a children's television show.
---