« previous post | next post »
Photograph of a slide shown during a lecture at a university in Sichuan: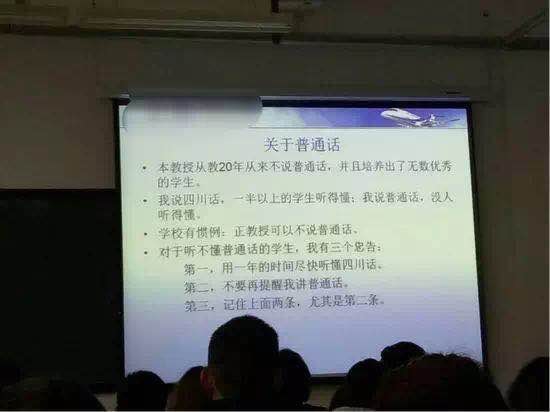 Here's what the writing on the slide says:
Guānyú pǔtōnghuà
Běn jiàoshòu cóngjiào 20 nián cónglái bu shuō Pǔtōnghuà, bìngqiě péiyǎngle wúshù yōuxiù de xuéshēng.
Wǒ shuō Sìchuānhuà, yībàn yǐshàng xuéshēng tīng dé dǒng; wǒ shuō Pǔtōnghuà, méi rén tīng dé dǒng.
Xuéxiào yǒu guànlì, zhèng jiàoshòu kěyǐ bù shuō Pǔtōnghuà.
Duìyú tīng bù dǒng Pǔtōnghuà [sic –> Sìchuānhuà] de xuéshēng, wǒ yǒu sān gè zhōnggào:
Dì yī, yòng yī nián de shíjiān jǐnkuài tīng dǒng Sìchuānhuà.
Dì èr, bùyào zài tíxǐng wǒ jiǎng Pǔtōnghuà.
Dì sān, jìzhù shàngmiàn liǎng tiáo, yóuqí shì dì èr tiáo.
 关于普通话
本教授从教20年从来不说普通话,并且培养了无数优秀的学生。
我说四川话,一半以上学生听得懂;我说普通话,没人听得懂。
学校有惯例,正教授可以不说普通话。
对于听不懂普通话[sic–>四川话]的学生,我有三个忠告:
第一,用一年的时间尽快听懂四川话。
第二,不要再提醒我讲普通话。
第三,记住上面两条,尤其是第二条。
Regarding MSM (Modern Standard Mandarin [Putonghua]*)
The professor has been teaching for twenty years and has never spoken MSM.  Furthermore, he has trained countless outstanding students.
When I speak Sichuanese, more than half the students understand what I'm saying; if I speak MSM, nobody understands what I'm saying.
The university has a customary rule:  full professors are not required to speak MSM.
As for students who do not understand MSM [sic –> Sichuanese], I have three suggestions:
1. Spend a year learning Sichuanese as fast as you can.
2. Do not remind me again to speak MSM.
3. Remember the above two items, especially the second one.
—
(*VHM:  In Taiwan it's called Guóyǔ 國語; in Singapore and elsewhere in the Sinophone diaspora it's called Huáyǔ 華語)
Spoken like a true professor, with wit, charm, firmness, and lucidity.
What he/she says is highly revealing about the linguistic situation in Sichuan in particular and in China more generally.
If someone only speaks Sichuanese naturally and you force him to speak MSM, then what comes out of his mouth will neither be fully intelligible MSM nor fully intelligible Sichuanese.  It will be a jumbled mix of the two, a god-awful, garbled mess that is neither one nor the other.
The text testifies to the significant difference between MSM and Sichuanese, though they are both held to be types of Mandarin.  I've written a lot about this on Language Log (see the posts below for some examples).  We really need to take seriously the question of mutual intelligibility (and varying degrees of lack thereof) among different topolects.
Decades ago, I spent a lot of time at Sichuan University, and what this text describes is exactly what the situation was when I was there.  I remember a distinguished professor of Chinese literature named Xiàng Chǔ 项楚 who is a friend of mine.  He is not even a native of Sichuan (he's from Zhejiang), but his wife is Sichuanese and he has been living in Sichuan for most of his life.  He delivers his lectures in Sichuanese and used to get annoyed when people would tell him to speak MSM.
I myself married into a family that had spent a decade in Sichuan during the war, so my wife spoke fluent Sichuanese and had many Sichuanese friends.  When they were together, she and her Sichuanese friends preferred to speak Sichuanese and found it much more satisfying (guòyǐn 过瘾) than speaking MSM.  Ditto for my Shandong relatives who were much more relaxed and open when speaking Shandongese among themselves, whereas they felt awkward (bièniu 别扭) and constrained (shòuxiàn 受限) when circumstances compelled them to speak MSM.  Even though I'm fluent in MSM, when Sichuanese speakers and Shandongese speakers are conversing at full tilt among themselves, I probably understand less than fifty per cent of what they're saying, and yet they're both supposedly speaking "Mandarin".
A couple of additional notes:
1. Before Donald Trump's surname was rendered into Chinese as Chuānpǔ 川普, that very expression was used to designate Sìchuān pǔtōnghuà 四川普通话 ("Sichuan MSM"), which is what the feisty professor does not want to speak.  While Chuānpǔ 川普 is still used for "Trump" in Taiwan and Hong Kong, and on the internet on the mainland, the government and official media in the PRC refer to President Trump as Tèlǎngpǔ 特朗普.
2. Another term for Sichuan MSM is jiāoyán pǔtōnghuà 椒盐普通话 ("salt and pepper Mandarin"), which alludes to its being a little bit of this and a little bit of that as well as to Sichuan's spicy cuisine.
[h.t. Zeyao Wu; thanks to Fangyi Cheng and Yixue Yang]
---