« previous post | next post »
Given the bevy of shamed politicians and celebrities who have been paraded before the public in recent weeks, it may be of interest that the word for "sexual harassment" in Chinese is quite a colorful one: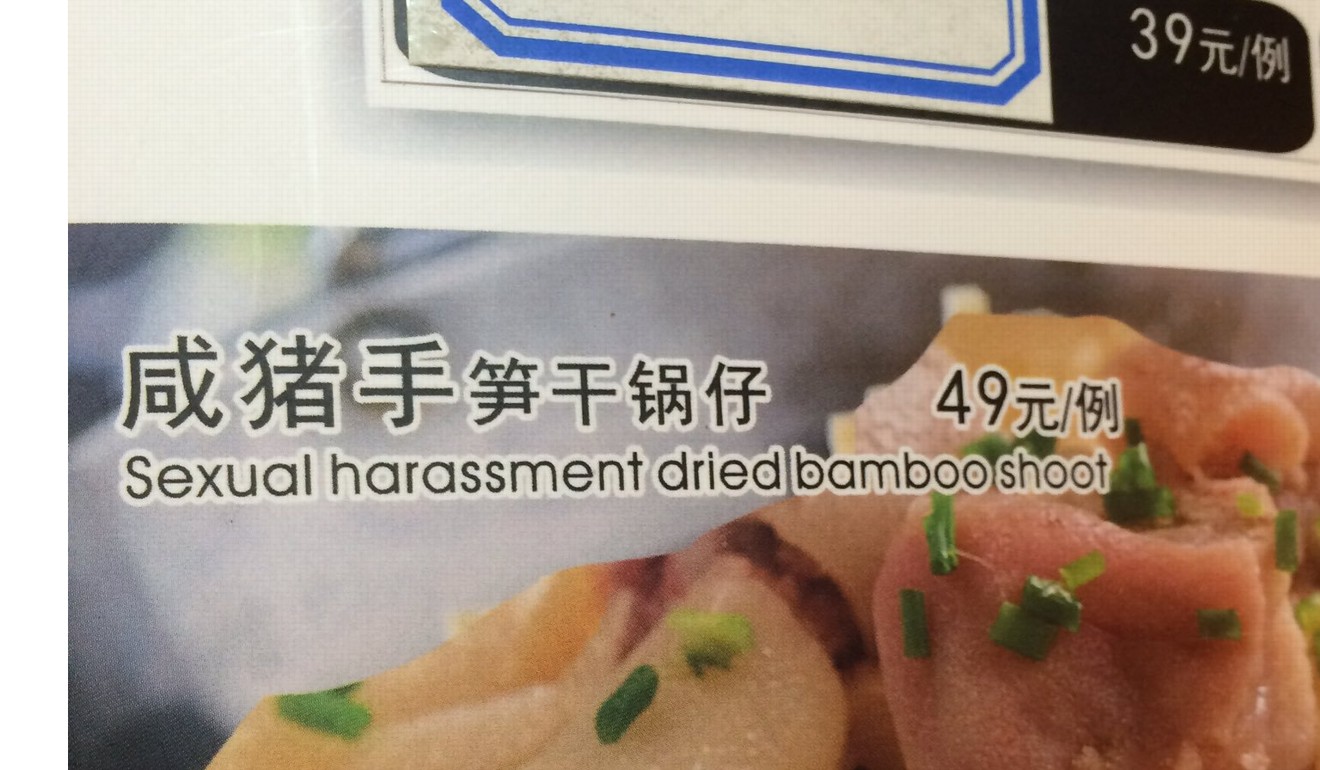 (Source)
xián zhūshǒu sǔngān guōzǎi
咸猪手笋干锅仔
"stewed salted pork trotters with dried bamboo shoots" < "salted pork trotters with dried bamboo shoots in [hot] pot"
That's when the first three characters are being used in their overt, Sinographic sense:  "salted pork trotters".  But, as often happens in Cantonese, the same three characters have an entirely different connotation that is partly (in some cases wholly) dependent on the transcriptional value of one (or more) of the characters for rendering the sound of a foreign word or a Cantonese morpheme for which there is no known Chinese character.  In this case, the C. haam4 / M. xián 鹹 / 咸 (lit., "salt[y/ed]") stands for "ham", but that doesn't have anything ostensible to do with "salt(y/ed)".  Rather, it supposedly comes from English "hamshop", which is Sinographically transcribed into Cantonese as C. haam4sap1 鹹濕 / 咸湿 (Sinographically literally "salty-moist", but transcriptionally "hamshop", i.e., "lecherous; lascivious").

I found the fascinating information in the latter part of the preceding paragraph at this website, which also has a lengthy list of other Cantonese terms said to be transcribed from foreign words.  More information on the alleged etymology of English "hamshop" here and here.
In sum, the key term in the mistranslated menu item at the top of this page, xián zhūshǒu 咸猪手 ("groper"), is actually a Mandarin borrowing from Cantonese haam4 zyu1sau2 咸猪手 (lit., "salty pig's hand / trotter"; "sexual pervert [esp. one who gropes women against their wishes or without their permission]").  It should have been translated more directly as "salted pork trotters".

Cf. German Eisbein ("pickled ham hock").
Previous posts on this topic:
It's simpler in Japanese:
sekuhara セクハラ < sekusharuharasumento セクシャルハラスメント .
Now, after Matt Lauer, the latest in the procession from Harvey Weinstein to Al Franken and too many others to name, who will be the next "salty pig's hand" to be called out before the American public?
---