« previous post | next post »
Photo by Ross Bender, taken near Osaka Castle last month: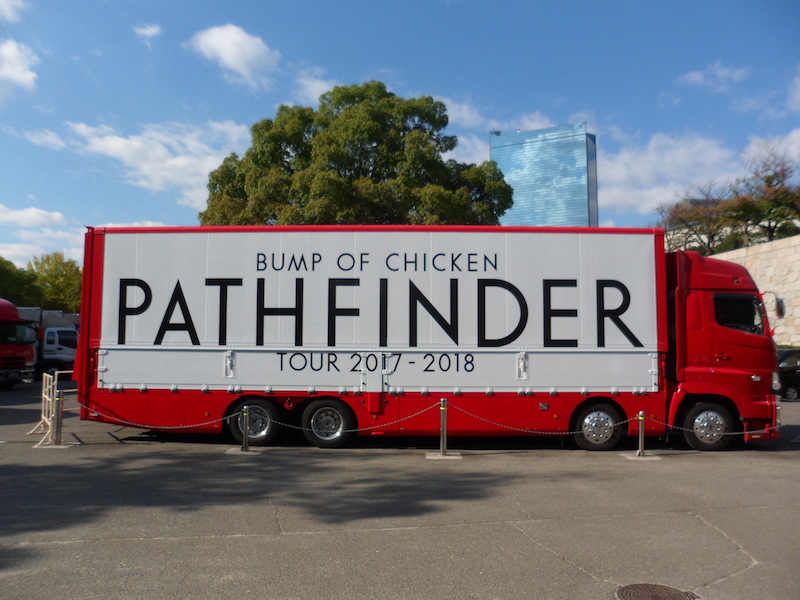 Ross remarks:
There is so much weird English in Japan that after a while it ceases to shock or interest. However, the attached photo …struck me as somewhat special, even for Japan. Yes, "Bump of Chicken" is the name of a very prominent pop/rock band here.
Somehow this bothered me in a way that other J-pop band names like "Porno Graffiti", "Golden Bomber", or even "Funky Monkey Babys" didn't. These latter seem to me to follow some sort of intuitive English syntax, but "Bump of Chicken"??
Of course I grew up with 1960's band names like "Strawberry Alarm Clock," "Iron Butterfly", "Led Zeppelin" and "Procol Harum", but again, these seem in some way syntactically correct in a way that Bump of Chicken does not.
At any rate, I wouldn't get much work done if I let Japlish or whatever it is keep me up at nights.
For those who are interested in learning more about the band's unusual name, they are Banpu Obu Chikin バンプ・オブ・チキン ("Bump of Chicken"), which means jakusha no hangeki 弱者の反撃 ("counterattack from the weak man").
Here's "Hello, world!" performed by Bump of Chicken, with 35,623,044 views:
---