« previous post | next post »
In response to "Strunk and Ptah", 10/6/2011, Reader KD has pointed me to a passage in James P. Allen, "Middle Egyptian: an introduction to the language and culture of hieroglyphs", 2000, which describes a real instance of ancient Egyptian prescriptivism.  Crucial background is provided by the history of demonstratives in Egyptian: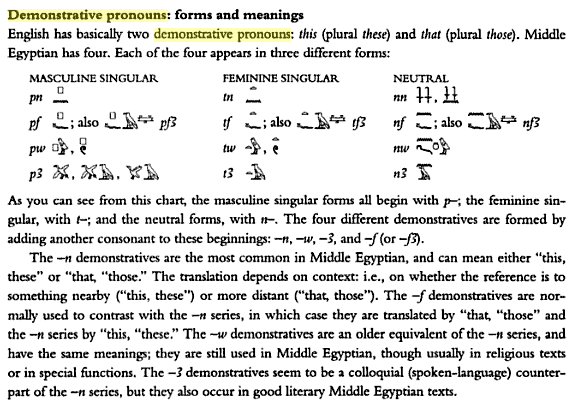 This change-in-progress was apparently stigmatized, with the expected sociolinguistic consequences: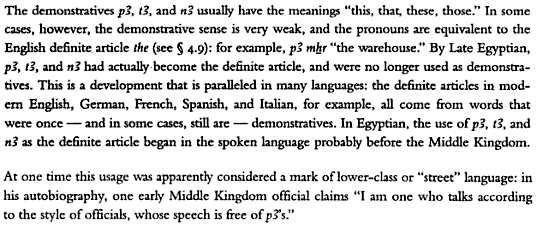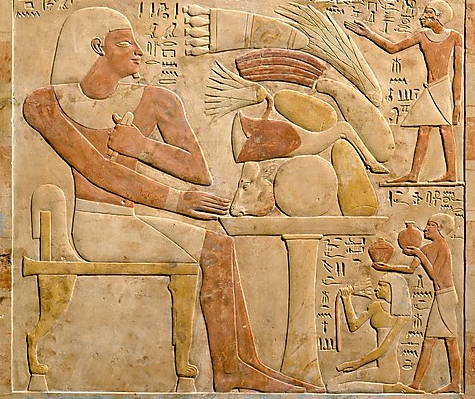 This appears to be a reference to the Stela of Mentuwoser, dated to 1945 B.C., displayed physically in the Metropolitan Museum of Art in Gallery 100, and displayed virtually here. The relevant part of the translation, attributed to the same James Allen, is given as:
I am generous with surplus [9] of food: there is no lack for one to whom I give. I share the greater portion of meat with those who sit [10] next to me. I am one beloved of his kindred, to whom his family is attached. I have not hid my face from the one who is in [11] servitude. I am a father to the orphan, a helper of widows. No man has gone to sleep hungry [12] in my domain; I have hindered no man from the ferry; I have cut down no man less powerful than I; I have tolerated no [13] slanderer. I am one who talks according to the style of officials, free of outmoded speech. I am a proper judge, [14] who shows no partiality to the one who can give rewards.
However, there's something about the  museum-site's translation that seems odd to me. Prof. Allen's explanation in Middle Egyptian is that "the -3 demonstratives seem to be a colloquial (spoken language) counterpart of the -n series", which eventually turned into a definite article, and "at one time […] was considered a mark of lower-class or 'street' language". But the translation of Mentuwoser's Stela boasts that he  "talks according to the style of officials, free of outmoded speech" — whereas being "free of p3's" would apparently have been the opposite of "free of outmoded speech", and more like "free of innovative colloquialisms".
This does seem to be the right autobiograpical stela — KD indicates this passage as the crucial one, noting that it ends with with a pintail duck landing (Unicode 13170 EGYPTIAN HIEROGLYPH G041) followed by followed by an Egyptian vulture in profile (Unicode 13140 EGYPTIAN HIEROGLYPH G001), representing p3, and then the quail chick (Unicode 13172 EGYPTIAN HIEROGLYPH G043), which is the sign for 'w', here marking the plural:

Details aside, I find it interesting that Mentuwoser (or rather his son, speaking for him) gives his linguistic purity in the middle of a list of evidences of his charity, empathy, and honesty, and not (for example) in the proofs of political loyalty and diligence:
[5] I am a diligent subordinate in the king's house, who is sent on missions because of decisive character. I have acted as granary overseer during the counting of [6] barley; I have acted as overseer of more than 3,000 people; I have acted as overseer of cattle, overseer of [7] goats, overseer of donkeys, overseer of sheep, overseer of pigs; I have directed clothing to the treasury; [8] account has been taken by me in the king's house, and I have been acclaimed and thanked.
Or in the list of proofs of wealth:
I am wealthy, well supplied with fine things: there is nothing I am missing in all my things. [15] I am an owner of cattle, with many goats, an owner of donkeys, with many sheep. I am rich in barley and emmer wheat, fine [16] in clothing: there is nothing missing from all my wealth. I am well supplied with boats and rich with vintage.
Update — KD sends in a note from a friend doing a doctorate on the Egyptian language, who clarifies the analysis that (presumably) lies behind the two apparently different translations:
This blog is really interesting. The text and what it appears to say is really interesting too, as its one of the few cases I know of where Egyptians seem to talk about their own language. The transliteration and translation can be a bit variable for this text, particularly the translation of pA. In the first translation by Allen it is taken to be the definite article. This is seen to be low speech I think because pA is used as a demonstrative in Middle Egyptian but in Late Egyptian 'low' dialect it is the definite article 'the'. In the second translation it seems to be taken as the verb pAw, a conjugated form of pAi 'to have done in the past', which seems to me to be more likely. The problem with this is this word is never determined with the 'speech' determinative. The online worterbuch even has a word pAw (?) written this way as 'anything unseemly'; perhaps the meaning of the word then is old or anachronistic speech. Although the scribe could be merely amending the word pA 'the' by putting the speech determinative after it to indicate the spoken word.
I would have it as:
ink mdw r r-a sr.w Sw.y m Dd pAw/pA.w
I am one who speaks according to the state/presence/style of the officials, empty/free of saying that which was in the past.
The alternative if pAw is the article/demonstrative would be, 'free/empty of saying pAs'
The other reason why I would err to the side of the verb pAw as opposed to 'the' is that in this stele the scribe seems to more regularly use the plural strokes than the quail chick to pluralize words. Although I can see one or two exceptions to this in the stele. However, the idea of not speaking like the past doesn't really seem to fit with Egyptian cultural precepts, where the past is usually seen as something to be emulated rather than shunned, unless the speaker is referring to the immediate chaotic past of the First Intermediate Period.
It's really interesting stuff and not altogether clear what way to take pA. It'd be nice if there were some more examples of it. This period apparently has the first attestations of some late egyptian-isms in some letters etc so it would make historical sense if the official was saying I don't use the 'low' pA-speech.
---