« previous post | next post »
It's been a while since we've rounded up public appearances of the old "Eskimo words for snow" myth. Here are a few recent examples that have been sent in to Language Log Plaza.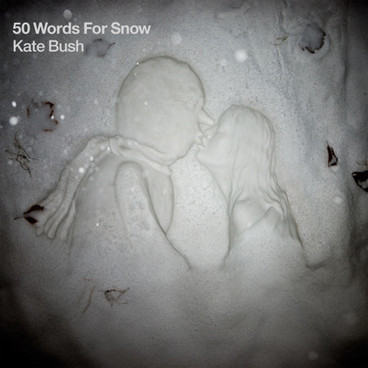 Item #1: The singer-songwriter Kate Bush will be releasing a new album on Nov. 21 with the title (sigh) 50 Words for Snow. That's also the name of a song on the album, and some other tracks are similarly snow-themed ("Snowflake," "Snowed in at Wheeler Street"). It's unclear at this point exactly how Eskimos will figure into Bush's songwriting, but it's safe to say they'll be in there somewhere. It's perhaps also a telling sign that the album features a guest appearance from Stephen Fry, he of "Fry's Planet Word."

[Update, 10/15: As pointed out by Matt in PDX, Fry has actually debunked the "words for snow" myth on the game show QI — see here for a transcript. So perhaps he set Kate straight on this.]
[Update, 11/14: See this followup post for more on the title track.]
Item #2: The Atlantic has published an excerpt of The Wage Slave's Glossary, "a fun dictionary of modern office idioms and new economy jargon by Joshua Glenn, Mark Kingwell, and the cartoonist Seth." You can probably guess that the excerpt is presented in classic snowclone style:
Alaskans have more than 100 words for snow, as legend has it. So it's only appropriate that Americans, who work longer hours with fewer paid breaks than almost any other developed country, would have hundreds of words for working. Or, not working. In our current crisis, consider the panoply of terms for being let go from work: there are layoffs, furloughs, firings, redundancies, non-renewals, partings, breaks, and, finally, funemployment. It's exhausting just to count the synonyms.
Item #3: It's not all misinformation out there on the snow-word front. Positive reviews have been coming in for the new book by David Bellos, Is That a Fish in Your Ear? Translation and the Meaning of Everything (Faber & Faber). Some of the reviews have noted that Bellos debunks the snow-word myth in Chapter 14, "How Many Words Do We Have for Coffee?" Here's a sampling from that chapter:
The number of New Yorkers who can say "good morning" in any of the languages spoken by the Inuit peoples of the Arctic can probably be counted on the fingers of one hand. But in any small crowd of folk in the city or elsewhere you will surely find someone to tell you, "Eskimo has one hundred words for snow." The Great Eskimo Vocabulary Hoax was demolished many years ago, but its place in popular wisdom about language and translation remains untouched. What are interesting for the study of translation are not so much the reasons this blooper is wrong but why people cling to it nonetheless.
People who proffer the factoid seem to think it shows that the lexical resources of a language reflect the environment in which its native speakers live. As an observation about language in general, it's a fair point to make — languages tend to have the words their users need and not to have words for things never used or encountered. But the Eskimo story actually says more than that. It tells us that a language and a culture are so closely bound together as to be one and the same thing."Eskimo language" and "the [snowbound] world of the Eskimos" are mutually dependent things. That's a very different proposition, and it lies at the heart of arguments about the translatability of different tongues.
Bellos goes on to provide a quick overview of how the concept of linguistic relativity was developed and then was subsequently watered down into the snow-word myth. He argues that the myth gets repeated because of the misguided notion that "the multiplicity of concrete terms 'in Eskimo' displays its speakers' lack of the key feature of the civilized mind — the capacity to see things not as unique items but as tokens of a more general class." He concludes:
If you go into a Starbucks and ask for "coffee," the barista most likely will give you a blank stare. To him the word means absolutely nothing. There are at least thirty-seven words for coffee in my local dialect of Coffeeshop Talk (or tok-kofi, as it would be called if I lived in Papua New Guinea). Unless you use one of these individuated terms, your utterance will seem baffling or produce an unwanted result. You should point this out next time anyone tells you that Eskimo has a hundred words for snow. If a Martian explorer should visit your local bar and deduce from the lingo that Average West Europeans lack a single word to designate the type that covers all tokens of small quantities of a hot or cold black or brown liquid in a disposable cup, and consequently pour scorn on  your language as inappropriate to higher forms of interplanetary thought — well, now you can tell him where to get off.
In a footnote, Bellos cites the standard references on debunking the myth: Laura Martin's "Eskimo Words for Snow: A Case Study in the Genesis and Decay of an Anthropological Example" (American Anthropologist, 1986) and Geoff Pullum's The Great Eskimo Vocabulary Hoax (Univ. of Chicago Press, 1991).
(Hat tips to Stan Carey and Nancy Friedman.)
[Update, 10/15: Via Brain Pickings, here is a book trailer for Is That a Fish in Your Ear?, featuring an interview with Bellos accompanied by kinetic typography.]
---