« previous post | next post »
Pro-Cantonese sign in Hong Kong: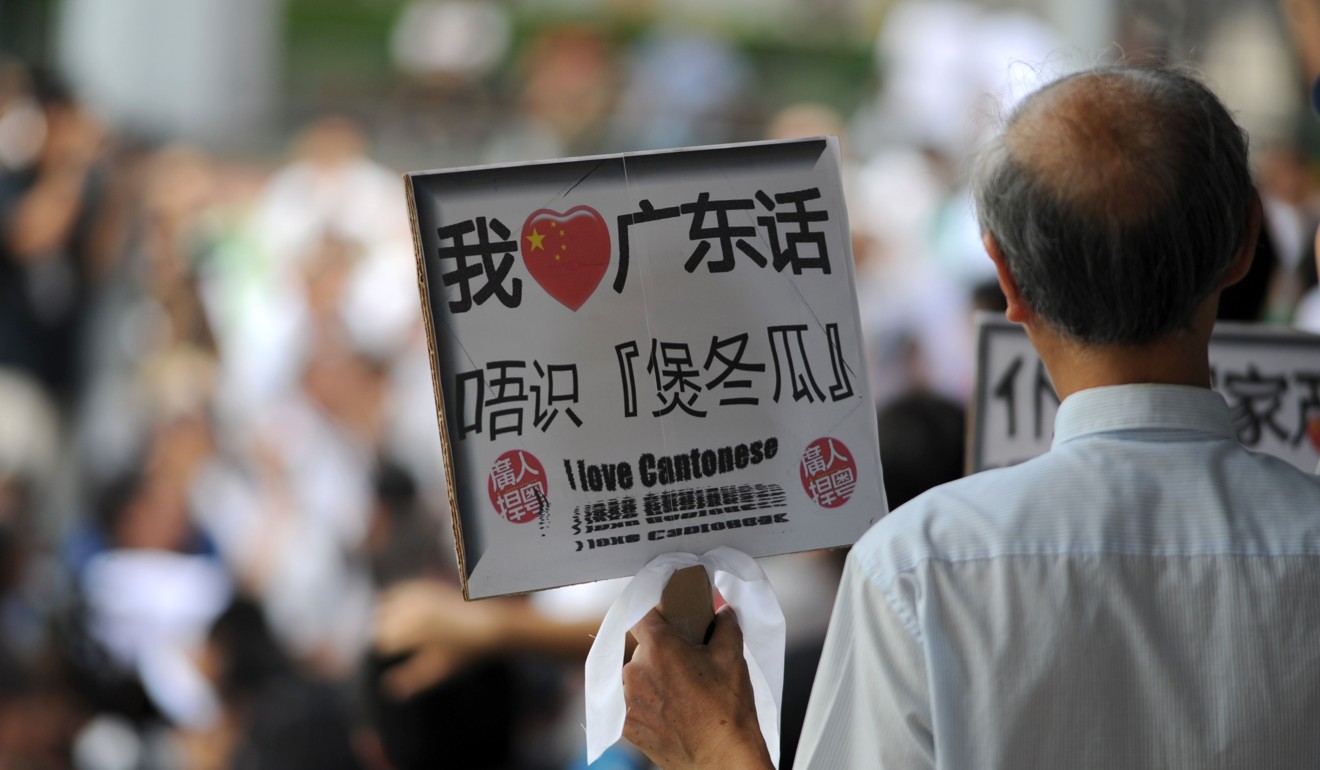 A man holds a sign professing his love for Cantonese as he attends a Hong Kong rally in 2010 against mainland China's bid to champion Mandarin over Cantonese. Picture: AFP
The sign says (in Cantonese):
ngo5 oi3 gwong2dung1waa2 ("I love Cantonese")
m4 sik1 bou1dung1gwaa1 ("I don't know Putonghua [Modern Standard Mandarin / MSM]").
Note that Pǔtōnghuà / Pou2tung1waa6*2 普通話 ("MSM") is here written punningly as bou1dung1gwaa1 煲冬瓜 ("stewed winter melon").
It could also be written with another pun:  paau4*2dung1gwaa1 刨冬瓜 ("shaved winter melon")
The above photograph and caption are from this sensible article by Lisa Lim in the South China Morning Post, "Language Matters" (9/29/17):
Why it's hard to argue there is one Chinese language
To a linguist 'the Chinese language' is a family of languages – not dialects – that for the most part are mutually unintelligible and written different ways; an appreciation of this variety would help discussions about language policy.
Biographical note in the SCMP:
Lisa Lim has worked in Singapore, the UK, Amsterdam, and Sri Lanka, and is now Associate Professor and Head of the School of English at the University of Hong Kong. She is co-editor of the journal Language Ecology, founder of the website linguisticminorities.hk and co-author of Languages in Contact (Cambridge University Press, 2016).
Although some things the author says may be open to discussion (e.g., "Chinese" is comparable to the Romance or Germanic "families", is a branch of the Sino-Tibetan family, etc.), much of what she says is spot on (e.g., most of the "Chinese" language groups are mutually unintelligible, her calling into question referring to these groups as "dialects", and so forth).
Modern written Chinese is technically not bound to any specific variety, though it mostly represents the grammar and vocabulary of Mandarin. But Cantonese has its own written forms, for both formal ("High") and colloquial ("Low") vari­eties. The latter flourishes in Hong Kong, where, for instance, one finds 瞓 (fan) for "sleep" in addition to the more formal 睡 (sèoih).
[VHM:  Nobody would understand you if you used the term fan3 瞓 in Mandarin, even if you pronounced it fèn à la mandarin.]
In classrooms, Chinese texts are often taught using H Cantonese, with Putonghua pronunciation having little currency – for example, the word for "no, not", realised as 唔 (m̀h) in colloquial Cantonese, is written as 不 in Standard Chinese, pronounced bù in Putonghua, but the formal H Cantonese pronunciation b¯ a t is likely to be used. There is even Hong Kong Written Chinese, influenced by Cantonese and English.
Official references to these various systems are often blurred and confused under the label "Chinese language". Parents' and policymakers' worries about students' "Chinese language" proficiency, as well as the medium-of-instruction debate, will continue, with issues of mother-tongue-based education and national-vs-local identity at their core. A more nuanced appreciation of all that "Chinese language" encom­passes will go a long way towards more fruitful discussions.
[VHM:  These are the last three paragraphs of the article.]
What a breath of fresh air Lisa Lim's article is!
[Thanks to Bob Bauer and Abraham Chan]
---