« previous post | next post »
By itself, the phrase "xuéxí lù shàng 学习路上" means "on the path / way / road" of learning.  However, when you see it in large characters at the top of a lavish website devoted to the life and works of President Xi Jinping, you cannot help but think that it also punningly conveys another meaning.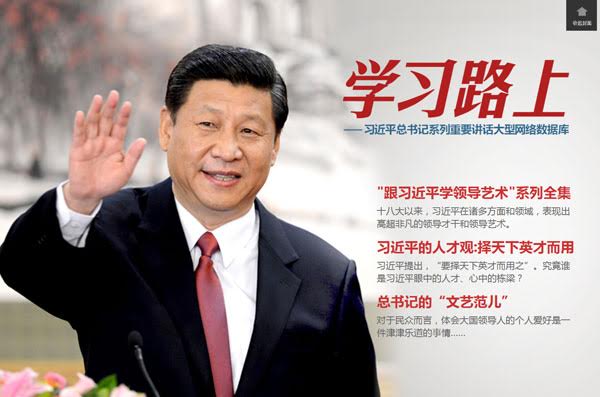 Another way to parse the four characters is "xué Xí lù shàng 学习路上" ("On the way / path / road of learning from Xi").
Never mind that punning has been outlawed in China (some relevant posts and articles as of the end of 2014):
I doubt that the Chinese communist government will ever be able to outlaw the ubiquitous injunction to "hǎohǎo xuéxí tiāntiān xiàngshàng 好好学习 天天向上" ("Study hard and make progress every day"), which has been enshrined in this immortal Chinglish translation:
The concept of xuéxí 学习 "learn; study" is sanctified for both Confucians and Chinese Communists by virtue of its derivation from verse 1 of chapter 1 of the hallowed Analects (here in the Victorian translation of James Legge):
Zǐ yuē:`Xué ér shí xí zhī, bù yì yuè hū? Yǒu péng zì yuǎnfāng lái, bù yì lè hū? Rén bù zhī ér bù yùn, bù yì jūnzǐ hū?'
子曰:「學而時習之,不亦說乎?有朋自遠方來,不亦樂乎?人不知而不慍,不亦君子乎?」
The Master said, "Is it not pleasant to learn with a constant perseverance and application? Is it not delightful to have friends coming from distant quarters? Is he not a man of complete virtue*, who feels no discomposure though men may take no note of him?"
[*VHM: "jūnzǐ 君子" is often translated into English as "superior man; gentleman; person of noble character; man of honor"]
---