« previous post | next post »
Photograph of a sign at Sequim Bay, Washington taken by Stephen Hart: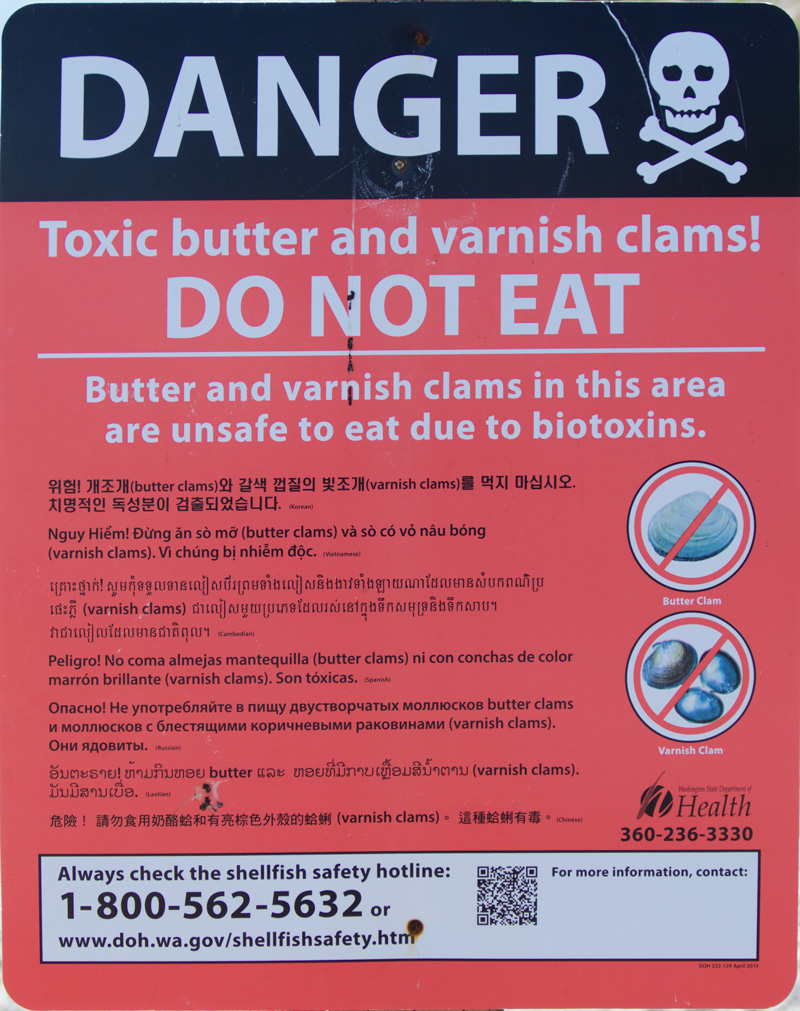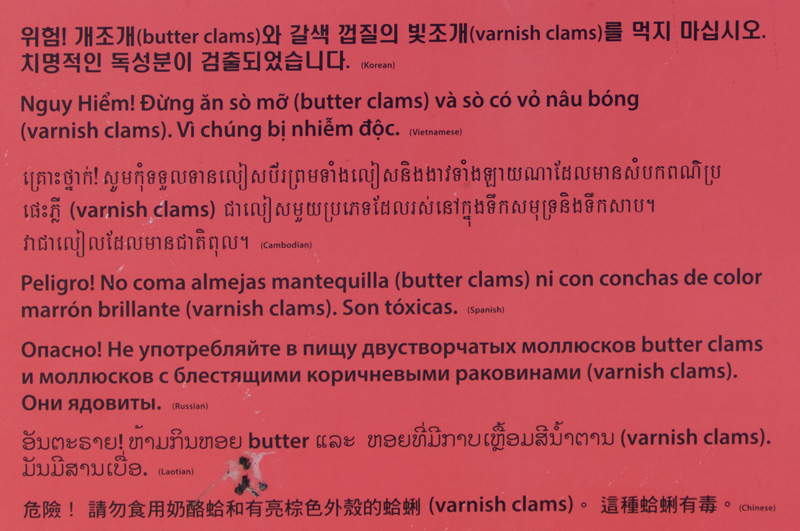 These are the same languages (Korean, Vietnamese, Cambodian, Spanish, Russian, Laotian, and Chinese) as on the sign discussed in this post:
"Toxic shellfish warning in seven foreign languages " (9/16/16)
A big difference here, though, is that English designations ("butter clams" and "varnish clams") are parenthetically added to the translations into each of these languages.  This is undoubtedly due to the fact that the precise names for these particular clams may not be known, and indeed may not exist, in these languages.  The names are unusual enough in English that I suspect most non-locals would do a double-take upon seeing them ("butter clam" is perhaps slightly better known outside of the immediate area than "varnish clam").
Unlike the treatment of the languages in the previous post, I will only explicate the Chinese warning this time. If Language Log readers would like to explain various features of the other languages, they are welcome to do so, but please always provide Romanized transcriptions and translations.
Wéixiǎn!  Qǐng wù shíyòng nǎilào gé hé yǒu liàng zōngsè wàiké de gélí (varnish clams). Zhè zhǒng gélí yǒudú.
危險! 請勿食用奶酪蛤和有亮棕色外殼的蛤蜊(varnish clams)。這種蛤蜊有毒。
Danger!  Do not eat cheese clams and clams with shiny brown outer shells (varnish clams).  They are toxic.
Notes
1.
I have always called butter "huángyóu 黄油" (lit., "yellow oil / grease / fat") in Chinese and most people I know also call it that, but about half as many refer to butter as "niúyóu 牛油" (lit., "cow oil / grease / fat").
When young, butter clams look rather like a pat of butter, but as they grow bigger and older they turn to a gray-white color.
The scientific name of this clam is Saxidomus gigantea.
The second syllable of gélí 蛤蜊 ("clam") was omitted in the translation on this sign.  Normally these two characters are considered to be bound to each other in this term.  The first character can also be pronounced as há, in which case it enters into the word for "frog; toad".  See:
"Of toads, modernization, and simplified characters " (8/16/13)
The second syllable of gélí 蛤蜊 ("clam") is sometimes confusingly written with a much more complicated character, lì 蠣 (simpl. 蛎), that means "oyster", which is also called by various other names.
In contrast with the occurrence of the English after the names of the clams in most of the other instances on this sign, it was omitted here, perhaps because the translator knew that their nǎilào 酪蛤 means "cheese", not "butter".
2.
Varnish clams are also called "purple varnish clams", "mahogany clams", and "dark mahogany clams".  The scientific designation for this type of clam is Nuttalia obscurata.  It is an invasive species, originally from Asia (it is native to Japan), that initially appeared on British Columbia beaches in the early 1990s, and from there rapidly spread to beaches in Washington State.
The Chinese word for "varnish" is qī 漆.
---