« previous post | next post »
Today's political buzz is all about the win by Democrat Kathy Hochul in New York's 26th congressional district, encompassing suburbs northeast of Buffalo and west of Rochester. National issues, particularly the debate over Medicare, played a big part in the race, but local factors were key as well, with the Republican candidate, Jane Corwin, losing votes to Jack Davis, a third-party spoiler running on the Tea Party line. Hochul was helped by squabbles between the Corwin and Davis campaigns, most notably a confrontation between Davis and Corwin's chief of staff outside a veteran's event a couple of weeks ago. The video of the confrontation memorably featured Jack Davis saying, "You want punched out?"
When the video appeared on the Talking Points Memo site, "you want punched out" was appended with a "sic." But this construction, "want + V-en" (where V-en represents a past-participial form of a verb) is typical in much of the North Midland dialect region, as discussed by Thomas E. Murray and Beth Lee Simon in their article "Want + Past Participle in American English" (American Speech, Vol. 74, No. 2, Summer 1999, pp. 140-164). This article followed up on their research into another notable North Midland pattern, "need + V-en" (as in "the car needs washed").
Murray and Simon combine older evidence from dialect surveys with their own results to plot a map of all of the positive attestations of "want + V-en":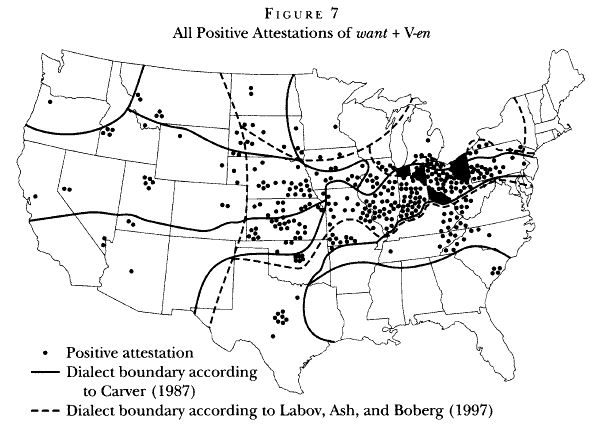 There are some attestations of the construction in the southwestern corner of New York State, along the New York-Pennsylvania border, but nothing as far north as the Buffalo suburbs where Jack Davis lives. It turns out, however, that Davis has roots in western Pennsylvania, where "want + V-en" (like "need + V-en")  is common. According to his campaign bio, Davis's family moved from Pittsburgh to Buffalo when he was a child. So, in this pugnacious moment caught on video, Davis evidently betrayed his Pittsburgh upbringing. Perhaps the exit polls from yesterday's election can tell us what effect this dialectal display had on the voters.
[On the American Dialect Society mailing list, Matt Gordon points to further reading on "want + V-en": "There's a survey of work in Murray and Simon's chapter in the collection they edited, Language Variation and Change in the American Midland (2006, J. Benjamins). Erica Benson discusses the probably related grammatical construction of 'want + prep. adverb' (e.g. we want off) in a Journal of English Linguistics piece from 2009. This usage is reported to be more acceptable in the northern dialect region."]
---