« previous post | next post »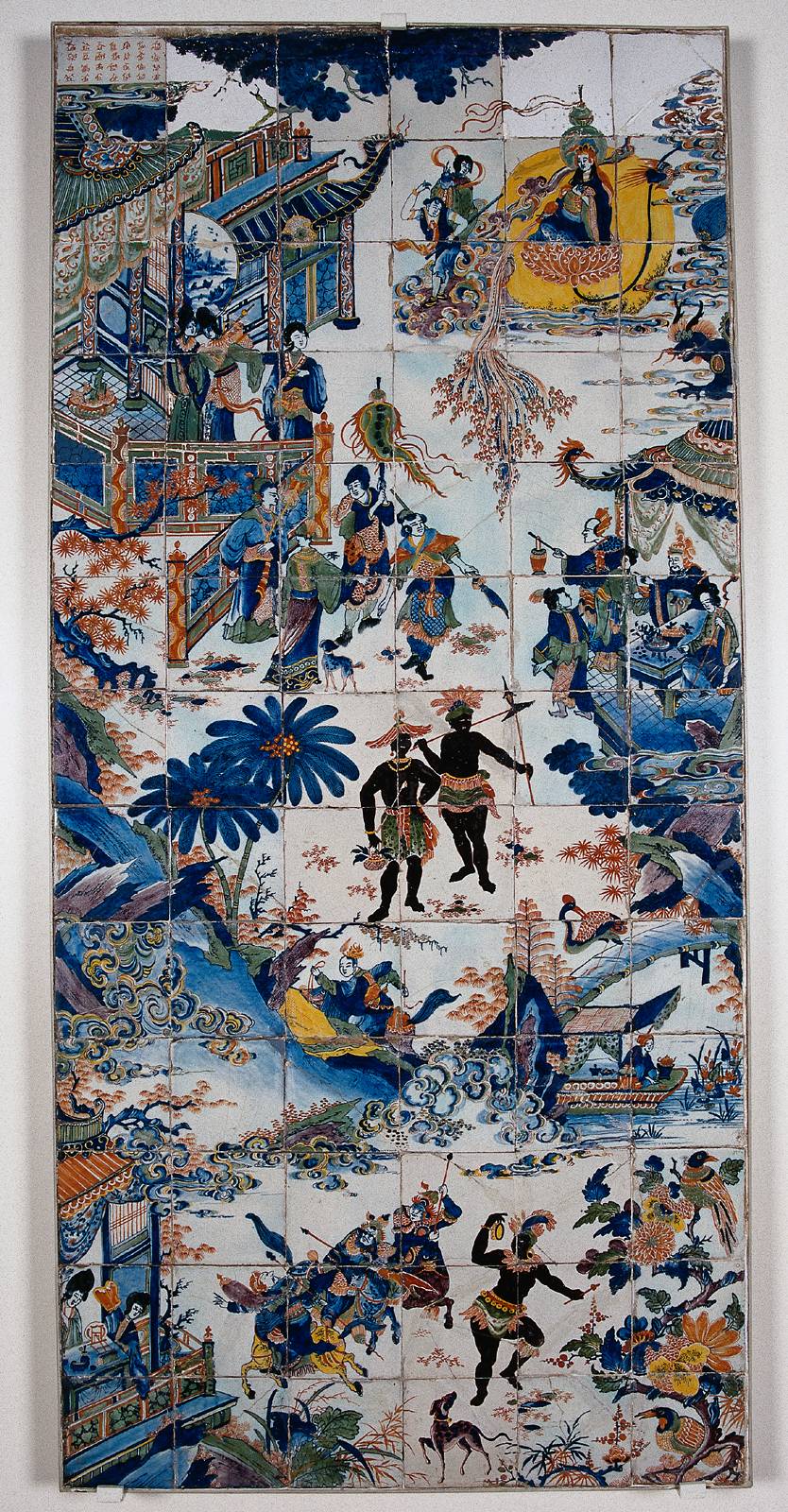 A friend showed me a photograph of a Dutch chinoiserie tile panel from the late 17th-early 18th century, and asked me to help her identify some of the curious scenes represented on it. My eye, however, was immediately drawn to the cartouche in the upper left corner.
On first glance, the characters seem to be completely fake (made up). Even after straining my eyes and enlarging the panel, I couldn't recognize a single character.
Since I had gotten hooked on this inscription, I obtained a high resolution photograph showing only that part of the tile panel. Now the "characters" were clearer, and I thought to myself, "My, they look a bit like Jurchen script":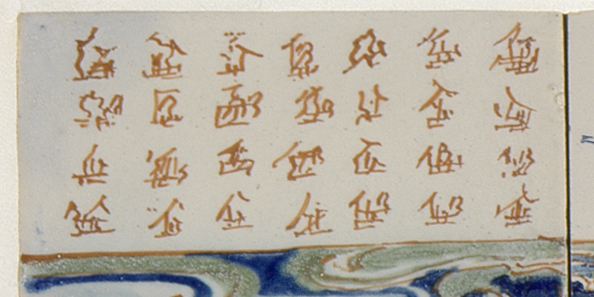 Upon reflection, however, I knew that couldn't be right, since the Dutch tile panel, which was made in Delft and is preserved in the Rijksmuseum in Amsterdam, most likely dates to 1690-1730, whereas Jurchen writing was current in the 12th century.
So, returning to the notion that the inscription was an attempt to write Chinese characters, I stubbornly stared at the squiggles, but still couldn't make any sense of them. Unwilling to believe that they were totally fabricated, I attempted to see whether I could spot any components of real characters or recurring elements indicating that the artist was at least modeling his work upon real characters.
After peering wearily and increasingly dejectedly at the scribbles, scratches, and scrawls for some minutes, I suddenly started to notice that all 28 were basically transformations and deformations (some rather extreme) on a vaguely identifiable pattern of strokes. It seems that the artist, with a certain amount of invention and even whimsy, no doubt, was playing a bit of theme and variations based on a single character. Although I am not certain, it is possible that all of these faux-Chinese characters might be "derived" from wú 無 ("nothing; nil; not"). If that were indeed the case, it would have been a most appropriate choice, considering what he was communicating.
Perhaps the artist's day job was at a tattoo parlor in the port!
[Thanks are due to Chi-ming Yang, who is doing intensive research on the entire tile panel.]
N.B.:  Both photographs are embiggenable.
---