« previous post | next post »
[This is a guest post by Nathan Hopson]
I know you've written a lot about character amnesia in the greater Sinosphere. But I think I witnessed the related, but significantly different, phenomenon of (grammatical) particle amnesia (or perhaps, "drift") during a recent trip to Hawaii.
As you know, Hawaii has a large nikkei* population. This is especially true in and around Honolulu, where I was for the Japanese Studies Association conference last week. In addition to an extraordinary number of Japanese tourists, Oahu is home to nisei,** sansei,*** and many people of mixed heritage. Japanese signs abound, and Japanese is spoken in many hotels, restaurants, and stores.
[*an American of Japanese descent.]
[**second generation; ***third generation]

I wasn't really paying too much attention to this until my final day, when I noticed several signs in which the grammatical particles were incorrect. One was at the airport in an area where the TSA frowns upon photography, but someone else got a shot and posted it here: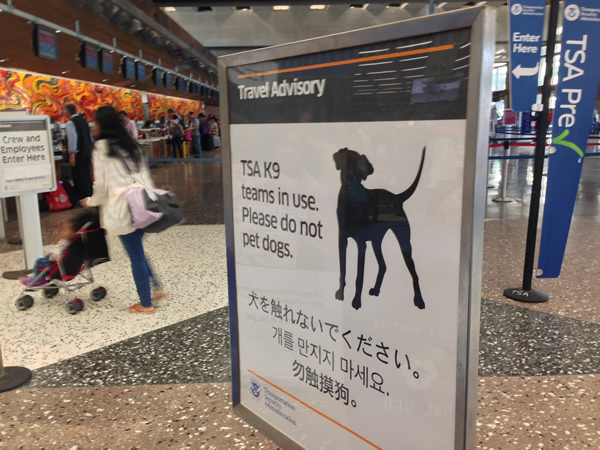 The caption, "Strange Japanese (lol)" sums it up.
The other was in a bathroom at Pearl Harbor — yes, I know that in general photography in public bathrooms is also frowned upon — and I was able to snap this photo: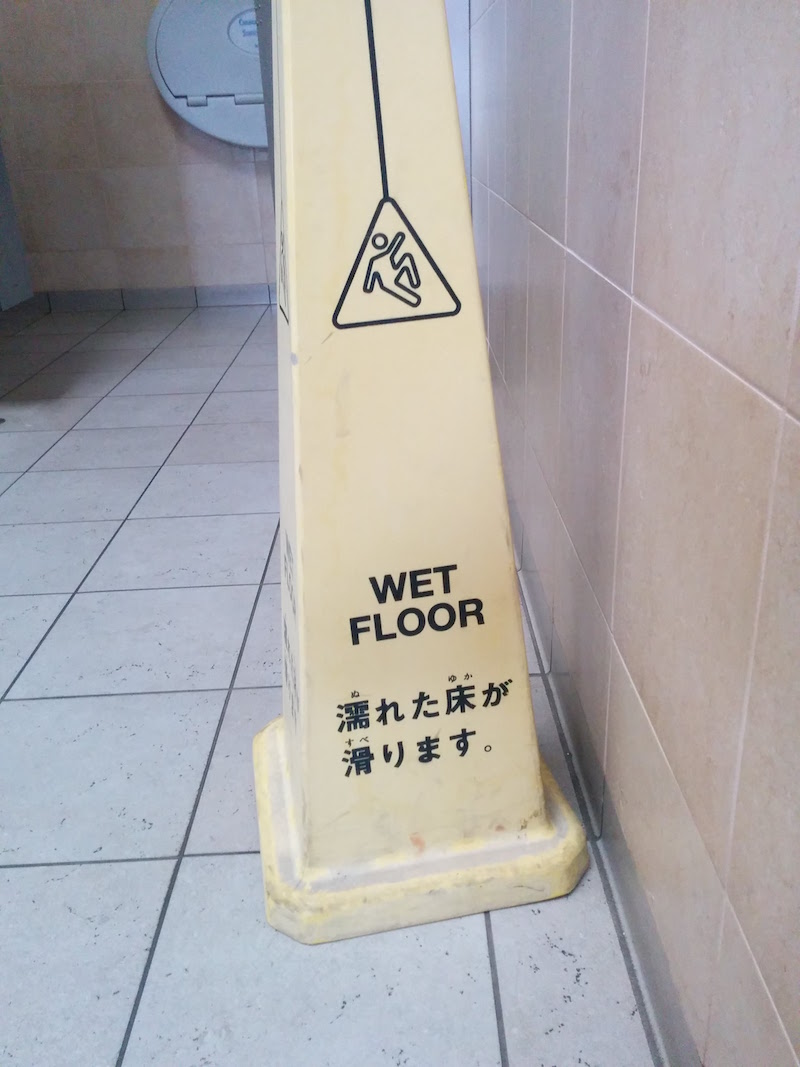 Turns out — no surprise — that I'm not the first to notice this, too.  The linked blogs, etc., from this Google Image search also have a few laughs/grimaces at the sign's grammar.
Anyway, the TSA sign reads:
犬を触れないでください
Inu o furenaide kudasai
The Pearl Harbor sign is:
濡れた床が滑ります
Nureta yuka ga suberimasu
[VHM: note the use of furigana / ruby phonetic annotation for all three kanji, which would seem to indicate an expected low level of kanji recognition on the part of patrons using this bathroom]
In both cases, the particles are wrong.
The Pearl Harbor bathroom sign is more egregious, so let's start there.
In Japan, the sign would usually be:
床が滑りやすくなっています
Yuka ga suberiyasuku natte imasu
or
足元にご注意ください
Ashimoto ni gochūi kudasai
or some variation. Sometimes it's a combination of the two.
A few examples can be found here.
Pearl Harbor gets the subject/topic particle wrong.
Oh, the は and が problem. Here, it's the difference between:
"Wet floor slips" and "Wet floor is slippery"
The TSA sign gets the object particle wrong.
触れる (fureru, touch) is unusual in that it takes に rather than を as its object. Its synonym 触る (sawaru) can take either — with a minor change in nuance.
The meaning is perfectly clear, even with the incorrect particle. I asked a group of Japanese tourists in line with me for Security, and they agreed.
I know from experience in Hawaii and elsewhere that the so-called "politeness" language (it's a misnomer) in Japanese has a very hard time surviving contact with the outside world intact, and an equally difficult time being passed down generationally without the social enforcement apparatuses of school, television, work, etc.
I can't be certain, of course, but it seems likely that these signs were translated by second- and third-generation nikkei residents. If so, I wonder what that means about the possibility of particle amnesia or particle drift. Kanji are not so much a problem in an age of digital conversion, but particles are a very subtle, yet integral part of the grammar of Japanese. For the particles to drift would signal a really fundamental change beyond the level of orthography.
I wonder whether anyone else has encountered this in Japanese, and what the analogues would be in other languages, if any.
Additionally, I was thinking that it's possible that the "slippery" sign is not a particle problem but a verb problem:
Yuka ga suberi yasuku natte imasu 床が滑りやすくなっています = the floor is easily slip-able (as in, human beings ought to be careful)
Yuka ga suberimasu 床が滑ります = the floor slips (as in, the floor itself falls over and, one assumes, says ouch)
So this is all really nothing more than a very long question….
Notes on the Chinese and Korean of the TSA sign (by VHM)

The Chinese is curtly formal:
wù chùmō gǒu 勿触摸狗 ("do not touch the dog")
I cannot readily think of an idiomatic way to say "Please do not pet dogs" in Chinese.
Here are some suggestions from others; I don't think that any of these conveys the precise nuances of the wording in English, though the last one is very close:
wù fǔnòng gǒu 勿抚弄狗 ("do not fondle the dog")
qǐng bié chùmō gǒu 请别触摸狗 ("please don't touch the dog")
bié pèng gǒu 别碰狗 ("don't touch / come in contact with the dog")
bié mō gǒu 别摸狗 ("don't touch the dog")
bié dòu gǒu 别逗狗 ("don't tease the dog")
N.B.:  bùyào 不要 ("do not") can replace all the bié 别 ("don't") in the preceding four sentences.
qǐng wù dòunòng jǐngquǎn 请勿逗弄警犬 ("please do not tease / fool around with the police dog")
rènwù jǐngquǎn qǐng wù pāidòu 任务警犬请勿拍逗 ("please do not pat / tease the police dog on duty")
wéiān jǐngquǎn qǐng wù pāidòu 维安警犬请勿拍逗 ("please do not pat / tease the police dog that is maintaining order / security") (this is a Taiwan usage)
qǐng wù chùmō jǐngquǎn 请勿触摸警犬 ("please do not touch the police dog")
bié qīnnì gǒu 别亲昵狗 ("don't be affectionate / intimate to the dog") or bié gēn gǒu qīnnì 别跟狗亲昵 ("don't be affectionate / intimate with the dog").  Qīnnì 亲昵 is marked as an adjective in dictionaries and means "very intimate", but I think it can function as a verb meaning to pet".
qǐng wù fǔmō gǒu 请勿抚摸狗 ("please do not caress / gently stroke the dog")
One correspondent sent in this lengthier reply:
I'd translate the verb "pet" as fǔnòng 撫弄 ("fondle; handle"), yet in the case of TSA, fǔmō 撫摸 ("touch; caress; gently stroke; pet") might be better. The entire sentence can be rendered qǐng wù fǔmō jǐngquǎn as 請勿撫摸警犬 ("please do not pet the police dog") — gǒu 狗 for "dog" would mess up the rhythm, and it doesn't hurt to have jǐngquǎn 警犬 ("police dog") as your dog in this case.
After compiling all of the above translations, I received the following suggestion, which closely reflects my own view of the matter:
Although the verb "pet" may be translated as chǒng'ài 宠爱 ("pet; dote on; make a pet of") or àifǔ 爱抚 ("caress; show tender care for") in Chinese, the English sentence ("Please do not pet dogs") on the sign should be translated as qǐng wù chùmō gǒu 请勿触摸狗 ("please do not touch the dog") or qǐng wù chùmō gōngzuò quǎn 请勿触摸工作犬 ("please don't touch the working dog") in this situation. The Chinese word àifǔ 爱抚 ("caress; show tender care for") can also be applied to people. I don't think there is a proper Chinese equivalent of "pet" in the sense of "stroke affectionately".
As for the Korean, Haewon Cho says:
I would go for 개를 만지지 마세요 (gaeleul manjiji maseyo ["do not touch a dog"]), as on the sign.
You can say 개를 건드리지 마세요 (gaeleul geondeuliji maseyo; ["do not touch — and cause trouble to / irritate — a dog"]) or 개를 쓰다듬지 마세요 (gaeleul sseudadeumji maseyo ["do not pet a dog"]).
[Thanks to Maiheng Dietrich, Mien-hwa Chiang, Liwei Jiao, Grace Wu, Melvin Lee, Jing Wen, Xiuyuan Mi, Yixue Yang, and Fangyi Cheng]
---