« previous post | next post »
Drawn by a seven year old in Los Angeles: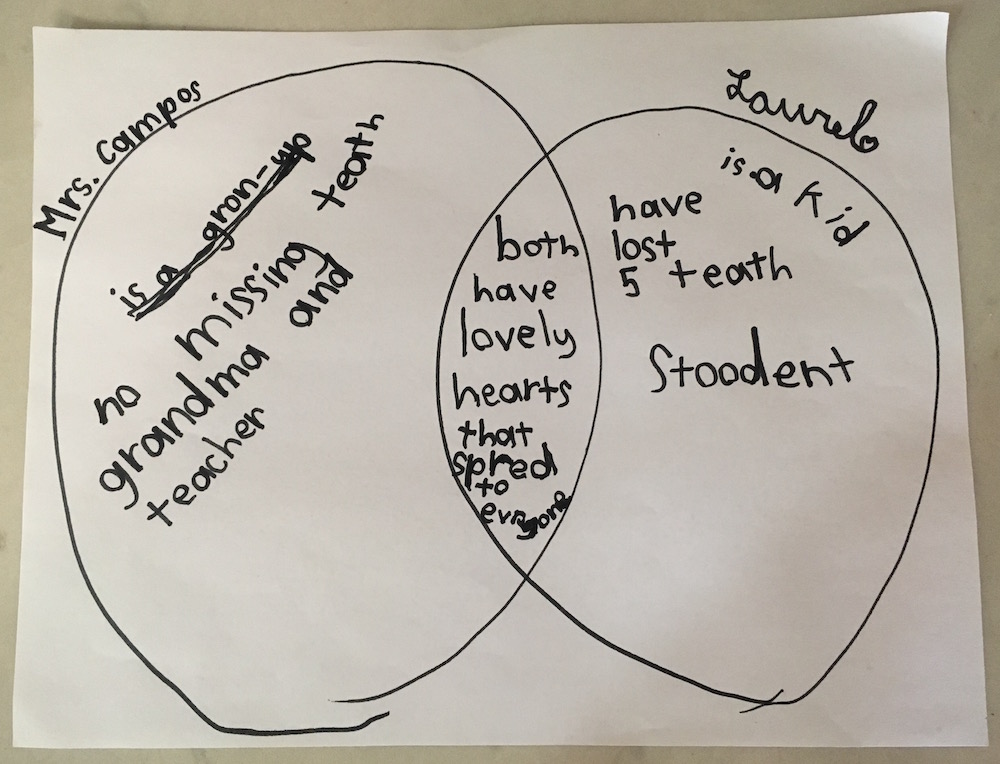 It boggles the mind to think that a seven year old first grader could conceptualize the relationship between her teacher and herself in this sophisticated, abstract way.  I don't recall having been introduced to Venn diagrams until high school or perhaps even college.
Equally striking to me is the resourcefulness of this student in expressing herself with a richly informative and precise vocabulary despite not knowing the standard spelling for all of the words.  I thoroughly applaud Laurelo for just forging ahead and writing down phonetically all of the words in her impressive vocabulary, and I commend Mrs. Campos for letting her do that.
Contrast this with the graduate students from China who, when they try to write the Mandarin word for "sneeze" (pēntì), which all of them, of course, can say without any difficulty, nearly all fail miserably.  Only two out of around fifty whom I tested on this during the last three years could write the second character correctly.  Here's typically what happens: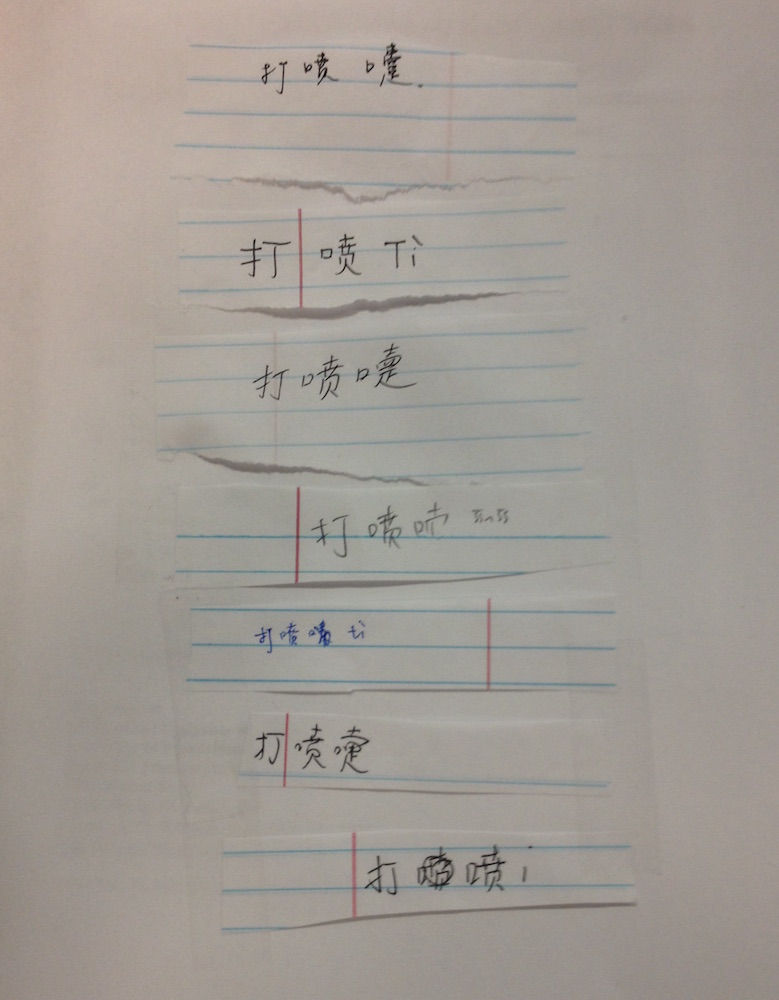 I do not blame the students for being unable to write the second character of such a common word; I blame the devilishly difficult writing system.
Here's the correct way to write dǎ pēntì ("to sneeze") in characters:  打喷嚏 (simpl.) / 打噴嚏 (trad.).  For the purposes of this discussion, we may ignore the first syllable / character, since its function is to turn the noun pēntì ("sneeze") into a verb, dǎ pēntì ("to sneeze").  Dǎ 打 is a very high frequency verbalizing morpheme, the character for which consists of only five simple strokes, so someone with even a low level of literacy would almost certainly be able to write it.
Only one of the seven students I surveyed this year stumbled on pēn 喷 / 噴 and crossed it out once before getting it right.
None of the students got 嚏 exactly right, although two came close and one tried to finesse the character by making it more complicated than it actually is.  One student stopped writing part way through, one crossed out a failed attempt and wrote the pinyin (tì) instead, one just wrote "tì", and one simply wrote "i".
I should mention that, as soon as I handed out the little pieces of paper and asked the students to write down the characters for dǎ pēntì ("to sneeze"), they all groaned, because this word has been much in the news in China for the last few years, ever since David Moser (see below) and I have been carrying out surveys in which it is included, and it — along with the Mandarin word for "toad" (làiháma 癞蛤蟆) — has been a staple in Chinese "spelling" bees.  So, despite the fact that Chinese students are very much aware of the problems with 嚏, they still can't get it right.  Now, however, with all of the attention to the Mandarin word for "sneeze" in the media, more of the students are getting closer to writing it correctly (in years past when I did these surveys, there would be more crossing out or just pinyin, and fewer attempts to approximate the shape of the character (I haven't kept all the little pieces of paper from previous surveys, but I remember that most students could barely begin to write 嚏]).
There are at least fifteen other variant forms for 嚏, some of them quite exotic in appearance, which may be found here (near the top and to the right).
As you will see, some of the students just give up.  Some stop after a few futile strokes or none at all, while others scribble out the incomplete character.  One even initially choked on the first character used to write the Mandarin word for "sneeze".  I actually applaud those who fill in the blank second syllable with the pinyin syllable tì.  That's the spirit of little Laurelo!
Cf., among many other relevant posts:
This mixing of Chinese characters and pinyin was permitted, even encouraged, in the ZT experiment in China.  The students began with pinyin only and later characters were gradually introduced, but even in higher levels students were allowed to freely substitute pinyin for characters they didn't know how to write.
On the ZT experiment, see the following posts:
In "The 'Z.T.' Experiment in the PRC," Journal of the Chinese Language Teachers Association, 31.3 (1996), pp. 33-44, John S. Rohsenow makes the point that the use of pinyin mixed in with Chinese character writing by school children is like the British Initial Teaching Alphabet and American "invented / inventive spelling", such as that done by Laurelo in the Venn diagram pictured at the beginning of this post.
When I carry out such surveys in my classes, the students are often embarrassed at not being able to write common words in characters, but this year there was a new twist to their reaction that I found quite adorable.  Several of them said, "It's all the fault of the Americans for inventing the iPhone that we're forgetting how to write Chinese characters!"
[h.t. John Rohsenow; thanks to Linda Greene]
---