« previous post | next post »
Yesterday, Buzzfeed published an article titled "This Woman Ate A Pork Bun In A Typhoon And Now Everyone Loves Her" (9/28/16).  It featured this drawing: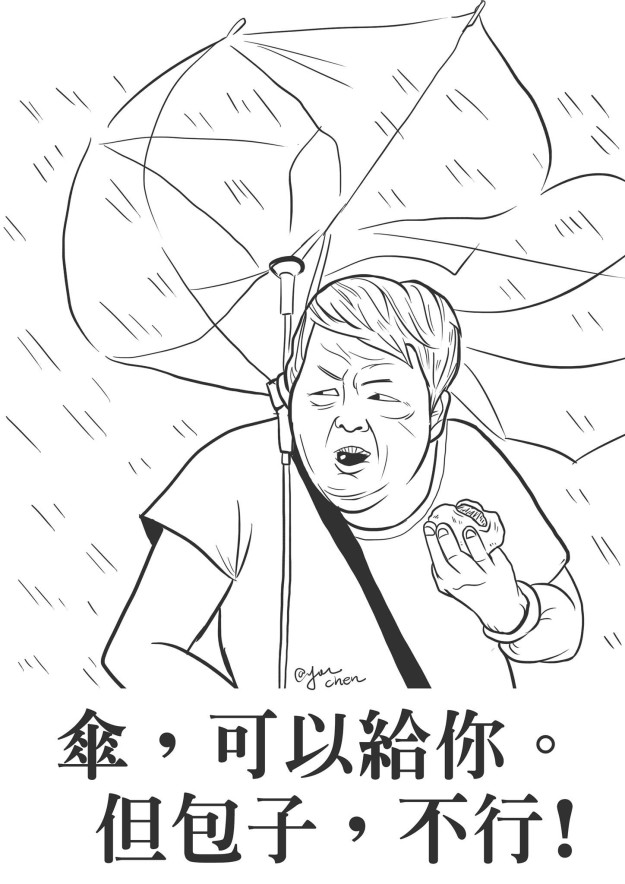 The drawing is based on a photograph that appeared in a Wall Street Journal article on Typhoon Megi slamming into Taiwan the previous day.
I won't get into the psychology of the lady clinging to her half-eaten pork bun, nor into why the people of Taiwan made her into an overnight legend.  What intrigues me about this drawing is the interesting language of the caption:
Sǎn, kěyǐ gěi nǐ.  Dàn bāozi, bùxíng 傘, 可以給你. 但包子, 不行!
("The umbrella I can give to you, but the steamed stuffed bun?  No way!")
This is not the usual SVO order of Mandarin, but is OSV in order to give prominence to the object.
See "Topic-prominent language" and "Topic and comment".
Before closing, I would like to mention that the English translations of the witty comments on this lady and her stuffed steamed bun on the Chinese internet are done very well in the Buzzfeed article.
---