« previous post | next post »
In "Türkçe'nin 500 Yıl Önce Latin Harfleriyle Yazılışı" (7/26/16), Abdurrahman Onur Çalışır presents a Turkish text written in Latin letters together with a translation into Latin: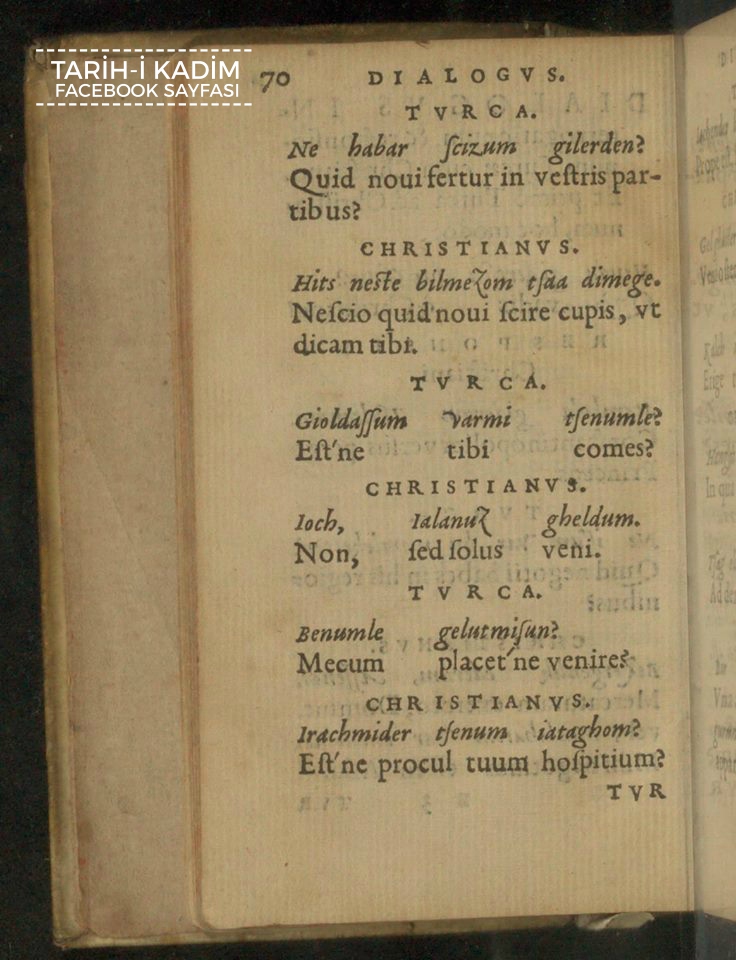 Here's a transcription of the older Turkish, plus a rendering in modern Turkish:
Turca – Ne habar scizum girlerden?
Christianus – Hits nesle bilmezom tsaa dimege.
Turca – Gioldassum varmı tsenumle?
Christianus – Ioch, ialanuz geldum.
Turca – Benumle gelurmitsun?
Christianus – Irachmider tsenum utaghom?
————————————————————
Türk – Ne haber sizin yerlerden?
Hristiyan – Hiçbir şey bilmezim sana demeye.
Türk – Yoldaşın var mı seninle?
Hristiyan – Yok, yalnız geldim.
Türk – Benimle gelir misin?
Hristiyan – Irak(uzak) mıdır senin otağın(evin)?
And here is a translation into English:
[Turk] What news from your country?
[Christian] I know nothing to tell you.
[T] Do you have a companion with you?
[Ch] No, I came alone.
[T] Do you want to come with me?
[Ch] Is your house far?
The translation is by Erika Hitzigrath Gilson, a native of Istanbul, who has taught Turkish for many years at Princeton.  She wrote a dissertation (1981) under Tibor Halasi-Kun at Penn that dealt with a "Transkriptionstext." It appeared as The Turkish grammar of Thomas Vaughan:  Ottoman-Turkish at the end of the XVIIth century according to an English "Transkriptionstext" (Wiesbaden: Harrassowitz, 1987).
Erika notes:
As contacts between the Europeans and Turks grew, to facilitate communication texts were prepared by the Europeans using the Latin alphabet to represent Turkic/Turkish. This in no way suggests that 'Turkish was using the Latin alphabet'. . ..  Older samples [Codex Cumanicus] going back to the 12-13th century exist for other Turkic languages.
Guides to learning Turkish very often included passages, dialogues between a Turk and 'Christian.' Some of these were debates on religion, but mostly on daily matters.
Such "transcription texts" are very famous from the middle of the 16th century.  One of the best known is Hieronymus Megiser's Institutionum linguae turcicae libri IV (Leipzig, 1612; over 300 pages), about which Heidi Stein has written extensively.  György Hazai is another specialist on this type of transcription text.   Stanisław Stachowski also worked on such texts for many years.
The oldest surviving Turkish source in Latin characters is one by an Italian called Argenti.  See Milan Adamović, Das Türkische des 16. Jahrhunderts: nach den Aufzeichnungen des Florentiners Filippo Argenti (1533) (Göttingen: Pontus Verlag, 2001).  Older still is the 14th-century Codex Cumanicus, written in the Crimea by Italian merchants and German clergymen, reflecting two distinct Middle Kipchak dialects.
Turks had only one "national script", so to say (the so-called Runic or Old Turkic alphabet), which was given up at the turn of 10th-11th centuries. Otherwise, they wrote their languages in different adopted scripts, as can be seen very clearly from the Old Uighur period when 7 or 8 scripts were in use (of course, not always contemporaneously).  Modern Uyghur has also been written in a dizzying succession of scripts. Therefore, Ottoman in Latin script is only one phenomenon in the history of Turkic languages.
[h.t. Arif Dirlik; thanks to Marcel Erdal, Peter Golden, Peter Zieme, Mehmet Olmez, and Veysel Batmaz]
---