« previous post | next post »
Michael Rank writes:
I'm intrigued by a sign in the window of a Vietnamese restaurant in Shoreditch, ultra-hipster area of east London which also has lots of inexpensive, unpretentious (mainly) Vietnamese restaurants. I don't know any Vietnamese, I assume Can Tuyen (please forgive lack of diacritics) means "wanted" or "job available" or similar and that there are perfectly good words for waiter/waitress in Vietnamese, so why are these two words in English? It's a bit like another (Chinese) London restaurant sign that I mentioned in this post:
"No word for 'serve' in Chinese? " (3/1/15)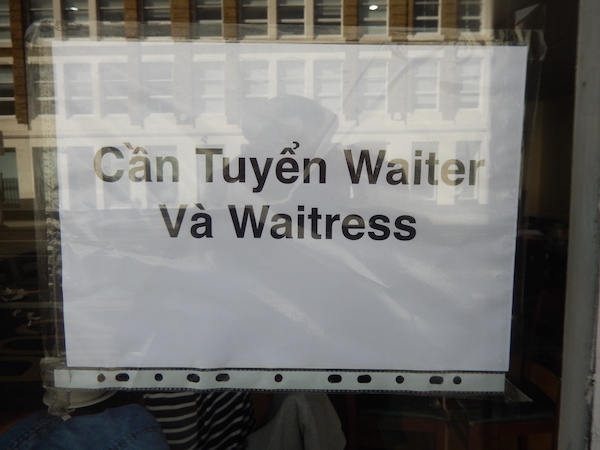 Cần Tuyển Waiter Và Waitress
"Need recruit/select [tuyển = MSM xuǎn 选] waiter and waitress" (Waiter and waitress needed).
At first I was thinking of titling this post "Gratuitous / ostentatious / flagrant / etc. code-switching in Vietnamese".  But then I recalled these posts on this phenomenon in Chinese and thought better of it:
And many other posts on code-switching in Chinese and other languages.
The following comments from colleagues in Vietnamese Studies also served to dissuade me from thinking that somehow there was an excess of English in Vietnamese:
#1
Why not put the English in?  The orthography seamlessly permits it.
I'm reading a Vietnamese novel now where the (male) author used the English words "hair design" "shopping" "shampoo" and "credit card" all on one page.
I have no evidence that this is a trend, so please don't go out on a limb here.
#2
I just think it's the global "chic-ness" of English. If you have a restaurant and you think you are hip, then you need a "waiter" or "waitress."
It's similar to when people say something like " Zhè shì yī ge fēicháng hǎo de idea 這是一個非常好的 idea" ("This is a very good idea") and you think to yourself, "Isn't there a perfectly good word for 'idea' in Chinese"??
#3
Or you could just move to Manila, where unalloyed diglossia is the norm. There they practice true "bilingualism" or even "tri-" & "multi-" in the same sentence.
It seems to me that we are witnessing the gradual conquest of Babel (see here and here [search for "Babel"]).
[Thanks to Liam Kelley, Steve O'Harrow, and Bill Hannas]
---