« previous post | next post »
One of the items in the gift box handed out to the thousands of runners in the Qingyuan marathon in Guangdong province last Sunday: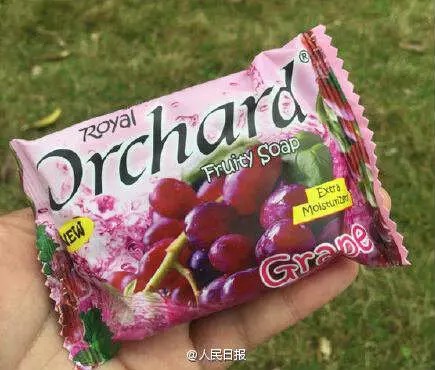 You're dehydrated, your mouth is parched, you need a shot of energy….  You pull out the attractively packaged bar and take a quick glance at it:  grape flavor, new, fruity, extra moisture….
You tear open the package, chomp into one end, swallow it ravenously…, before you realize it is soap!  It's already down in your stomach.  You don't even have a chance to spit it out!
"Over 12,000 Runners Seek Medical Care in S China's Marathon, Some of Them Mistook Soap Given by Organizers as Energy Food" (People's Daily Online, 3/25/16)
It would have helped if they had put féizào 肥 皂 ("soap") somewhere on the front of the package, but it seems that this company prefers English only.
---