« previous post | next post »
[This is a guest post by Nathan Hopson]
I live in the central Japanese industrial hub of Nagoya, the city that Toyota (re)built. Despite the greater Nagoya metro area's twelve million inhabitants and a GDP trailing Switzerland for #20 on the world country rankings, the locals in particular refer to the city as inaka, the boonies. Nagoya is a city almost universally described as, "not much to visit, but a nice place to live."

One of the nice quotidian things about living in Nagoya is its cafés' take on the "morning set" (mōningu, to the locals). Usually available from opening until about 11:00am, the Nagoya mōningu is a cheap, simple, and delightful breakfast. Order a regularly priced drink (usually coffee or tea), and it comes with a hardboiled egg and toast. Toast options generally include butter, cinnamon, chocolate, and a particularly Nagoya favorite, adzuki jam—often an extra \100, roughly the commonsense equivalent of a dollar. Known generally as anko, the jam made from adzuki beans comes in the proverbial smooth and chunky varieties familiar to anyone who has ever plunged a tablespoon into a jar of peanut butter. Nagoya, which is proud of its distinct regional cuisine, prefers the chunky kind known as ogura. Toast with adzuki jam is known as ogura tōsuto, or "ogre toast" around my house.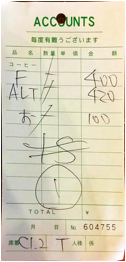 The local mōningu, with or without ogres, has become a Sunday morning tradition for my kids and me. Last week, I took my daughter. I ordered a coffee and ogura toast. She ordered iced lemon tea and cinnamon toast. When we got up to leave, I looked at our check, something I don't ordinarily do, since I know the mōningu menu and prices pretty much by heart now (\400 for my coffee, \100 for the ogura, etc.) I am glad I did. My coffee, a French roast, was labeled "F," my extra order of ogura with the hiragana お (o). It was my daughter's order that really caught my eye, though. "ALT." In common parlance here in Japan, and in East Asia more generally if I am not mistaken, this acronym refers to the hordes of (mostly Anglophone) "Assistant Language Teachers" who teach in primary and secondary schools as well as private language schools throughout the region. And besides, my daughter had ordered an "ILT."
But of course, she hadn't. She had ordered an aisu lemon tī. Ergo, an ALT.
All this reminded me that when I first set about learning to read Japanese in earnest, I struggled with and was fascinated by the way the language handles acronyms and abbreviations. For example, where English abbreviates the United Nations to UN, Japanese goes with 国連 (Kokuren), taking the first kanji from 国際 (kokusai; international) and 連合 (rengō; alliance or association). I work at Nagoya University (名 古屋大学), shortened to Meidai (名 大) in conversation because the first kanji is read both na and mei. This kind of shortening permeates the language; as a translator, my deadlines were often ASAP (naru haya, an abbreviation of なるべく早く narubeku hayaku).
Reading and watching the news in Japanese, I quickly realized that the UN is something of an exception and that the media handle the alphabet soup of international organizations by giving the English acronym along with its Japanese translation the first time, and then simply using the English acronym thereafter. So the World Health Organization becomes WHO (世界保健機関), and the North Atlantic Treaty Organization is NATO (北大西洋条約機構). In conversation, many of these well-known bodies are simply referred to by their English acronyms; even the General Headquarters of the Allied Powers (連合国総司令部) is just called GHQ.
This phenomenon, which is a great example of the flexibility of the Japanese language, has recently been taken to an extreme by the Japanese musician and personality known as DAIGO, who is incidentally also the grandson of former Prime Minister Takeshita Noboru. His unique take on abbreviation is called "DAI語." The pronunciation of this coinage is the same as his name; the last character means "language."
So what is this strange new tongue? This is best explained with a few TV stills. It's first worth noting that Japanese TV tends to be very textually rich, with the screen populated by an enormous amount of written data. This is especially true for the news and for comedy, which often both depend a great deal on what is being said. The titles—interestingly still called "telop (テ ロップ)" after the television opaque projector developed in 1949—have provided program directors with fabulous opportunities for communicating extra messages, many of which take advantage of the particular characteristics of the Japanese language in clever and informative ways. Glosses over characters are used in many different ways, including to enhance the richness of humor, as seen below.
In the first still, DAIGO is saying, "MM," which has been helpfully glossed as マジムリ (maji muri). ムリ (or 無 理 in kanji) means something like, "No way!" and the マ ジ is an intensifier meaning "seriously." In the second picture, he goes one step further: "SNSN" is glossed as shinsen (新 鮮; "fresh"). Below, "DGDG" is read as "Daigo no dai gosan" (DAIGOの 大誤算), or "DAIGO's big miscalculation."
Some of his other creations include:
| | | | |
| --- | --- | --- | --- |
| SKSG | 試行錯誤 | Shikō sakugo | Trial and error |
| DKB | 大好物 | Dai kōbutsu | One's favorite food |
| KWI | 恐い | Kowai | Scary |
| GGDD | 言語道断 | Gongo dōdan | Outrageous, preposterous |
| OYSM | おやすみ | Oyasumi | Good night |
But DAI語 is not just for DAIGO. Anyone can take a stab, and increasingly others are. As DAIGO himself said, "GIGS" (郷 に入りては郷に従え gō ni ireba gō ni shitagae), or "When in Rome…" In the last photo, model Rola is speaking with DAIGO, and speaking to him "MTM," or "man to man" (man tsū man).
DAI語 is playful, can easily work as in-group argot, and is eminently suited to a world of electronic input and 140-character limits. DAI語 appeals to the same sense of linguistic creativity and improvisational virtuosity that gave us everything from Japanese linked verse to rap. The popularity of DAI語 might ultimately turn out to be little more than a flash in the pan (RTDB 竜頭蛇尾 ryūtō dabi). But his fifteen minutes in the spotlight could leave a mark on the language for years to come. If it does, it will be because DAIGO's inventiveness draws heavily on a pantheon of abbreviation techniques, a tradition of linguistic glossing and multiple meanings hidden in homophony, and a quotidian culture in which iced lemon tea is ALT.
---