« previous post | next post »
From David Moser:
Just got this spam text, all in pinyin, to avoid spam detectors. The usual spam offering fake certificates and chops, plus their Weixin contact. What's novel is the tone markings, don't see that very often.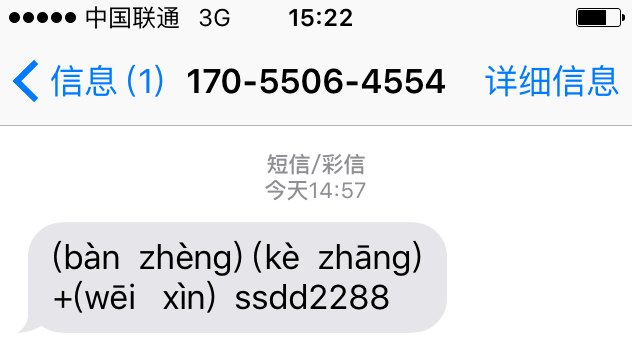 The corresponding characters would be:
bànzhèng 办证 ("accreditation; [we] handle / process certificates")
kèzhāng 刻章("[we] carve seals / stamps / chops")
wēixìn 微信 ("WeChat") (a mobile text and voice messaging communication app)
In China, you need certificates and seals to process countless transactions.  Consequently, advertisements for such fake documentation (consisting of 办证, 刻章, and a cell phone contact number) are ubiquitous.  You see them plastered all over the place:  on sidewalks, on footbridges, on buildings….  In some ways, they are comparable to graffiti in other parts of the world, but they are neither creative nor artistic, and they certainly are not political (that could get you put away for a very long time).
Nowadays, when practically everybody has a cell phone and is addicted to messaging services, the makers of fake certificates and fake seals have naturally moved their business onto that platform as well.  Of course, it didn't take long for the mobile phone service providers to figure out ways to block much of this spam, but now the fake documentation purveyors have figured out a way to circumvent the spam filters:  pinyin!  Since the filters are set up to catch 办证 and 刻章 (i.e., Chinese characters describing their services) the fakers can avoid detection.  Or perhaps I should say "could" avoid detection and blocking.
Let me explain.  The use of pinyin to get around the internet censors in China is common.  See, for example:
The widespread use of pinyin to  circumvent internet censors and spam filters attests to two things:
the bulk of the population is familiar with romanization
the censors and filterers have not yet figured out a way to block supposedly subversive / pornographic / spam / etc. content written in pinyin
Now, when the Chinese internet police and mobile service providers get hip to pinyin, that will be proof positive that romanization has really made it in China.  Indeed, I wonder whether they are already starting to catch on, and that this is the reason the faker in this instance has added tones (as David pointed out above, generally they omit tones), since the latest filters might be able to catch "ban zheng" and "ke zhang", but not "bàn zhèng" and "kè zhāng".  Or maybe they just wanted to be precise or were being pedantic.
Let's see how this might work in a specific instance.  大宪章 ("Magna Carta") is currently being censored in Chinese web searches, but, if you enter Dà xiànzhāng  or Dà xiàn zhāng or da xianzhang or da xian zhang, etc., you probably wouldn't get caught — at least not yet.
In any event, the resort to pinyin on the part of actual spammers and alleged subverters complements well the recent post on "Chinese character inputting" (10/17/15), where I showed that the use of pinyin as the primary method for that purpose is approaching 100%.
---