« previous post | next post »
Gábor Ugray took this photo last week outside a Turkish-run Italian restaurant in Berlin's Kreuzberg district, a diverse mix between run-down and hip: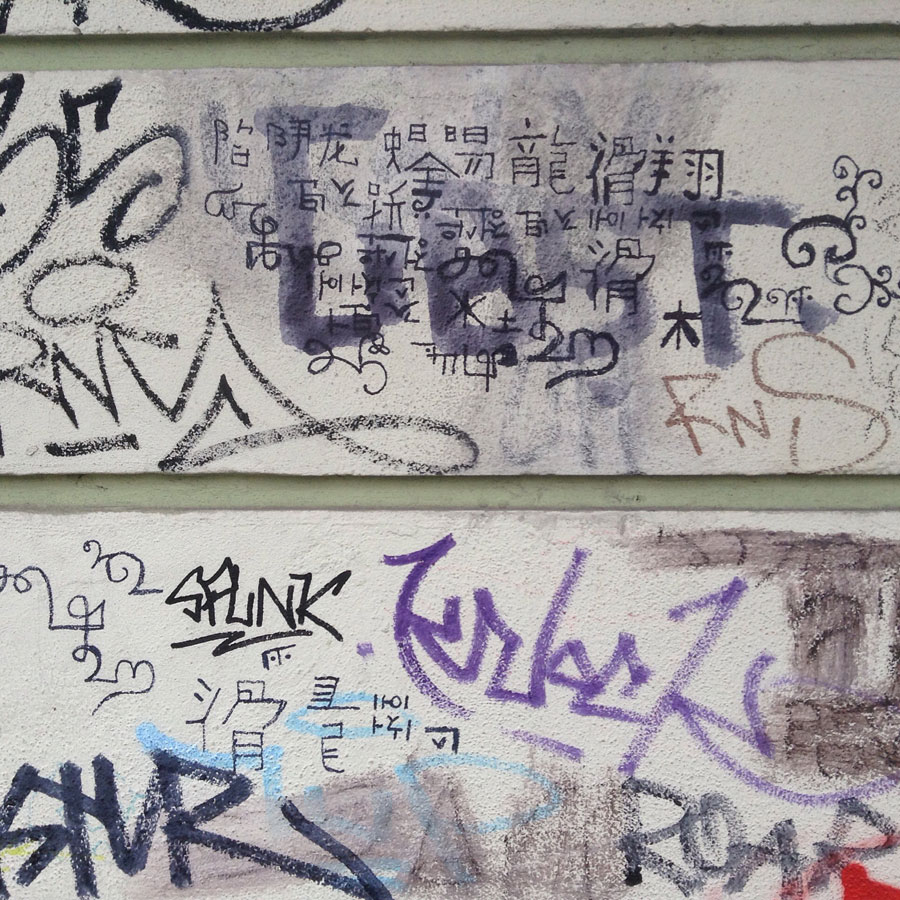 We have often encountered multiscript writing in East Asia, e.g.,: "Multiscript Taiwan advertisement " (12/28/13). In such instances, the multiple scripts are seamlessly integrated in advertisements, announcements, notes, articles, and so forth for the purpose of conveying a more or less coherent message, i.e., they are reflections of digraphia, trigraphia, and so on — whether emerging or functioning.
This Berlin example is of a different sort.  I would put it in the category of practice writing.  The author is clearly a novice at Chinese writing, but, at the same time, he / she is intent upon trying to get the strokes and shapes of the characters right.
The most obvious characters that leap off the wall are xiáng huá lóng 翔滑龍, which can actually be read as "soaring, slippery dragon", or, going in the other direction, lóng huá xiáng 龍滑翔 ("the dragon is slippery and soaring").  In part or in whole, these three characters are repeated on the wall, so they seem to form the centerpiece of his / her scribal activity in this iteration.  My surmise is that the author is trying to work the phrase up into a signature, and it may also be a tattoo that he / she sports.  It is interesting that the artist tries out both the traditional 龍 and the simplified 龙 forms of lóng ("dragon").
Other identifiable characters on the wall are:
mù 木 ("wood")
shuǐ 水 ("water")
tǔ 土 ("earth")
quán 全 ("complete")
yīn 阴 ("shade; femininity")
yáng 暘 ("rising sun; sunshine")
xiàn 陷 ("trap; sink; cave in; sink down")
I think there's little doubt that, aside from the soaring, slippery dragon, another major theme of the artist are the wǔ xíng 五行 ("Five Elements / Five Phases / Five Agents / Five Movements / Five Processes / Five Steps / Five Stages") of Chinese cosmology.  These are wood, fire, earth, metal, and water.  Wood, water, and earth are clearly present, and it's possible that the quán 全 ("complete") may be a garbled attempt to write jīn 金 ("metal"), and there may even be a huǒ 火 ("fire") lurking in there somewhere.
Complementing the Five Elements / Phases are yīnyáng 阴阳 (trad. 陰陽), the dynamic forces respectively of shade and femininity and of brightness and masculinity.  The artist wrote yáng 暘 ("rising sun; sunshine") instead of yáng 陽, but I suppose that he / she meant the latter.
As for the last recognizable character, xiàn 陷 ("trap; sink; cave in; sink down"), this is something that dragons do when they're not soaring.
On the wall, there are also fragments of other characters and characters that are so ill-formed as to be difficult to decipher definitively.
Gábor says that he also espies some Korean Hangul on the wall, as well as:
…a script that looks Indian to me; and one more script, or perhaps just random floral patterns. Plus some usual graffiti noise.
One thing is certain: the artist is working on a number of themes that he / she repeats and develops.  While several of these may be purely decorative, some appear to be derived from other scripts.  Perhaps Language Log readers will be able to discern what they are.
[Thanks to Fangyi Cheng and Xiuyuan Mi]
---