« previous post | next post »
From Nancy Friedman (@Fritinancy):
As for menu item #47, your guess is as good as mine. #Berkeley @LanguageLog pic.twitter.com/MlNhu8q4jI

— Nancy Friedman (@Fritinancy) May 4, 2015
Item 47 on the menu says simply:
téngjiāo chāoshǒu 藤椒抄手 ("wonton [with] Sichuan peppercorn")
So where did all the rest of that come from?
First of all, this is a patently Sichuan style dish, as are most of the other items that are visible on this part of the menu in the photograph.  Item #42 has the same sauce, but it's for dumplings instead of for wonton.
Even the word for "wonton" used on this menu is characteristically Szechwanese.  For most non-Szechwanese speakers, chāoshǒu 抄手 would normally mean "fold arms" (though it also signifies "wonton" in Heilongjiang, parts of Shaanxi and Anhui, Wuhan, and other scattered locations in north and central China), but here, as a Szechwanese dish, it means "wonton", a topic that we have several times addressed on Language Log:
There are even more ways to write (and say) "wonton" in Chinese than there are in English ("wantan, wanton, wuntun", etc.), viz., MSM húntún, Shandongese húndùn 馄饨, yùntún 餫飩, Cantonese wɐn4tɐn1 雲吞, Minnan piánsi̍t 扁食, to name just a few.
Now, on to the seemingly super exotic sauce!
Zanthoxylum is a genus made up of approximately 250 species of deciduous and evergreen trees and shrubs.  The fruit of several of the species in this genus is used to make Sichuan pepper, which I've always called "Sichuan peppercorn".
Zanthoxylum schinifolium Siebold & Zucc. is one of these spice yielding species.
There was an ongoing discussion of the "etzucc" part of the name of the spice following @Fritinancy's post, where Ben Zimmer identified it as deriving from botanists Siebold and Zuccarini (Flora Japonica).
Zanthoxylum schinifolium Siebold & Zucc. is mastic-leaved prickly ash or Wild Zanthoxylum. In Japanese it is calledイヌザンショウ / 犬山椒, and in Korean it is called sanchonamu 산초나무 ("Japanese pepper tree").  It seems to be a favorite of bonsai enthusiasts.
The usual names for this plant in Chinese are xiāngjiāozi 香椒子 ("aromatic pepper"), qīnghuājiāo 青花椒 ("green flower pepper"), or just huājiāo 花椒 ("flower pepper"), though the latter term is broader and includes a wider variety of spice yielding plants than the specific one on this menu.  They are sometimes referred to in English as "Chinese coriander".
My Chinese in-laws were originally from Shandong, but they spent the years from about 1937-47 in Sichuan, when they moved to Taiwan, so they picked up a lot of Szechwanese customs, cuisine, and even a bit of language.  They always referred to this spice as májiāo 麻椒 ("numbing pepper"), and that is indeed a very good name for it.  I remember once going to Chinatown in Las Vegas and trying to buy Szechwan peppercorn for a dish that we were planning to make that day.  It was not available in any of the grocery stores, but I did find it in a Chinese pharmacy, where it was treated as a controlled medicine.
Before proceeding further in our inquiry, I want to say a few words about just what this má 麻 character signifies.  It is, to say the least, highly polysemous, having the following meanings:  "hemp; cannabis; flax(en); jute; pocked; pockmarked; pitted; leprous; rough; coarse; sesame; tingle, numb (with implications for anesthesia); a surname".  Because it has all of these different meanings, má 麻 is readily adaptable for punning and plurisignation.  These traits are relevant for the investigation upon which we have embarked.
Májiāo 麻椒 ("numbing pepper") is a key ingredient in many signature Szechwanese dishes, including, of course, málà jī 麻辣鸡 ("numbing and spicy chicken") and the ultra famous mápó dòufu 麻婆豆腐.  I need to say something about the name of mápó dòufu 麻婆豆腐.  On menus, it is often referred to as "mapo tofu", and people who aren't conversant in Mandarin but who love Chinese cooking use the term freely (they know well at least what the second part of the name means because it has been borrowed into English).
If you go beyond that and ask Chinese what the "mapo" part means, they will inevitably tell you that it stands for "pockmarked old lady" or some such.  Eugene Wu, the former East Asian librarian at the Harvard-Yenching Library, is quoted in the Wikpedia article on mapo tofu as declaring that, as a boy, he ate mapo tofu at a restaurant in Chengdu, Sichuan run by the original Pock-Marked Ma herself!
Now, I know Eugene Wu personally and consider him to be a trustworthy gentleman, but I have always felt that there's something fishy about this oft-repeated story concerning "Pock-Marked Ma" (Eugene Wu is not the only person who tells it!).
In the first place, I must point out that, if the "ma" syllable indeed refers to a mázi 麻子 ("pockmarked person"), then it can't also be her surname, so the "Ma" of "Pock-Marked Ma" must be a way of referring to an old lady.  Nonetheless, the earliest occurrence of mápó / Má pó 麻婆 I know of in a Chinese text is to an old lady surnamed "Ma", not to a "pockmarked old lady" (see below).
Incidentally, this reference to Eugene Wu's story about "Pock-Marked Ma" is one of the earliest mentions of mapo tofu in English.  It's from Mrs. Chiang's Szechwan Cookbook (1976), by Ellen Schrecker with John Schrecker.
Also dating to 1976 is Kenneth H. C. Lo, Chinese cooking on next to nothing:
Ma-po tofu (hot mashed bean curd with ground meat of Szechwan)
This is a very well-known bean-curd dish from West China that appeals greatly to all those who enjoy hot-tasting foods.
Pushing back a bit earlier, we have James Kirkup, Streets of Asia (1969):
It was nice to end the meal with properly cooked rice — dry and tasty with a traditional topping of extra-hot ma-po tofu (bean curd paste). I had become so accustomed to the bland, tasteless, gluey rice of Japan that I had quite forgotten how good rice can taste when cooked in this way, with every grain separate.
The next earliest reference to mapo tofu in English that I am aware of is in this article by Dorothy Crandall, "Cooking Party, Peking Style", Boston Globe, Oct. 17, 1965, p. A66:
Pretty Lily Wang, wife of an M.I.T. architect, stirred the bubbling wok of Ma Po bean curd and added another generous sprinkling of hot red pepper. "Young Chinese like their food hot … so do American visitors."
This article features the formidable Joyce Chen (1917-1994), who was tremendously popular in the Boston area around the same time as the redoubtable Julia Child (1912-2004), doyenne of French cooking.
I lived in Boston from 1972-1979 and frequented Joyce Chen's restaurant, so I got to know quite a bit about her, such as that nearly all of the top Chinese chefs in the entire Boston area had originally worked for her, that she once talked a robber who entered her house in the middle of the night into leaving peacefully (I think that she told him she was sorry for him and served him food and drink), and that she may be said to have invented Chinese cooking for our time (with apologies to T. S. Eliot and Ezra Pound).  She was appropriately honored with a "forever" stamp in 2014.
It is curious that I am personally acquainted with so many of the people who were associated with the popularization of mapo tofu in America, and that most of them were located in the Boston area, with Joyce Chen at the apex.  But there's an even earlier mention of mapo tofu than Dorothy Crandall's (1965) in the Boston Globe.  That's Stanley Karnow, "The Who and How of Chinese Chow", Life, Jan. 26, 1962, p. 24:
A specialty called Ma-po tou-fu, or Pock-marked Grandma's Beancurd, supposedly immortalizes the pock-marked wife of a cook in Chengtu, a city in Szechwan province.
This is almost as early as the first mention of mápó dòufu 麻婆豆腐 that I'm aware of in a Chinese text.  That is in ch. 4 of the 1961 espionage novel Hóngyán 红岩 ("Red Crag") by Luo Guangbin 罗广斌 and Yang Yiyan 杨益言 that was set in 1949 Chungking (Chongqing) — see Hanyu da cidian, 12.1276a.  There probably are earlier occurrences in more ephemeral sources, but it doesn't seem as though mápó dòufu 麻婆豆腐 has a very long history in China.
The earliest mention of a mápó 麻婆 I know of in a Chinese text is from one of the Weird Fictions in the Tàipíng guǎngjì 太平廣記 (Extensive Records from the Era of Great Peace) (first published in 978). But the reference here is to a Má pó 麻婆, an old lady surnamed "Ma", not to a "pockmarked old lady".
Brendan O'Kane has found a number of apparent references to a mápó 麻婆 ("pockmarked old lady") in drama scripts from the Ming period (1368-1644), and perhaps already in the Yuan period (1271-1368).  Brendan has even found a tune title, "Mápózi" 麻婆子 ("Pockmarked Old Lady"), in Jiàofāng jì 教坊記 (A record of the office in charge of imperial music) (mid-8th c.).  Yet, whether mápó / Má pó 麻婆 signifies "a pockmarked old lady" or "an old lady surnamed 'Ma'", I haven't found a connection with tofu until the 20th century, and fairly well into it at that.
To sum up this section of our inquiry, I will simply confess my longstanding suspicion that the mápó 麻婆 of mápó dòufu 麻婆豆腐 does not just mean "pockmarked old lady", but that it is related to the numbing quality of the peppercorn which is a prominent part of the dish.  At the same time, it may also evoke the appearance of the dish, which has bits of fermented black beans (douchi, my favorite ingredient in the universe of Chinese cooking), minced meat, chilies, and, of course, peppercorns (!) scattered over the surface of the white tofu.  Once the name got attached to the dish — mápó dòufu 麻婆豆腐 ("tofu that has a numbing sauce and resembles the face of a pockmarked old lady") — it is not surprising that legends about the original creator of the dish being such a woman, or the husband of such a woman, would naturally surface.  Judging from the stories I've heard, it would seem that this happened multiple times as a means for capitalizing upon the phenomenal popularity of the dish.
By the way, mápó 麻婆 in the sense of "pockmarked old lady" is a specifically Sichuan, more specifically Chengdu, topolect expression.  See Hànyǔ fāngyán dà cídiǎn 漢語方言大詞典 (Unabridged Topolect Dictionary of Sinitic), vol. 4, p. 5706b.  Strangely, in the Tàigǔ 太谷 topolect of Shanxi Province, it means "dragonfly".
Now, back to the botany.
The menu entry we began with calls the spice in question téngjiāo 藤椒 (lit., "vine pepper") and identifies is as Zanthoxylum schinifolium Siebold & Zucc.  Very few Chinese I know, even those who are "into" gastronomy, have ever heard of téngjiāo 藤椒, so I presume that it is a local term of restricted circulation.  Moreover, although the people responsible for this menu identify it as Zanthoxylum schinifolium Siebold & Zucc., online sources refer to it as Zanthoxylum armatum DC.  As will become apparent in the following paragraphs and pictures, it is evident that there are a variety of different (mainly Sichuan) peppercorns, and that they come with an array of names, mostly local in nature (only a few of these names are used much outside of Sichuan).  All of these different Sichuan peppercorns have slightly different appearance and supposedly also different taste for the true connoisseur, but most Chinese I've talked to inform me they can't tell the distinctions among them and only know one or two general names.
Here are a few unretouched comments from informants (only Pinyin has been added):
1. (from Beijing)
Yes, májiāo 麻椒 is used a lot in Sichuan 四川 cooking. A similar spice is huājiāo 花椒. Májiāo 麻椒 and huājiāo 花椒 are both peppercorns but they taste a little different. Huājiāo 花椒 is smaller with a reddish brown color while májiāo 麻椒 is bigger with a greenish brown color. The latter will produce a more numbing taste than huājiāo 花椒. Sichuan food is famous for its numbing and spicy flavor because people use both májiāo 麻椒 and dried red paper in cooking. Huājiāo 花椒 is used in many northern provinces and it tastes not so numbing.
2. (from Beijing)
I do not know if there are other terms for májiāo 麻椒. At least people in Beijing call it májiāo 麻椒.
3. (from Beijing)
I perhaps have seen the name téngjiāo 藤椒 in some restaurant menus, but do not quite know what that is.
I can't remember people referring to that as májiāo 麻椒⋯⋯We always say huājiāo 花椒 (no matter whether in Beijing, Zhejiang, or Anhui [the latter two places are where her parents are from]) This website tells us that májiāo 麻椒, téngjiāo 藤椒, and huājiāo 花椒 are not the same, and gives a sketch of their differences.
Yet for me, who is not from Sichuan and far from being a gastronome, I doubt if the differences (esp. that between huājiāo 花椒 and májiāo 麻椒) can be detected by my taste buds.
4. (from Liaoning in the Northeast)
We refer to Sichuan peppercorn as májiāo 麻椒, too. Sometimes I heard people use huājiāo 花椒 or chuānjiāo 川椒. I am told that májiāo 麻椒 and huājiāo 花椒 are not exactly the same, but they look almost identical to me. Some say májiāo 麻椒/ chuānjiāo 川椒 is the name of huājiāo 花椒 in Sichuan Province. There is also another kind of jiāo 椒 called qīnghuājiāo 青花椒, which appears equally identical with a difference in the color.
Here are pictures of the three types mentioned by the last informant:
májiāo 麻椒: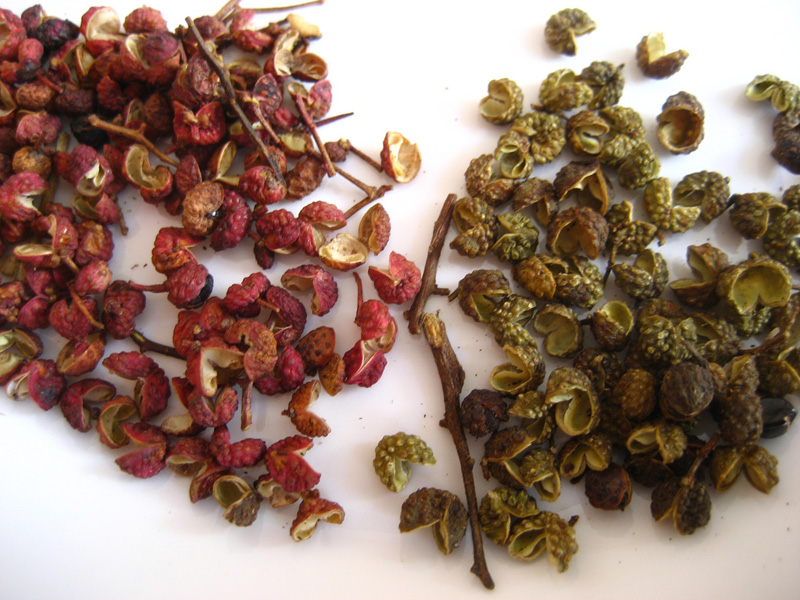 huājiāo 花椒: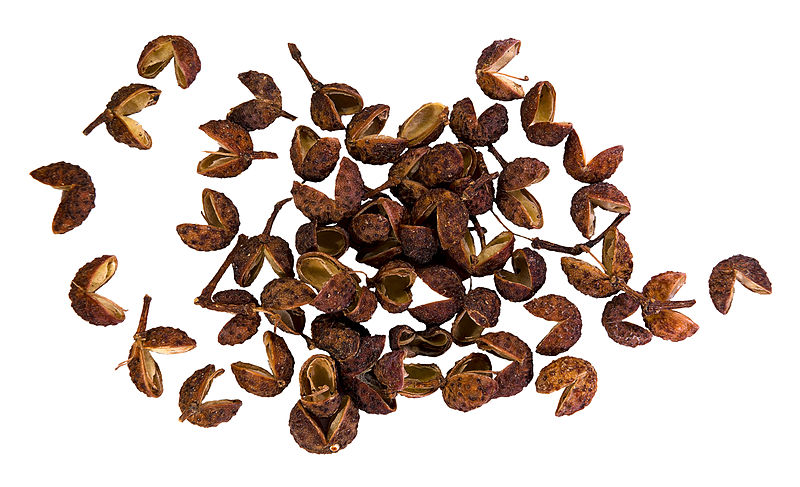 qīnghuājiāo 青花椒: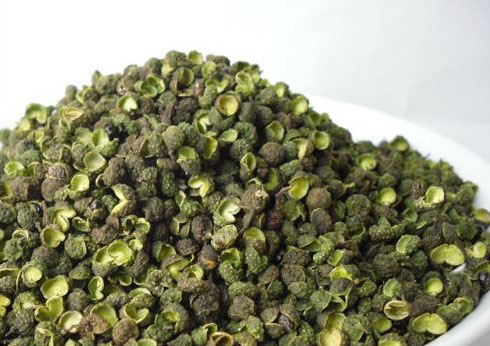 No matter what you call it in whatever language or topolect, and no matter whether you slather a sauce made from it over wonton or tofu or dumplings or chicken or something else delicious, Sichuan pepper will cause a peculiar numbing-tingling sensation in your mouth, and you will not recover from it right away.
[Thanks to Ben Zimmer for the early references to mapo tofu in English, and to Brendan O'Kane, Jing Wen, Fangyi Cheng, Wei Shao, Xiuyuan Mi, Zhenzhen Lu, Angela Tan, and Chin-yi Young]
---