« previous post | next post »
I ended yesterday's post ("Decreasing Definiteness") with a promise to say more about why the frequency of the has decreased so much over the past century or so, and this morning's post will start to redeem that promise.
As several commenters observed, there are probably several different things going on here. But I think that one relevant factor is decreasing formality of style.
I'll leave for another day the question of what formality really is, and why a decrease in formality correlates with a decrease in the frequency of the. In this post, I'll try to establish two simpler points:
In English text that's more formal, in common-sense terms, the is more common;
The formality of (various genres of) English writing has been decreasing over the past century or so.
Here are frequencies from the 1991 Switchboard corpus of conversational telephone speech (about 3.3 million words overall), from the 2003 Fisher corpus of conversational telephone speech (about 23 million words overall), and from the various genres of the 1990-2012 BYU Corpus of Contemporary American English (90-95 million words per genre):
Spoken
(SWB)
Spoken
(Fisher)
Spoken
(COCA)
Fiction
(COCA)
Magazine
(COCA)
Newspaper
(COCA)
Academic
(COCA)
the
 2.98%
 2.47%
 4.65%
 5.27%
 5.35%
 5.34%
 6.42%
a/an
 2.39%
 2.04%
 2.57%
 2.43%
 2.54%
 2.76%
 2.31%
Note that
the is less common in speech than in writing;
the is much less common in informal speech (SWB and Fisher) than in formal speech – the COCA "spoken" genre is drawn from "All Things Considered (NPR), Newshour (PBS), Good Morning America (ABC), Today Show (NBC), 60 Minutes (CBS)", etc.;
the is most common in the most formal (here "Academic") writing.
The distribution of a/an is both more even, and also less tied to formality.
We should note in passing that the decline in the's frequency seems to be continuing in recent years — the overall frequency across genres in COCA is 5.40%, but divided up by time periods, it's
| | | | | |
| --- | --- | --- | --- | --- |
| 1990-1994 | 1995-1999 | 2000-2004 | 2005-2009 | 2010-2012 |
|  5.62% |  5.43% |  5.47% |  5.20% |  5.13% |
The difference between the's frequency in the 1991 Switchboard collection (2.95%) and the 2003 Fisher collection (2.47%) is also consistent with an on-going historical decline — but the two collections are not balanced as to age, region, educational background, etc., and I think it's likely that there are other explanations for this.
What evidence is there that published written text has been getting less formal, on average, over the past century or two? I doubt that many people will contest this idea, but it's easy to find quantitative support for it. For example, the frequency of not-contractions has increased steadily: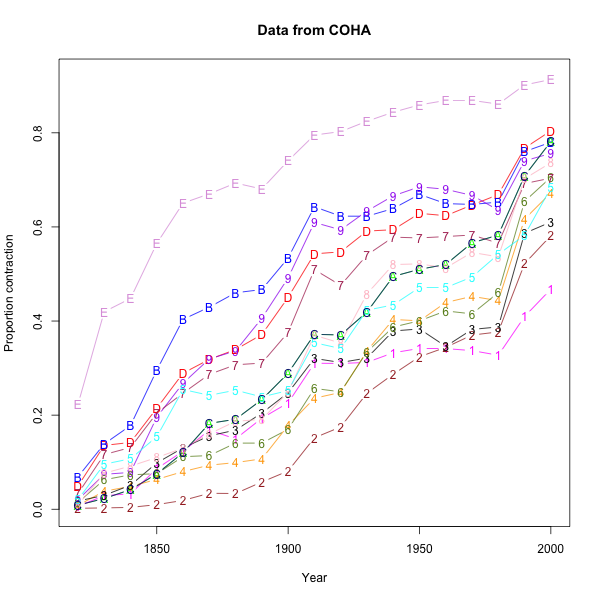 The different lines represent the proportion of contraction in:
1: is not⇔ isn't
2: were not ⇔ weren't
3: has not⇔ hasn't
4: was not⇔ wasn't
5: should not⇔ shouldn't
6: had not⇔ hadn't
7: would not⇔ wouldn't
8 could not⇔ couldn't
9: have not⇔ haven't
A: does not⇔ doesn't
B: will not⇔ won't
C: does not⇔ doesn't
D: can not/cannot⇔ can't
E: do not⇔ don't
Thus the line plotted with plum-colored E's gives the proportion
isn't/(isn't + is not)
As discussed in "True Grit isn't true" (12/29/2010), it seems that not-contractions have been normal part of informal spoken English for a couple of hundred years, but they have infiltrated the written language only gradually, in a process that is still going forward.
For comparison, here's the frequency of n't and 's contractions in the SOTU messages from 1914 to 2014: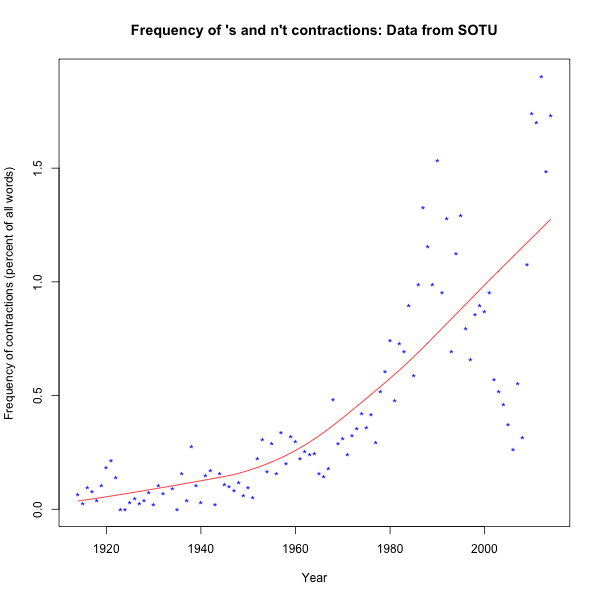 Another example would be the increased use of first and  second person pronouns in State of the Union messages, as discussed in "The evolution of SOTU pronouns", 1/28/2014: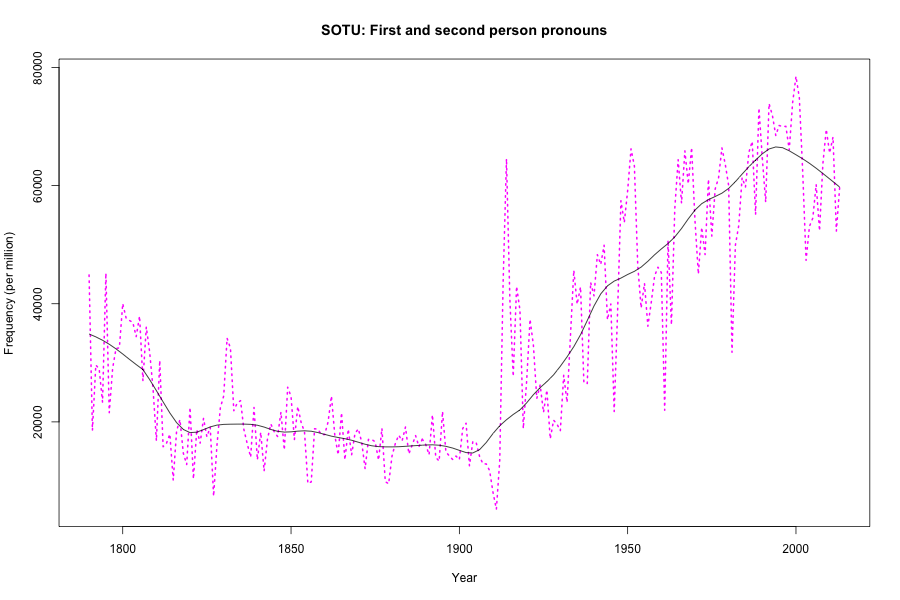 This change in pronoun frequencies is not a general characteristic of English writing as a whole, but it reflects a change in the style of the SOTU messages over the course of the 20th century.
See also "The genitive of lifeless things", 10/11/2009, "Possessive with gerund: Tragic loss or good riddance?", 9/18/2010, and "Mechanisms for gradual language change", 2/9/2014, for some other examples where writing seems to be moving in the direction of speech.
And as "part 1" in the title of this post suggests, formality is not the only feature that's probably relevant to changes in definite-article frequency — we'll be back.
---