« previous post | next post »
Nathan Hopson found this poster hanging up all over student bulletin boards at Nagoya University in Japan: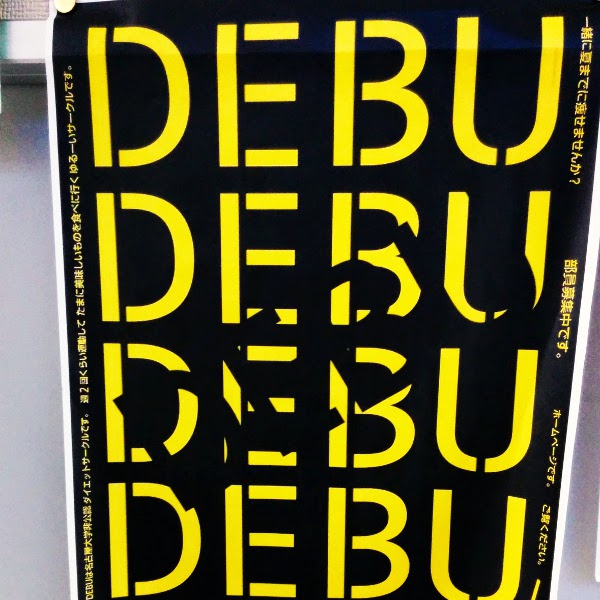 debu デブ = "fatso; fat; chubby; plump; portly; tubby; pudgy; obese; stocky"
Apparently, the word derives from a (semi-?)mimetic Edo-period (1603-1868) term deppuri でっぷり, which in modern Japanese was fully mimeticized to debu debu でぶでぶ ("extremely fat; obese") and/or debu デブ.  The use of katakana is probably for the same reasons given with gomi ゴミ ("rubbish; garbage"), i.e., emphasis (like italics) and readability.
As this poster says on the left side in the proverbial small print, "Debu" is the officially recognized Nagoya University diet circle [i.e., club]. We are a low-key (yurui ゆるい) circle who exercise about twice a week and sometimes go out to eat delicious food." (#irony?)  In fact, the group's website suggests that there's a bit more to it. There are 2 weekly sessions each for:  pool/gym and walking, and 3 for running.
Incidentally, yurui ゆるい (or ゆるーい on the poster, to emphasize the low-key, lackadaisical adjective) is very difficult to translate with the appropriate nuance. It can mean "loose" (as in loose-fitting, slack clothing), but is extended to mean "lax; without vigor, spirit", etc.  The best-known usage internationally is in yurukyara ゆるキャラ (on which, see the Wikipedia English article and this photo gallery of the winners in this year's Yuru-Kyara Grand Prix).  Note that yurukyara ゆるキャラ is written partly with hiragana and partly with katakana.  It is a contraction of yurui masukotto kyarakutā ゆるいマスコットキャラクター ("laid-back mascot character"), where yurui ゆるい ("laid-back") is the opposite of "up-tight".
When I asked a Japanese friend if debu デブ could also function as a transcription of English "deb" (shortened form of "debutante"), she replied:
No, it cannot be used in place of debutante. デブ's pejorative image is too firmly established in Japanese (it's such an insult to girls/women to be called デブ), no one will dare use the word to mean debutante.  Entirely wrong/opposite image.
This is a good example of the need for sensitivity in using Rōmaji transcriptions of foreign words that potentially clash with native katakana words.  Anyway, for "deb" ("debutante" [debyutanto デ ビュタント]), Japanese use "debyū" デビュー, while "debu" デブ (でぶ) means "fatso".  For "obese", probably "himan" 肥満 (ひまん) is more appropriate.
And then there's always o-debu-chan おでぶちゃん ("adorable fatso").
[Thanks to Cecilia Segawa Seigle and Hiroko Sherry]
---