« previous post | next post »
A few nights ago I delivered the Watt lecture before an audience of over two hundred people at UBC. More than half the people in the audience were native speakers of Mandarin or another Chinese language, and everybody else present was familiar with at least one East Asian language.
When I showed the famous jiaozi ingredients shopping list from John DeFrancis's article on "The Prospects for Chinese Writing Reform" (exhibit 2), the entire audience audibly gasped, and some people almost fell out of their seats. I really didn't have to say anything to make my point about character amnesia, which was one of the main topics of my lecture, but I did elaborate on the connection between IT and writing by hand, etc., plus the fact that the person who wrote that list was a Chinese Academy of Social Sciences researcher with a Ph.D.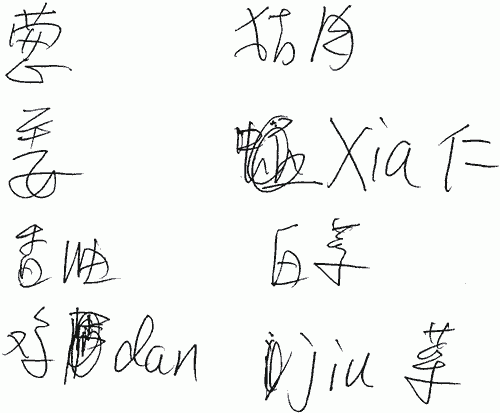 | | |
| --- | --- |
| 葱 cōng 'scallion' | 猪肉 zhūròu 'pork' |
| 姜 jiāng 'ginger' | 虾仁 xiārén 'shrimp meat' |
| 香油 xiāngyóu 'sesame oil' | 白菜 báicài 'Chinese cabbage' |
| 鸡蛋 jīdàn 'egg' | 韭菜 jiǔcài 'chives' |
Shopping list of ingredients for jiǎozi 'dumplings' written February 15, 2006, by a PRC social science researcher on a visit to my colleague Cynthia Ning, who kindly passed it on to me. I have added the printed equivalent of the list. Note that three of the thirteen different characters are rendered in Pinyin.
I believe that this humble scrap of paper has great historical importance as a brutally honest testimony to what is happening to the Chinese writing system, irrespective of any intentional language planning or engineering.
After the lecture, people came up to me to comment excitedly about the list, and several people have written e-mails to me to follow up on the lecture, especially expressing their astonishment over that jiaozi ingredient shopping list.
Sometimes extremely powerful and convincing evidence shows up in the most unexpected places.
Update:
As described above, the Watt lecture at UBC was about the impact of information technology and the internet on Chinese languages.
Last week, I delivered the keynote address before the 68th annual convention of the Rocky Mountain Modern Language Association.  In that address I spoke about the impact of information technology and the internet on the study of language and literature.  It may be viewed here.  See also FB and YouTube.  Also on G+ and Twitter.
---